In any dynamic field sport, momentum and the flow of a game are lifeblood for teams as they pursue victory.
Particularly when opponents are evenly matched, the ability to control how a game is played at crucial times is fundamental to achieving a desired outcome. As a rule of thumb, pace, energy and space are your friend only when you are in possession. When you are not, killing those things subtly is a focus for habitual winners.
In the dying embers of the 2017 All Ireland Football final, with Dublin and Mayo deadlocked at 1-16 apiece, Diarmuid Connolly drew a scorable free about 40 yards from goal and left of centre. Dean Rock might have selected the patch of turf Connolly did if he had been given a free hand in any case. As the referee's whistle signalled Dublin's decisive opportunity there were 90 seconds of injury time to play.
By the time Rock subsequently strikes the ball, the entirety of injury time has somehow elapsed and Dublin's clear objective - having squeezed in front - is to close down any playing time the referee thinks he may additionally add for the original injury time wasted.
Before the kick out can be struck, Rock has barged into the back of Chris Barrett and Ciaran Kilkenny has pinned Lee Keegan in a mount position. Joe McQuillan and his linesmen have plenty to sort out to get play resumed and ultimately Cormac Costello - who arrived to the fray as a timewasting substitute - absorbs a yellow card.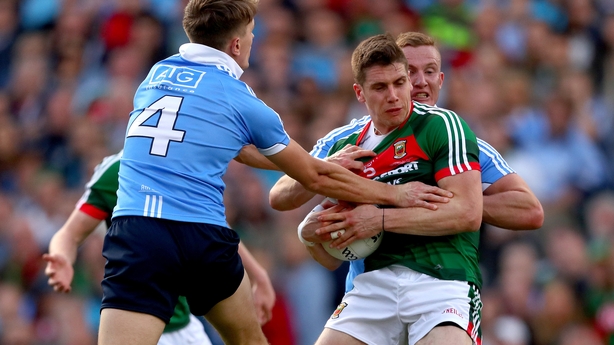 Mayhem ensues everywhere, like a barfight spilling onto the street in a spaghetti western. Kilkenny is next for "punishment" as he ignores then half acknowledges the receipt of a black card. As Joe McQuillan tries to usher him off the pitch Kilkenny stands his ground, taking the opportunity to orchestrate teammates towards further resistance to the restart of the game.
With frustration at boiling point and well over another minute elapsed before Mayo can restart the game, David Clarke tries to force a sliced delivery to the wing and clears the sideline. The champions have to keep the possession that has been gifted back to them but ultimately the game is over.
From the moment Joe McQuillan's whistle went for a scorable free, Dublin were in control of the destiny of the game because they knew through instinct, trial, error and experience exactly what had to happen to close the game out.
Days of lament followed, cursing rules and conventions that reward cynicism. In fact, what was mostly missed was that this was a masterclass in game management.
Game management
Not unlike leadership or composure under pressure, it is often said that 'game management' is a set of skills that takes a considerable amount of time and experience to master. That's not always the case. Preparation and on-field influencers who can identify opposition strengths and weaknesses can create a culture in any team that enables collective manipulation of a game's patterns.
To control the flow of a game, an effective team have three areas to manage effectively:
1) The officials
2) Their opponents
3) Their own skill set
The capacity to manipulate the first two and deploy the latter effectively will dictate the outcome of any game with evenly matched opponents.
In practice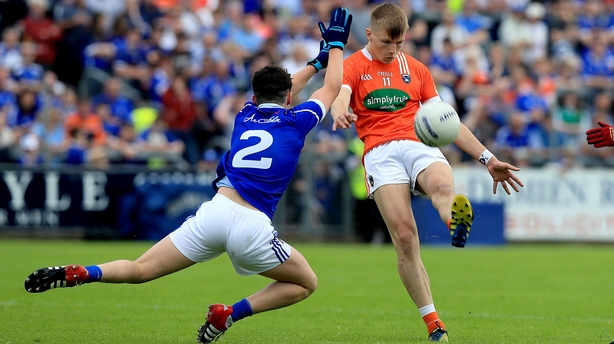 Over the weekend an emerging Armagh team met a resurgent Cavan with an Ulster final appearance - scarce recently for either side - at stake. Neither team hit the heights they would have hoped for in terms of performance. Semi-finals are rarely pretty and for both teams the result trumps aesthetics.
After 60 minutes of concentration, pressing and chasing scoring opportunities it looked like Armagh had done enough. Three points up, with Cavan reduced to 14 men and 10 minutes on the clock is a game management test to be passed.
Naturally, chasing the game, Cavan had abandoned their cover out of desperation. Most of the day, Armagh had protected their full-back line well and the Breffni men had stopped looking for ball inside. Every Cavan attack was now measured and through the hands to try to create shooting space inside the 45.
This scenario meant that the Cavan threat to be managed was clear and, with an extra man to deploy, that should have been achievable. More crucially, the opportunity Cavan's desperation presented was the key to victory. If Armagh could get some share of quick ball forward into a 2 v 2 scenario, their attacking quality would do the rest.
Two key game-management elements were clear: Firstly, meet the Cavan build up play in the middle third before they get within shooting range and take momentum off them (tactically foul, Dublin-style). Secondly, rather than try to preserve the lead by maintaining possession, use the gaps Cavan were leaving by chasing against them and kick early ball into the forward line.
Essentially, go for the throat with possession because Cavan had to play without protection. Losing the ball in the forward line with the opportunity to add to the lead was eminently more preferable to getting turned over carrying the ball through the middle, where their opponents were pressing. One more point in this period would have won the game.
End game
Two patterns emerged over the remainder of play. Cavan worked runners into space to kick four more points in normal time and a later equaliser and on each occasion the score was kicked from 40 yards with an Armagh cover player sitting deep to no effect.
Additionally, Armagh failed to create a single kicked attack for the remainder of normal time. It would seem that panic reigned when you consider alongside that statistic that Andrew Murnin - arguably the most effective ball-winning target man in the country - was part of the equation for the closing period at full forward.
Armagh - like Dublin in the 2017 All Ireland final - occupied a winning position and had the tools to control the game's momentum over a prolonged period of time. They should have closed it out.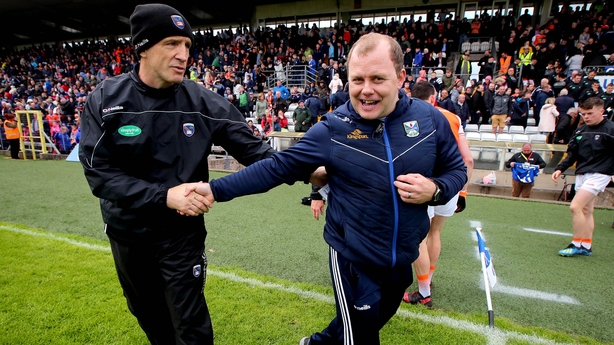 Leading the way
Before any team can set about improving and mastering how they collectively attack, defend and manipulate the officials and opposition, they have to understand the importance of evolving with a game's environment.
Rarely will the same approach remain effective over the full course of a contest and so they must adapt.How and why are the key questions and those are answered by leaders on the pitch.
It is no coincidence that Dublin have consistently eked out results from claustrophobic positions when it counts over the four-in-a-row run. It is in no small part due to the game smarts and leadership they possess in every area of the field.
Game intelligence is an area often overlooked in the evolution of any team but it is a fundamental 'winning' characteristic that can often be a glass ceiling to limit progress if it is lacking.
Many teams aspire to Dublin's athleticism, playing style and standards but what really sets them apart form the pack is their game management. The list of teams that do so many things right but lack latter characteristic grows by the weekend.