The very fact that Antrim's 'home' game against Tyrone this weekend is taking place at the neutral Athletic Grounds in Armagh is a very real reminder of the case of Casement Park.
The Saffrons were first out of the hat and, as such, should have been playing in their west Belfast back-garden. Home advantage counts for a lot - particularly when you're a Division 4 side taking on last year's beaten All-Ireland finalists.
"It's a disaster for the games in Belfast, in Antrim and ultimately for the games in Ulster"
But Casement Park is now little more than a field of weeds surrounded by crumbling stands and watched over by decommissioned floodlights.
The ground played host to its last game in June 2013 and demolition work, since stalled, began to make way for a state-of-the-art 34,500 capacity venue.
"Not having Casement Park is very frustrating on a number of levels. Just from the basic of having a home pitch, home venue and a home support," said manager Lenny Harbinson, speaking with the BBC.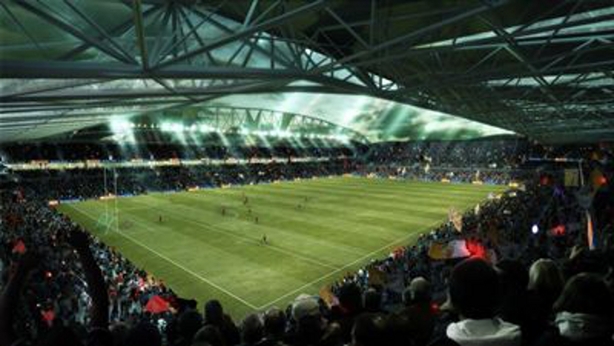 "It's been stalled for the best part of six years now, and something needs to happen in terms of moving that project on - not just for Antrim but it's going to be an iconic stadium and anyone in Ulster would love to play a semi-final or final in that stadium."
It's almost a decade since the redevelopment of Casement Park was first discussed in any serious way and planning permission was granted for a stadium holding 38,000 in December 2013. The end goal was to make it the home of Ulster GAA and Ulster finals, taking over from St Tiernach's Park in Clones.
Over 1,000 local objections led to a 2014 high court case in Belfast which pulled the plug on the project in its original form.
Plans for the smaller 34,500 capacity ground were drafted in 2016 and submitted in early 2017, though the lack of a Northern Ireland Executive, which is currently frozen by political stalemate between the DUP and Sinn Féin, has seen the planning process move at glacial pace.
We need your consent to load this rte-player contentWe use rte-player to manage extra content that can set cookies on your device and collect data about your activity. Please review their details and accept them to load the content.Manage Preferences
If permission isn't granted by a 23 August deadline this year the planning application will have to go right back to square one, setting Casement Park back for a further and unknown period of time.
"It's a disaster for the games in Belfast, in Antrim and ultimately for the games in Ulster," said Antrim County Board Secretary, Frankie Quinn, speaking to RTÉ Sport.
"We had Ulster semi-finals in Belfast in recent years which were great occasions. We haven't had an Ulster final since 1971 and there were reasons for that; the times in which we were living.
"Even if Casement Park is given the green light in the next few weeks it will be another three or four years before it's completed. That's ten years. If you were a good footballer or hurler, 15 or 16 years old in 2013, your whole inter-county career might have passed you by without getting the chance to play in Casement Park.
"There are young children walking with their parents who pass Casement Park and they'll be asking 'what's that?" said Quinn.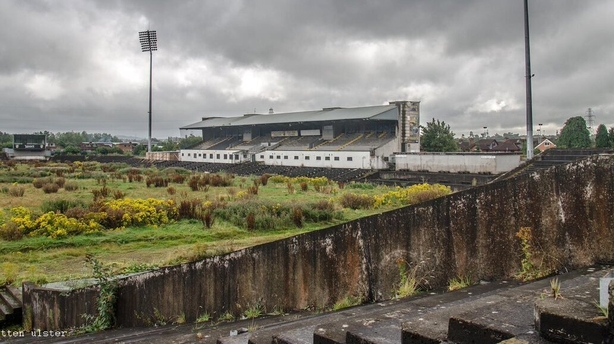 The bill for Casement was put at €98 million two years ago with the GAA committed to providing just €19 of that and the rest coming from public funds in the North. The longer the delay, the higher the final total is likely to climb.
Antrim play their home football league matches in Corrigan Park, home to the St John's club in west Belfast, with the hurlers opting to host their matches in the game's heartlands in the Glens.
Corrigan Park holds 2,200 people and has no seating or covered area for fans. The narrow laneway into the ground even struggles to accommodate team coaches, so it's not fit to hold an Ulster Senior Football Championship quarter-final.
"Our planning application has been lodged for the past two years. We have a level of frustration with how long it has taken to complete that process," said Tom Daly, Chair of the GAA's Casement Park Project Board, speaking to RTÉ Sport in March.
"We remain resolutely committed to delivering the project."
Whatever the level of commitment, the process is stalled. Antrim remain without a home and a generation of young players have never seen the inside of their county's ground.