Joe Canning has not given up on helping Galway's summer push for the Liam MacCarthy, according to team-mate Niall Burke.
Canning was ruled out for 14 to 16 weeks after suffering a groin injury in the league loss to Waterford at the end of March that required surgery.
The talismanic forward is working tirelessly towards a mid-to-late July return which could coincide with an All-Irreland semi-final should the Tribesmen make it that far.
Burke acknowledges that nothing is certain in a ferociously competitive Championship but a Canning comeback for a last-four battle would be a serious shot in the arm, not least with the presence of two other big names - Joseph Cooney and Johnny Glynn - also lifting the camp.
"More or less everyone is back now," Burke told RTÉ Sport's Brian Carthy at Centra's launch of the GAA All-Ireland SHC.
"Joseph Cooney and Johnny Glynn came back from being abroad and it's great to have them on board.
"Nothing has really changed for Joe from the initial prognosis. He's working hard on his recovery and rehab programme and he's hoping to play a part at some stage in the Championship."
Galway found the going tough in their Leinster round-robin opener against Carlow 12 days ago. They eventually came away with a 1-24 to 1-18 win but it was by no means straightforward against their dogged, impressive opponents.
"The primary objective was to get off with a win," added Burke.
"We got that and take the learnings from that and hopefully bring it into the Wexford game.
"You don't win back-to-back promotions as Carlow did without being a good team and they are a seriously good team. It's great to see them competing in the Liam MacCarthy Cup."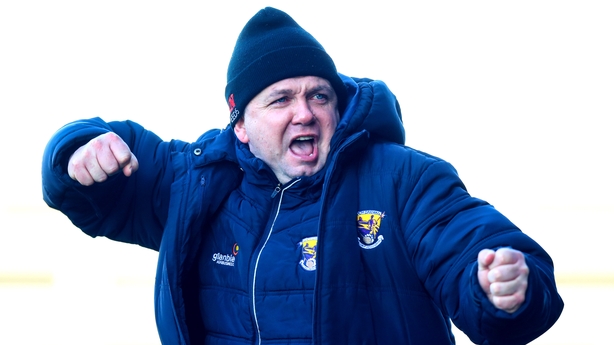 Next up, Wexford.
Davy Fitzgerald's men played out a thrilling draw with Dublin on Sunday and will go to Pearse Park stinging a bit from the last-gasp Sean Moran goal that denied them victory at Parnell Park.
Burke is braced for a massive battle.
"There's nothing between any of the teams. It's a Championship game and any time we've played Wexford over the last few years it's always been close and come down to a few key moments. If we're not 100% tuned in we won't win.
"At times they can bring a man back into the defence. Wexford are able to play it any way they want because they have such skillful hurlers. They can change their plan of attack at any time. That is something we need to be wary of.
"They're very well built; they obviously put a big emphasis on their strength and conditioning. We're going to have to try and match that.
"I feel that we have a pretty good panel but obviously it's important to express ourselves with performances on the pitch. That's what we're hoping to do on Sunday - work well together as a team with a high level of work rate and a great intensity across the field."