In his post-match analysis after the Cork-Limerick game on Sunday, Donal Óg Cusack made a very important and valid point about the modern game, and how much of a role defensive systems now play in hurling. 
One-on-one defending has been effectively abolished in football since Jim McGuinness altered the tactical thinking around the game with Donegal in 2011. And while hurling people abhor and dread comparisons with football tactics, nobody can deny the observation Cusack rightly made. 
"The days for one-on-one defending are gone," he said. "Forwards are too good, the balls (in) are too good, and referees are making sure that they are protecting the attackers."
"Cork had no interest in the league but when they travelled to the Gaelic Grounds in February, Cork were more tactical than at any stage of the campaign."
Hurling teams don't play with the same number of sweepers, screens or bodies behind the ball in football, primarily because the scoring zone in hurling, and the speed and distance the ball can travel, doesn't allow for that level of space compression. 
The increase in point-scoring and decrease in goal scoring has confirmed as much but the vast difference between football and hurling is that the compression zone in hurling is in the middle third.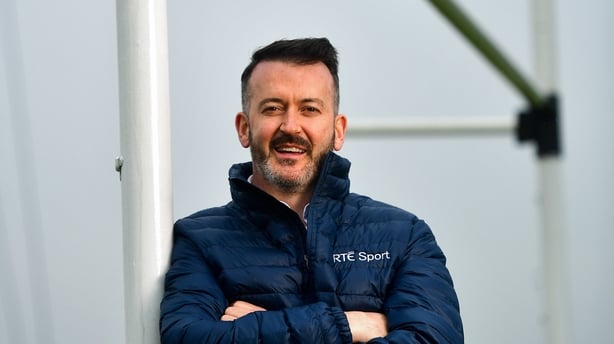 That leaves inside forwards with much more space close to goal than their counterparts have in football. Yet there has been a continual shift in the tactical grid because that middle third is being increasingly squeezed even more now by deep lying midfielders and forwards. 
The excellent statistician, Brian McDonnell, showed recently that, of the 544 hooks, blocks and tackles Limerick made in the 2018 championship, 47% of that total came from their forwards. With 16% coming from their midfielders, 63% of Limerick's defensive effort from a tackling point of view was made by their front eight. 
Limerick's tackling numbers were way down on Sunday. So were their possession stats. Conversely, Cork's tackle count and work-rate and possession count around the middle eight were vastly superior to what they produced seven days earlier against Tipperary. 
Cork are a completely different team to Limerick but much of their tone and temper over the last 12 months can be taken from Daniel Kearney. He should have been an All-Star last summer when averaging 22 plays a game.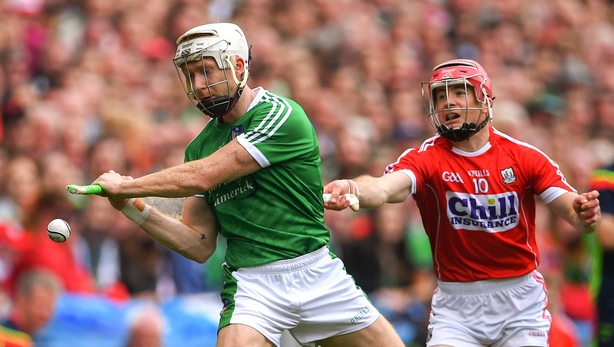 When Cork played Limerick in last year's All-Ireland semi-final, Kearney had 24 possessions. Limerick's Dan Morrissey was the only player to come near those numbers (with 24 possessions) but Morrissey played the 90-plus minutes while Kearney was carried off after 60 minutes before being reintroduced in extra time when still clearly injured. 
Kearney made 11 plays against Tipperary in Cork's opening match this year. On Sunday, Kearney made 25 plays, scoring four points from seven shots, winning three frees and having one assist. 
Nobody in Limerick came near to generating those numbers but Kearney's energy, work-rate and desire was matched all over the field by his team-mates. Cork got numbers behind the ball but they always had a quick out-ball option on the counter-attack with so many players making themselves available to take the pass after shutting down the space in front of the Limerick full-forward line.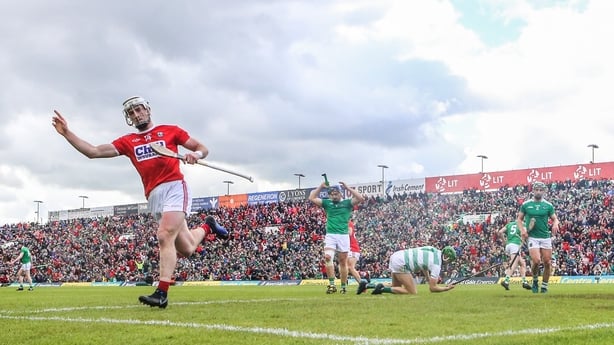 Cork's game-plan was almost a mirror-image of what Limerick were doing last year. And the All-Ireland champions were just blown away by Cork's collective savagery and desire, especially in the middle third.
Cork created 11 more scoring chances (43-32). Limerick only managed 1-07 from play, 1-04 of which came from Graeme Mulcahy. Limerick's ability to necklace the play together in that middle third warzone and to get their shooters inside on the ball has been a hallmark of their game but Cork contaminated that style so much that Limerick won just 13 of the 27 balls played into their full-forward line. 
Limerick mined 1-09 from those 13 balls, which highlights how dangerous they can be from that possession. But they just didn't secure enough of it.
Aaron Gillane had been the best player in the country during the spring, both with Limerick and Mary I in the Fitzgibbon Cup, but Eoin Cadogan was the perfect physical and aggressive foil for Gillane. The Limerick full-forward scored one point and had a hand in three more scores but Cadogan never allowed Gillane to be the shooting machine which torpedoed all before him during the league.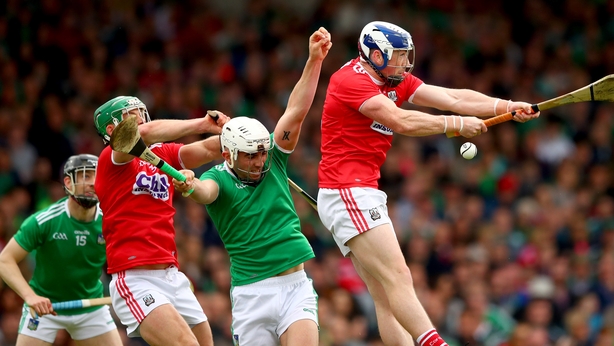 For a finish, Gillane was one of four Limerick forwards hauled off. The Limerick bench had been the difference when these sides met last July but the Limerick subs were largely ineffective when John Kiely was forced to empty it in the last quarter. 
For all the criticism Cork have taken over the last few seasons, nobody can ever doubt their class and sublime skill levels, especially up front. And the return of Alan Cadogan makes Cork far more threatening and dangerous going forward. 
Cadogan's movement and ability to make the right runs has always separated him from most inside forwards. Cadogan has been blighted by injury over the last 12 months and, while that lack of sharpness was obvious in his touch early on, Cadogan's movement even altered how Limerick would have preferred to set up. 
With Cadogan behind them, the Limerick half-back line couldn't always sit as zonally when Cork had possession in the middle third, and particularly when Limerick couldn't match Cork's immense work-rate in that sector.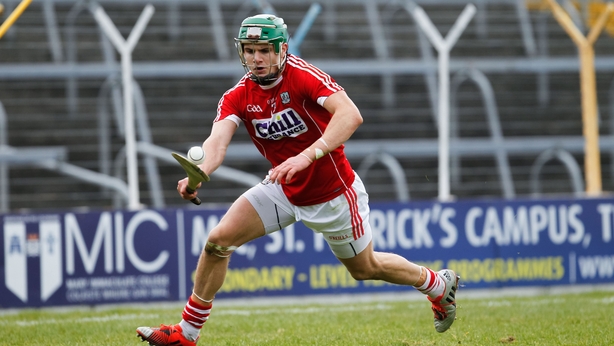 Cadogan's numbers were hugely impressive for someone who hadn't played championship in almost two years; from 12 plays, he scored three points and had a direct hand in five more scores. 
Tipperary are the only other team in Munster with the same calibre of natural finishers as Cork but one of the biggest struggles Cork have had in recent years is making the ball stick up front. Cork have often been too reliant on skill ahead of muscle but Aidan Walsh gives Cork more of an outlet for aerial dominance and ball winning ability. 
Walsh has always had that physical power but he has clearly modified his game too and recognised what he can bring to this side as a hunter more than a shooter; on Sunday, Walsh had a direct hand in four Cork points.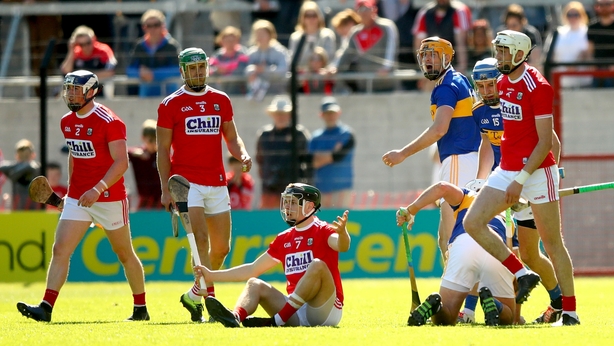 After the collapse against Tipperary, Sunday's win was an emphatic response from a team fighting for their lives. Yet it also mirrored the intelligent long-term planning Cork had spent on getting ready to play Limerick.
Cork had no interest in the league but when they travelled to the Gaelic Grounds in February, Cork were more tactical than at any stage of the campaign. 
The Limerick half-forward line's ability to dominate that middle third governs so much of their system but Cork came to the Gaelic Grounds with a clear plan to stifle it; Robert Downey and Christopher Joyce had adhesive man-marking jobs on Tom Morrissey and Gearóid Hegarty; Bill Cooper was chained to Cian Lynch, never letting him run forward freely; Eoin Cadogan went everywhere with the roaming Seamus Flanagan. 
Cork delivered their best performance of the campaign to inflict Limerick's only defeat of the league. And largely mirroring that template on Sunday took Limerick down again.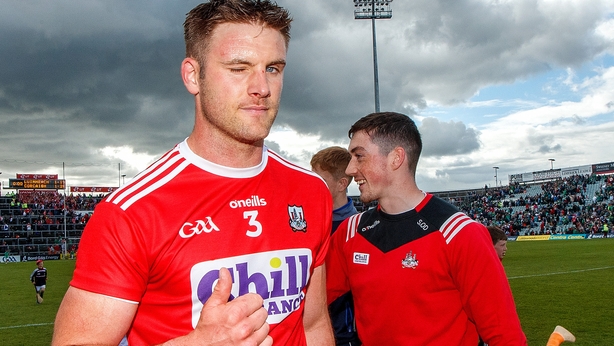 Limerick have been so confident in their system that they have been predictable to a point but they still felt that they could override any threats to that system if their high work-rate continued to protect it. 
It's still a long summer but Limerick's priority now over the next two weeks will be to fine-tune and tweak their game. Limerick's style has been highly creative and imaginative but they will be keen to throw something different at the opposition now going forward. 
With Gillane largely tied down by Eoin Cadogan, would playing Seamus Flanagan as a twin-attacking threat close to goal have given Limerick more of a licence to just get the ball in longer and quicker? That direct style would have taken some of the heat off Gillane, while also pulling Cadogan away to the corner, but it would have also limited Cork's ability to get their covering players back quicker. 
Limerick will forensically analyse everything about Sunday now but increasing their work-rate and raw intensity will be their main priority. Because without that basic first line of insulation, any system is capable of being torn down.