A survey carried out by the Women's Gaelic Players Association (WGPA) has found that a significant majority of camogie players are in favour of changing the rules of the game, particularly around physical contact.
70% of the 243 inter-county players responding to the survey agreed that rules on physical contact 'very much' need to change, with a sense expressed that the game is not keeping up with developments in player conditioning and technical ability.
In comparison to hurling, camogie is effectively a non-contact sport. Shouldering and "moving into an opponent's body" are both against the rules.
Cork beat Kilkenny in last year's All-Ireland final with a late free. Only a third of the scores at Croke Park in September came from play, which led to a fresh debate on whether it is too easy to win a foul in camogie.
"They're going to have to change [the rules]" said Cork captain Aoife Murray after her side's victory.
"It's not going to be an easy job but it has gotten more physical and faster and maybe the rules need to be tweaked and amended to reflect the standard."
82% of respondents were in favour of trialling new rules in league competitions, which was made possible by a motion at Congress earlier this month.
Players also responded to factors around refereeing, indicating a poor experience overall in elements such as consistency, accuracy, communication and transparency. Consistency was the main cause for concern with 60% of respondents agreeing that it was "poor", but communication was one of the more positive aspects.
Maria Kinsella, WGPA Chairperson, said: "There has been a lot of discussion around rule changes and refereeing standards in camogie over the past number of years.
"A proper objective analysis of the trends in the game and refereeing needs to be carried out because players currently don't feel engaged through the current mechanism for changing rules. We welcome the motion passed at congress to allow the trialling of new rules but it now needs a proper plan in place in order to be effective."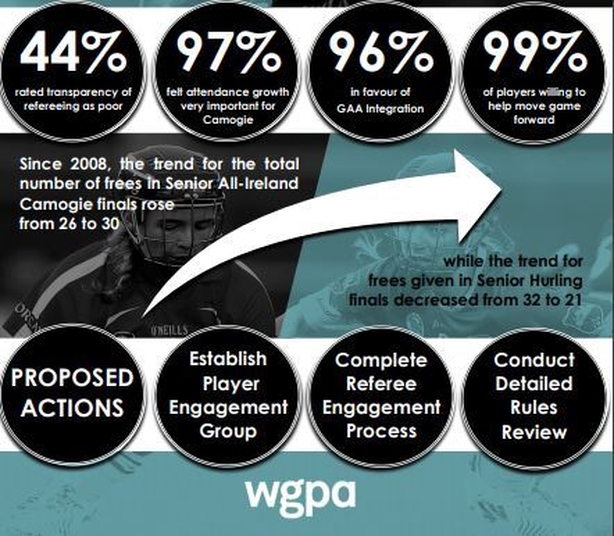 Speaking from a player perspective Gemma O'Connor of Cork said: "Players have been expressing frustration around rules and referees publicly for a long time and this now represents a collective call for change and an opportunity to improve the game.
"We as players, or the review group, don't have all the answers but we are willing to support the process of finding them. We respect referees and the important work they do, we want to work with them to ensure the game is as enjoyable for players and spectators as it can be."
A working group with representatives from 12 counties have agreed three main actions points from the survey:
Set up a player engagement group with current and past players to discuss how these findings can be integrated into the new Camogie Development Plan.
Commence a referee engagement process to include all stakeholders in a discussion around the policing of the game.
Conduct a rules review to expand on initial statistical analysis in the report and develop an action plan on trialling news rules and making informed decisions around long term changes.
The working group included some of the leading figures in the game: Cork's Gemma O'Connor, Kilkenny's Anne Dalton, Limerick's Niamh Mulcahy, Dublin's Aisling Maher, Clare's Chloe Morey, Waterford's Niamh Rockett, Westmeath's Denise McGrath and Kildare's Siobhan Hurley, among others.