Westmeath manager Jack Cooney praised the Laois footballers who raised money for Lee Wallace before the counties' Allianz League Division 3 final at Croke Park.
Westmeath beat Laois in the weather-delayed decider, but rivalries were put aside when the O'Moore County men held a whip-around for Wallace.
The 26-year-old footballer from the St Mary's club in Rochfordbridge is currently sick with a rare form of bone cancer and so far nearly €200,000 of the €250,000 he needs for treatment has been raised.
Cooney was delighted that Westmeath picked up silverware following his first League campaign in charge, though he was keen to put it in perspective.
"Lee is a young man and he's a good friend of a lot of lads on the team," said the Lake County boss. speaking to RTÉ Sport.
"We're trying to raise awareness and funds for Lee because he has to go to America to receive treatment that is available nowhere else in the world.
"Help Lee Beat Cancer is the campaign, there is a huge amount of work going on in the extended GAA family and Laois GAA made a contribution, which was great. Whatever we can do to help Lee along the way, we will.
"Not only within the GAA, within Irish communities, we're brilliant at recognising things like that and rowing in behind that. It makes you proud to be Irish."
Westmeath beat Laois 1-13 to 0-13 at GAA Headquarters. They will both play in Division 2 next year, but before that they have a Leinster quarter-final on the weekend of May 19 to look forward to.
"We've said that if we want to make progress, expectations are going to have to go up. One goes hand-in-hand with the other," said Cooney.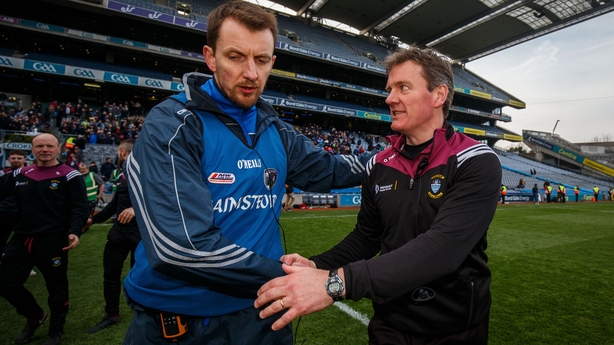 "Something we want to do as a group is make progress and handle the expectation that goes with that. There's no doubt, when we sit down to analyse that game, that we'll have to improve.
"But we have another six or seven weeks until we play Laois again and we expect another humdinger.
"The League campaign has been very good to us, we got promoted and we're going to try to raise the standard in Westmeath again next year. We're looking forward to the championship in a few weeks.
"It'll take on a different dimension. They have a young team, they're building and they'll be better for the campaign that they have had."
The Division 3 final was supposed to be played seven days previously, but bad weather in March caused it to be pushed back by a week.