As the game of hurling continues to evolve, the expectations around positions and the responsibilities attributed to them, continues to evolve also.
One position that is undergoing significant change in the free-flowing, high-scoring inter-county game is the centre-back position.
Traditionally, this was arguably the most reliable defender available who held the rearguard in place and often tasked with nullifying the opposition play-maker.
With roles now more fluid and inter-changeable, centre-forwards have more licence to forage, while centre-backs are far more involved in an attacking sense than ever before.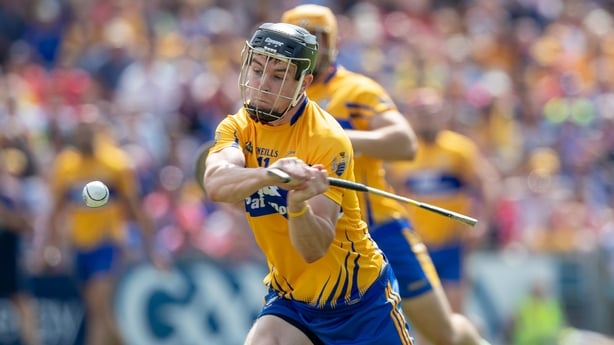 The question for many mangers is, should the number six follow a roving centre-forward or hold his position?
The League Sunday panel discussed this topic following Tony Kelly's man of the match performance for Clare in their Division 1A defeat to Cork.
The Ballyea marksman picked off 0-06 in a sublime display at Pairc Ui RInn where his notional marker, Cork number six Tim O'Mahony, sat back and protected his position in front of the full-back line.
Ken McGrath told viewers it is a dilemma he has experience of from his own days with Waterford.
"People think it has only happened in the last year or two, but that's going on years," he said.
"Tim O'Mahony did a lot of good stuff against Clare, but a player of Tony Kelly's class, who is at that top level, you can't leave him free"
"I played centre-back 10, 12 years ago and Martin Comerford would be out past the 65 and you go, 'do I stay or protect the house?'
"My natural game was to sweep and float back. Certain players you can't leave out in front of you.
"I think Tim O'Mahony is going to be a good centre-back. He did a lot of good stuff against Clare, but a player of Tony Kelly's class, who is at that top level, you can't leave him free.
"It's not his fault...he was told to sit back and protect the full-back line, and that is going on in other counties as well."
Should the centre-back hold his position or follow the man? - @kenmcgrath78 and @NedzerB13 on the role of the modern day number six following Tim O'Mahony's outing for Cork against Clare #thesundaygame pic.twitter.com/hmK270qCd5

— The Sunday Game (@TheSundayGame) February 17, 2019
Eddie Brennan agreed that O'Mahony was mostly likely sticking to manager John Meyler's game plan, but thinks the Rebels need to sort out some defensive issues if they are to dine at the top table come Championship time.
"That was his brief, but it's the bigger issue," the Laois manager said. "You go back to my day, they had Diarmuid O'Sullivan and Ronan Curran and it was a very tight defensive unit who knew how to play the system. If a lad needed to be fouled, they fouled, but they were able to see out the game.
"That's an Achilles heel for Cork at the moment."