Galway manager Micheál Donoghue has been happy to add depth to his squad in this year's National League campaign, noting that the westerners have used over 30 players in their first three games in Division 1B.
Any Galway supporters discomfited by their side's performance in Carlow a fortnight ago may rest easier after today's routine six-point win over Dublin in Pearse Stadium.
Playing with the aid of the wind in the first half, the 2017 All-Ireland champions established a healthy lead and never seriously looked like surrendering it in the second period.
For Galway, this campaign marks a third successive year in the relatively unglamorous surrounds of Division 1B, though hurling's second tier hasn't proven an exceptionally toxic environment for Donoghue's side.
Since their relegation from 1A in 2016, Galway have won an All-Ireland title, a National League title, back-to-back Leinster championships and participated in another All-Ireland final.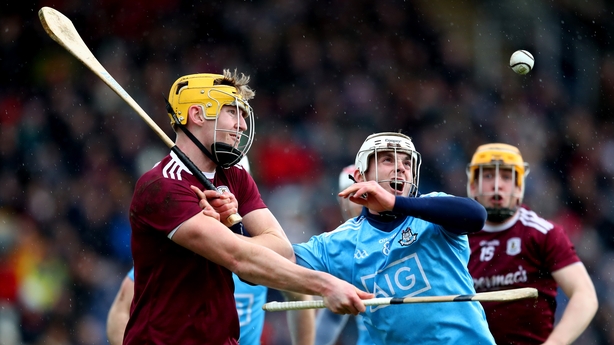 With the changing structure for 2020 loosening the pressure even further this year, and with many absentees through club activity, Donoghue has been happy to experiment in the past couple of months.
Relative newcomers such as Sean Bleahene, Sean Loftus, Kevin Hussey, Ronan Burke and Jack Grealish were named in the starting line-up this afternoon while players who've spent recent years on the fringes, such as Fergal Flannery and Davy Glennon were also named to start.
"We've been here (1B) now for the last few years so we're accustomed to it," the Galway boss told RTÉ Sport.
"When you look at the schedule that, not alone us, but everyone has in terms of club and college commitments, the strength of your squad is really tested.
"We've plenty of absentees so it gives a lot of opportunities to some of the younger fellas and the lads who've been on the fringes in the last couple of years.
"No matter who you are playing, those games give those boys the opportunity. We've used over 30 so far in the league to date and we'll continue to do that for the next few weeks."
As for today's game, Donoghue praised his side's work-rate in the second half in particular, as their opponents failed to eat into the deficit despite enjoying wind advantage.
"We knew it was going to be highly competitive with a strong Dublin team. Obviously, you put huge emphasis on your home games, you want to win them. We knew it was really important that we got a good start. I think we did and we played a lot of the game on our terms.
"We went in at half-time six or seven points ahead. There was a big breeze here and unfortunately those elements always play a part. We had to work really hard in the second half just to get the result. Thankfully we did and we'll move onto next week."