Mullinalaghta need every man, woman and child just to keep the show on the road.
The small half parish in north Longford is a blink-and-you'll-miss-it kind of a place. It has one pub, the other shut recently, and the post office closed its doors for the last time not long ago too.
But it has a school and a thriving GAA club. You might have heard of them - they were kind of a big deal there before Christmas when they won the Leinster Senior Club Football Championship.
One of the smallest clubs in the country beating one of the biggest, Dublin's Kilmacud Crokes, to write one of the most romantic and unlikely chapters in Irish sporting history.
If you're from Mullinalaghta, keen and you can play ball, the club needs you. It's hard to walk away.
Certainly, that's Conan Brady's story.
"I had one ball, but I bought another one there after the Leinster Championship, I treated myself!"
The 28-year-old moved to Leeds six years ago when work as a civil engineer dried up in Ireland.
Initially, he got himself a 90-day sanction from the GAA which allowed him to play for a club in Yorkshire. Once those 90 days were through though, his mind was made up.
"The league was kicking off at home, I transferred back. I couldn't keep away!" he smiles in his kitchen in Leeds, speaking to RTÉ Sport.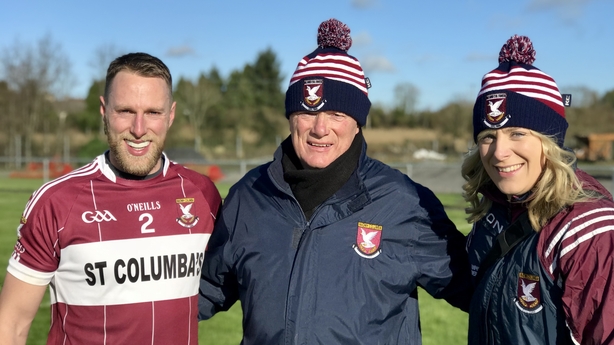 And since then he's been making the journey from the north of England to the Irish midlands pretty much every fortnight - all for the love of the parish.
The money for travelling all comes out of his own pocket and he says he has no intention of sitting down and totting up the amount he has spent just to pull on the St Columba's jersey. It has been worth every penny.
In 2016, he got his payoff when The Laurels won their first county title in an age. Little did he, or the rest of his team mates, know that this was just the starting point of an extraordinary tale.
Over the past three seasons, Mullinalaghta have played 53 games, league and championship, Longford and Leinster, and they've only lost five - two of those to the cream of the province.
Having pushed Dublin's St Vincent's hard in their first year out of the county they knew they weren't too far away. Dreams finally came true last year when they won Leinster.
Brady said: "It really did make it all worthwhile. For a lot of years, it did feel that I was going home for no reason. But then we started winning championships and that made it all worthwhile.
We need your consent to load this Instagram contentWe use Instagram to manage extra content that can set cookies on your device and collect data about your activity. Please review their details and accept them to load the content.Manage Preferences
"Leinster wasn't something I could ever have dreamed of. It was pure elation. It didn't even kick in for a few days, after I got back here to Leeds I realised what we had done and what we had achieved.
"I wouldn't have had any regrets before, even if we hadn't won Leinster, the county titles were enough for me, but it was payback and more."
Brady is blessed with a patient partner. Sarah is from Offaly and understands his connection to home - she encourages his passion and is willing to sacrifice the weekends together and holidays that other young couples enjoy.
They have to be organised to make sure that all the moving parts keep whirring smoothly.
He spends a lot of time on airline websites tracking down the cheapest flights in and out of Leeds-Bradford and Manchester, which is a trek across the Pennines, before the flight to Dublin and the drive home, usually with his twin sister Bláithín behind the wheel.
Brady trains with a number of local clubs in Leeds, St Benedict's and Hugh O'Neill's, when he can and he follows the programme set out for him by Mullinalaghta manager Mickey Graham.
Up Mullinalaghta!
The victorious GAA team give us a tune.#latelate is on right now. pic.twitter.com/zKSdB4fmky

— The Late Late Show (@RTELateLateShow) December 14, 2018
He's often out of town on work too though, which means training alone.
"I train close to wherever the sites I am on. For example, I was in Nottingham for six months so I was training on a public park on my own and the same in Huddersfield now," he explained.
"I had one ball, but I bought another one there after the Leinster Championship, I treated myself! I try to find rugby pitches because at least they have goalposts. I do my bit of ball work and then my running.
"I am organised. I have to plan the training around work and my commutes home. I have less days in the week for training, if you like, so I have to try to squeeze it in whenever I can."
Conan's father Paddy is a selector with Graham, his sister Blá is the team physio, his mother Margaret is the typical GAA Mammy, making sandwiches and providing tea, and his older sister Rebekah, who lives in Dublin, travels with her own young family to all the matches.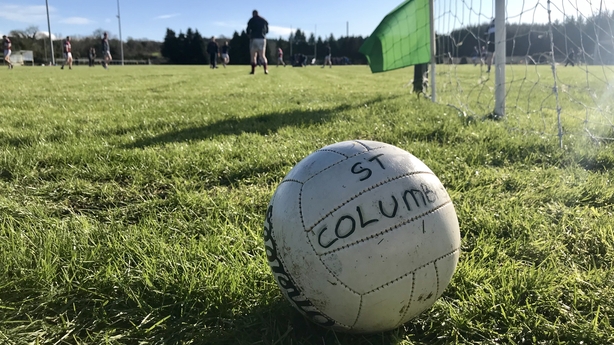 Playing is a chance for Murray see those he loves at home more often than would otherwise be the case, so it's more than just football.
This weekend though football is the main focus - an All-Ireland semi-final against the aristocrats of Dr Crokes from Killarney, throw-in at Semple Stadium on Saturday is 3.30. This team is so good that Colm Cooper can't even get a place in the starting line-up - not the sort of news that makes a defender like Brady rest any easier.
He said: "We're 100 per cent in bonus territory; never could have believed we'd come this far even though it was always in the backs of our minds. At the same time, it's a once-in-a-lifetime opportunity so we just can't let go.
"First and foremost we'll try to be competitive, do our best, and hopefully we'll be there or there abouts."
Every man, woman and child, all the few hundred of them, from Mullinalaghta will make the trek to Thurles for this one and they'll be backed by plenty more from around Longford. They'll be cheered on too by every neutral in the country.
Follow Dr Crokes v Mullinalaghta on our match tracker on Saturday and listen to live updates on RTÉ Radio 1 Saturday Sport.