"To be honest with you, I thought my chance was gone," admits Kevin Cassidy.
The man who famously missed out on Donegal's march to Sam Maguire in 2012 is one win away from appearing in his first All-Ireland final at the age of 37.
Standing between Cassidy's Gaoth Dobhair and a day out at Croke Park are reigning champions Corofin, who they face at Carrick-on-Shannon this Saturday.
"You always hope that you might get here, growing up it's always a dream of yours to get to these kind of stages," he reflects.
"At this time of year we're normally looking on at teams and kind of thinking that they're probably better than we are and we're never going to get there. It's just funny the way you can end up sometimes and the way things just fall for ye. It's great to be here.
"Regardless of what happens at the start, we won the county title. That was the best thing because it had been a while for our club to win it and we wanted to get ourselves back. Then to go that step and win Ulster was massive. Now it just keeps coming. Hopefully it'll keep going to Paddy's Day. You never know, but it's been a great journey."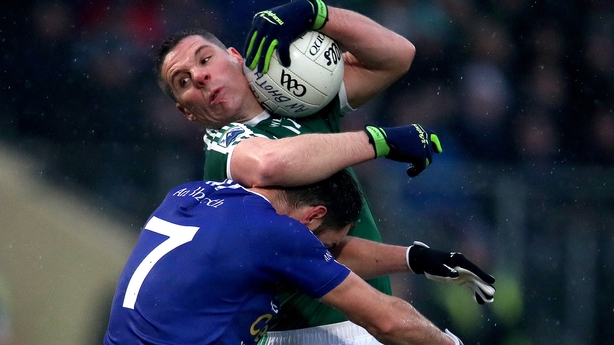 One aspect that makes Cassidy's journey even more remarkable is his initial retirement from Gaelic football in 2016.
A two-time All-Star at wing-back for Donegal, he has been repurposed as a marauding full-forward for Gaoth Dobhair.
"Two and a half years ago, I finished," he says. "I probably could have still played, but I thought I wanted to do other things in life and also, we had a fantastic group of players coming through.
"The manager (Mervyn O'Donnell) is a brother-in-law of mine and he asked me to come (back).
"At the start it was really to see if I could help out, maybe off the bench and stuff. It's funny the way things develop.
"I think, as an athlete, once you get in there the hunger comes back very quickly. You don't want to sit on the bench, you want to play. That's just the way it fell this year.
"I wouldn't be mad into long distance running or any of that kind of stuff. But I've always liked to keep myself tipping over, even when I wasn't playing. I tip away at the gym and things like that then, maybe take up a new sport every year. I did a bit of cycling for a while. Last year I did a bit of boxing. Something to change it up to keep the mind right.
"Obviously this year, we're full tilt since last January. It's been good. Our trainer Michael Boyle, he's excellent. He knows when we need to be in shape and when we don't need to be, so it's worked out really well."
Cassidy is a busy man. On a career break from special education teaching, the former marketing student also (deep breath): runs the pub Teach Mhicí with wife Sarah and her family, a healthy food business with the pub's chef and also owns a Gaeltacht school.
GAA clubs from around the country come and stay above the bar for bonding weekends that sometimes include a coaching session from Cassidy.
Five of the Gaoth Dobhair panel also work at Teach Mhicí, which served as the epicentre for the raucous celebrations last December that followed the club becoming the first Donegal side to win Ulster since 1975.
Well documented on social media, Cassidy and Neil McGee even issued a tongue-in-cheek 'call out video' to Corofin.
"We'll probably regret it next weekend!" he laughs. "In my opinion, they are the best club team at the minute. They have been for four or five years. Everything they do, the attention to detail.
"Obviously, when you're playing a team, you hear what they're doing and different things. You know, they've sent cameramen to our games and stuff since. It just shows that they're really focused on what they want to do.
"We feel that it's a long season, 12 months, but they're four or five years at this. They're seasoned campaigners. It's a big ask but we'd rather be here than watching on TV."
Kings of Ulster?????????????????? pic.twitter.com/A4xuVbuwET

— Kevin Cassidy (@KCASS7) December 2, 2018
Corofin might have been happy for the revelling to continue all winter but Cassidy insists they were back on the training pitch within a fortnight.
"To get the first Ulster title was massive for us. We really, really enjoyed it and it was great to know you didn't have to half-watch yourself because you'd a game down the line. You could let loose, we knew we'd enough time to get back at it then again.
"We took two weeks off after the Ulster final, just completely, collectively. People did their own wee thing but we went back training two weeks after.
"We kept going during Christmas, we trained hard during Christmas, still at the same time, remain the balance, we let the lads out here and there for nights out and stuff. But since then it's been pretty much, everything's been focused on Corofin. We've played three or four challenge games so we feel like we're in a good position to give them a game.
"We had enough time. To be honest we were all itching to get back training after the two weeks. It's easy. If you came back pre-season it'd be hard but as we keep saying, it's not very often you're going back pre-season training for an All-Ireland semi-final so it was quite easy."
Any lingering traces of the festive atmosphere disappeared with the tragic passing of Mícheál 'Roycee' Roarty along with three of his local friends in a car crash two weeks ago.
Cassidy hopes that he and his team-mates can help to put a smile back on everyone's face this weekend.
"We have a lot of boys in the likes of Dubai and Australia, America. Just for them to be coming home for games and to be talking about Gaoth Dobhair GAA... I always say that to bring your club crest up against the best, that's always your aim. It's just lifted the whole community.
"From going from the highest you can be to obviously getting knocked last weekend (by Roarty's death), it's a real low. We have to try to pick things up again but that's life. It can throw things at you but you just have to deal with them."
Follow the All-Ireland club SFC semi-finals with our live blog from 1.15pm and listen to live updates on RTÉ Radio 1's Saturday Sport