GAA president John Horan has thrown his backing behind a motion to potentially open up all of the association's county grounds to other sports.
The previous ban on non Gaelic games (horse and greyhound racing, field games other than those sanctioned by central council to be precise), aka Rule 42, was modified in 2005 to facilitate Ireland rugby and soccer internationals being played at Croke Park during the redevelopment of Lansdowne Road.
Central council have since retained the power to sanction further events but only for Croke Park - it was included as part of Ireland's failed bid for the 2023 Rugby World Cup - and in 2016 a club in Longford was fined for hosting a soccer summer camp.
The GAA came under huge pressure to allow Pairc Ui Chaoimh in Cork city to host the Liam Miller charity game when it became apparent that many more tickets could be sold than at the initial venue of Turner's Cross.
The association initially protested that it would be going against its own rules (now 5.1) to do so but after coming under huge public pressure, agreed to the change.
The charity match sold 45,000 tickets and raised €1.5 for the late Ireland international's family and a number of other Cork-based charities.
Director general Tom Ryan said recently that he felt the GAA had been "bullied into a course of action that we might well have taken anyway if given the chance."
Horan is keen to avoid a similar situation reoccurring and hopes that this month's Congress in Wexford (22/23) will extend the power to Central Council to open up any GAA grounds on a case-by-case basis.
"I'd like to see it passed," he told RTÉ Sport. "It would make the operation of applications a little bit easier to deal with.
"We probably found ourselves in difficulty this year with the Liam Miller event down in Pairc Ui Chaoimh.
"I wouldn't have felt as strongly about that as Tom did but I can see where he was coming from. There was a media campaign that drove it on.
"The people running the actual event were very reasonable and courteous in the way they dealt with it.
"It was just that social media latched on to the whole occasion and drove a certain agenda and message. Sometimes it was very ill-informed."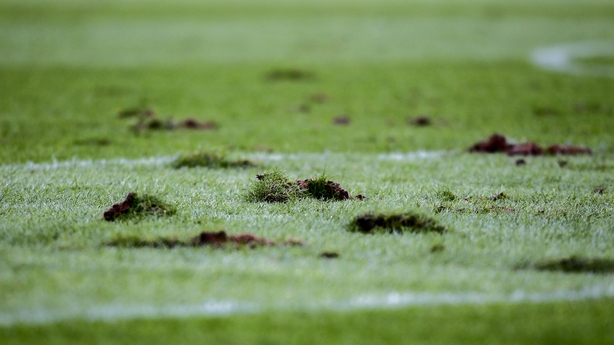 The recently redeveloped Cork stadium was back in the headlines this week after the pitch cut up badly during an Allianz League double-header last weekend.
That follows speculation in December of cost overruns of up to €24m on the projected bill of €86m, which led to the establishment of a new stadium board.
Cork chairperson Tracey Kennedy has described HQ's involvement as "a commercial arrangement".
Horan said he hoped that the bill would be well below the €110m suggested by commercial director Peter McKenna but that it was too early to say for sure.
"I'm gone in as chairman and we have a sub-committee working on the (final) figures," said Horan. "We will have an interim report on that in the next few weeks.
"Ultimately, there are some other issues that need to be resolved."
The GAA are also closing in on a deal to purchase the former Holy Cross College Seminary on Clonliffe Road, with the intention of redeveloping the extensive site for housing, pitches and a hotel.
"We are in negotiations with the archdiocese of Dublin in regards to the purchase of Clonliffe College," said Horan.
"It's at a serious level at the moment, that's all I can say.
"Such is its proximity to Croke Park, it would have been remiss of us not to explore it.
"Hopefully we will be able to make a deal and make use of the facilities there. Both for the local community here and ourselves in Croke Park."