GAA president John Horan believes a lack of glamour match-ups and the number of games in quick succession were the reason for falling attendances in last year's football Championships.
In the first year of the Super 8s experiment, total crowds at All-Ireland SFC fixtures (qualifiers, quarter-finals, semi-finals and final) fell by 18% overall despite an increase in the number of games from 33 to 39.
The average attendance was down 31% from 19,049 to 13,225.
Attendance also fell overall in hurling due to a reduced number of games at All-Ireland stage (12 to 8) but the average attendance was up 23% to 35,838.
"I think the condensed nature of the Championship was a factor in that, that we had so many inter-county matches in a smaller period of time," Horan told RTÉ Sport.
"You have to realise that people's disposable income just can't stretch to all of that.
"Two All-Ireland semi-finals on one weekend for hurling and for football, people probably just didn't have the revenue.
"Other factors that kicked into that, maybe the attraction of the particular fixtures. Mayo (being) out of the Championship at an early stage, I think impacted upon it.
"One factor in it is the combination of teams. If you have well-supported counties, who have a big population, you will get good returns.
"But if you have small counties with small populations, ultimately you can't squeeze any greater attendance out of them.
"The Galway-Dublin semi-final, the attendance did drop there and I think it was probably the third occasion they had played each other in recent times."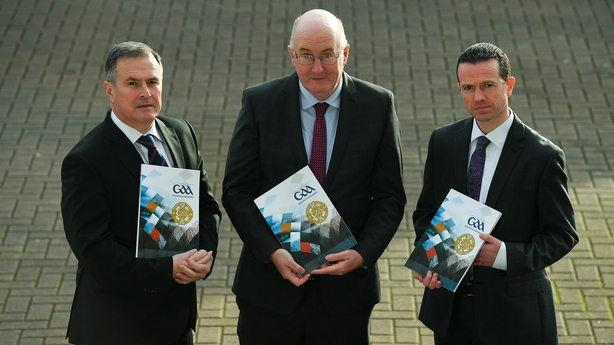 Horan admits that the drop in football gate receipts, down 23% to €12.7m, is a worry but insists that the association won't panic into abandoning the new format, which is schedule to run until 2020.
"It would be a concern," he said. "We did take a chance in running a particular type of competition, we condensed it to benefit the clubs.
"This was the first time round. We'll just have to wait and see next year. It would be our anticipation to do a review some time in 2019 but I think we have to let the second year of the competition get up and running before we start delving into reviewing it."
The GAA saw a significant fall in attendances and gate receipts in 2018, Clare McNamara reports pic.twitter.com/hzNn1OBCPC

— RTÉ GAA (@RTEgaa) February 6, 2019
Despite the almost €5m fall in income from tickets, Central council revenue was down just 1% to €63.5m as commercial revenue rose.
"You always have to take into account that you will get a variant in your fixtures and that will cause a variant in your income," said Horan.
"We were careful in our budgeting and we weren't in any bother with regard to the outcomes in the end.
"Our commercial revenues did increase to balance some of the gate receipts drop."
The Dubliner was adamant that the recently announced increase in ticket prices for the All-Ireland series in 2019 was not intended to offset the decline in attendances.
"No. We made it very clear why we increased the tickets," he said. "We have that money ring-fenced for specific purposes: our international units, the club development grant.
"We know that we have major infrastructure projects coming down the line with regard to three or four counties so we had to put money aside for that as well.
"They were two separate entities."