Dublin star Niamh McEvoy has welcomed the record number of shared double-bills in this year's Lidl and Allianz Leagues and insisted it's up to the players to showcase women's football to potential new fans.
It was announced yesterday that there will be 13 league fixtures where both the men and women's sides of the host county will feature.
Dublin have only played two previous ladies football league games in HQ, against Mayo in 2017 (the first ever at the venue) and Cork last year, but the two teams of double-winning Dubs will face Donegal and Mayo in February.
"We're really looking forward to them. It's a brilliant step forward for the sport," McEvoy said at today's launch of the Gourmet Food Parlour HEC Ladies Football Championships.
"Previously, I would have only played in Croke Park if we reached the pinnacle - if you get to the last game of the season - so it's brilliant now for girls to be getting exposure. Apart from the fact that it's an amazing stadium and stuff, it's the best pitch in the country. You want to be playing on those types of surfaces.
"I just feel really privileged to be involved at this time. For ladies sport in general in this country, it's amazing but in particular, our sport."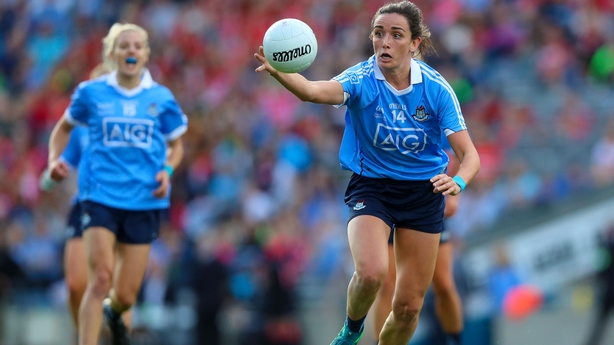 McEvoy believes that the growing crowds attending women's football including a record 50,141 at last September's final, are responding to the improving quality on display.
"We've had great attendances and stuff at finals and in previous years, where the attendance has improved, people would have been saying to me 'It was a great family day out' and stuff like that but now people are saying 'That was a brilliant spectacle and I'm really enjoying watching ladies football.'
"So many people have said to me, 'Do you know what? I enjoyed that much more than the men's game.' It's obviously a bit more pure at the minute, there's no blanket defence, there's less contact allowed so the tackle is really clear, the dispossessions are really clean.
"People might be coming in early before the men's games to have a look and see what the sport is about. Obviously, the onus is on the players to give a good account of ourselves. You often hear people beating the drum about attendances and stuff and trying to get people to come out, but then the onus is on the players to actually produce a spectacle.
"I think over the last two, three years that's what has begun to happen. The standards have began to rise. It's up to us now on those days, on those two double-headers, to produce good standards for the sport.
"If you consider the hurling and the football this year, it was the first time in years and years and years the hurling had more spectatorship for the All-Ireland final and it was because they were producing a spectacle. We're well aware in ladies football that we need to be producing spectacles if we want the sport to continue to grow."
☀️ Cracking day and turnout at the 2019 @gourmetfoodparl @LadiesHEC Championships Launch 🚀 @EimearScally15 @_ShoveOn #GFPColleges #womensupportingwomen #20x20 #CantSeeCantBe #ShowYourStripes pic.twitter.com/AYVDlbNYQx

— Ladies Football (@LadiesFootball) January 22, 2019
Teaching has long been an attractive profession for an inter-county footballer, the hours and holidays conducive to spring training and summer campaigns.
McEvoy followed that familiar path too but has now left the classroom to undertake a masters in Business and Entrepreneurship at DIT (now part of TU Dublin), who she will represent in the third-level third-tier Lynch Cup next month.
As the three-time All-Ireland winner seeks a career change she notes the transformation that has taken place in ladies football since she was a sub on the Dublin team that won their first All-Ireland in 2010.
"You can tell just by looking at everybody's body shape and athleticism that there has been a change in the sport over the last number of years," she said.
"I can tell that it's as professional as the men's is, and probably wasn't in the past, when I was first involved.
"I know a couple of years ago, there was a bit of a gripe in the newspapers where a lot of ladies footballers were giving out about not being fed after training and this kind of thing.
"None of those minor issues are a problem anymore. Obviously in some setups there is still maybe a lack of funding but it has certainly improved."