The Gaelic Players' Association (GPA) will present the findings of a survey they conducted into the current football rules experiment to the GAA's top brass in the coming days.
The GPA polled the opinion of players in every single county that played at least one pre-season competition under the new rules, in other words every county bar Kerry, New York, London and Kilkenny.
Managers were also surveyed with 25 of a possible 30 responding.
The results are unsurprising, in that players and managers were overwhelmingly against the rule that limits the number of consecutive hand-passes to three before boot must be put to ball.
A sizeable percentage is also against the amended sideline ball rule, which sees all sideline kicks up to the opposition 20-metre line going forward.
The attacking mark and the sin bin have both been received positively so far with the changed kick-out, which sees all restarts taken from the 20-metre line instead of the 13, falling into the 'neither positive or negative' category.
Croke Park's Central Council will review the rules, which have been used in 43 pre-season games to date with finals in Leinster, Ulster and Connacht to follow this weekend, at a meeting on Saturday.
The GPA, which will be represented at the meeting, will present their findings to the GAA before then.
These findings are due to be made public on Thursday, though RTÉ Sport has seen them in advance.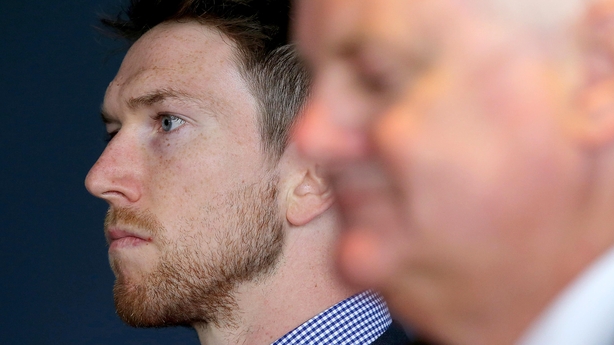 "The engagement from all squads has been excellent but it doesn't stop here," they said in a statement to their members.
"We will ensure that your feedback is heard at the top level of the organisation but we need to be ready for a possible outcome where your views are not reflected in a vote of Central Council on Saturday."
The GPA did not reveal the exact number of players that responded to the poll, saying the survey was conducted by representatives in each individual county who then sent the collective squad feedback to the players' body.
Overall, 63% of players and 52% of managers feel that the three hand-pass rule is 'very negative'.
The largest response to the sideline ball was neither positive or negative, though more than 20% of players and managers do feel that it is very negative.
More than half of players and nearly half of managers think the attacking mark, where players can call a mark for a clean catch inside the 45-metre line off a pass from outside the 45 that travels at least 20 metres, is positive.
The sin-bin changes generated a similar reaction, with the kick-out proving the least divisive of the five experimental rules.
The GPA polled their members before Christmas with the majority against introducing the rules and it seems little has changed since.