The GAA is open to the possibility of penalties deciding Championship games in the future.
History was made yesterday in Carrick-on-Shannon when Mayo beat Leitrim 4-1 in a penalty shoot-out in their FBD Connacht League match.
The game ended 2-13 apiece but the Connacht Council had decided in December that in the event of a draw there would be no extra-time, and the outcome would be decided by a series of five penalty kicks each.
Last November the GAA's Central Council gave permission to the National Competitions Controls Committee to "develop winner-on-the-day proposals for 2019 based around penalty pucks or penalty kicks", Feargal McGill, the GAA's director of games administration, told RTÉ Sport.
Central Council will listen to proposals on 19 January and could endorse penalty pucks or kicks in hurling and football respectively without the need for approval at Congress.
As it stands two periods of extra-time (2x10mins) are required for Championship qualifiers, and preliminary hurling quarter-finals, before a free-taking competition provides an on-the-day winner.
The additional 'extra-extra-time' of two five-minute halves needed in 2018 will not be required in this year's Championship - making the need for a winner-on-the-day competition more likely.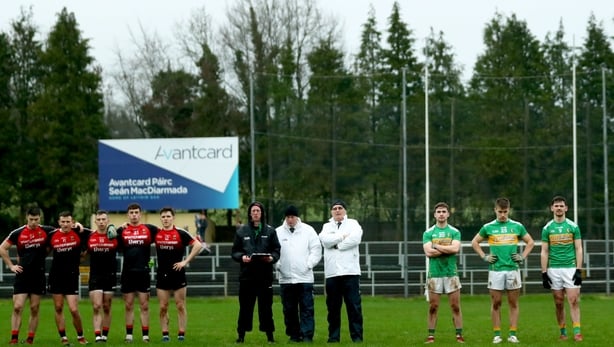 Connacht secretary John Prenty told RTÉ Sport this morning that considerations around avoiding weather delays and limitations around floodlit venues fed into their decision to proceed directly to spot kicks.
"We are heading in that direction anyway," McGill added.
"That Connacht decided to go ahead and have a look at it themselves is no problem.
"If anything it has given us some vision of what a penalty kick or penalty puck competition might look like, which is actually quite helpful in developing regulations around it.
"The matter of extra-time and what games you play extra-time in or don't is covered in rule for national competitions but the issue of when you go to winner-on-the-day, whether that is penalty pucks or whatever, that's a matter for Central Council.
"Absolutely [the general feeling is that was a good run-out].
"[At] this time of year teams are essentially in pre-season mode.
"It was a very fast game and I'm not sure how good it would have been for players to put them through 10 minutes of extra-time each."
Connacht Council secretary John Prenty explains the decision to use a penalty shoot-out to decide @MayoGAA v @LeitrimGAA #rtegaa pic.twitter.com/rKpDJ56S79

— RTÉ GAA (@RTEgaa) January 7, 2019