Much was said in advance about the 'David v Goliath' nature of this year's Leinster club football final, but Mullinalaghta captain Shane Mulligan was firm in his belief that his side could stand toe-to-toe with Kilmacud Crokes and that they did en route to a maiden success.
Gary Rogers fired home a 59th minute penalty that put the St Columba's club ahead and Aidan McElligott added an insurance point to ensure that the county of Longford joined the provincial roll of honour.
"We went in level at half-time and we knew if we were still in the mix with ten to go we'd have a chance," said Mullinalaghta captain Shane Mulligan.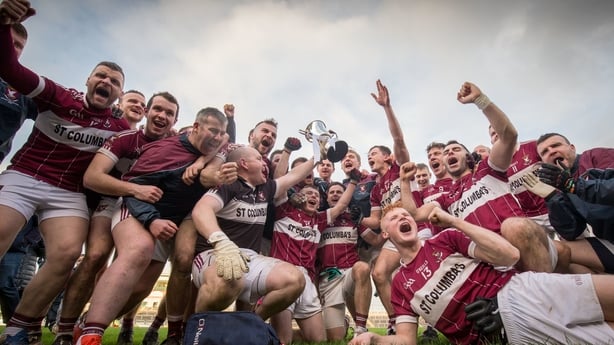 And their chance did come, courtesy of that penalty.
Summing up those final few minutes at O'Connor Park, Mulligan told RTÉ Sport: "There was great overlap play from Donal (McElligott) and we got the penalty. The clock was on our side to get the scores. We had the bit between our teeth and we weren't going to let it go.
"We were able to tough it out when it mattered. I had faith that we would survive those final few minutes."
That said, the skipper revealed that he did not watch Gary Rogers slot home the vital kick.
"To be honest with you, I didn't even look at the penalty, I looked away, didn't want to know about it," he added.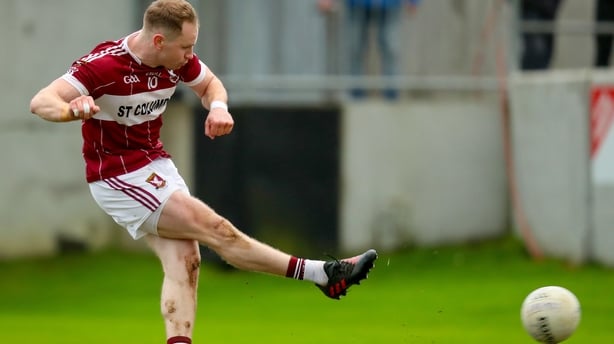 "Donal McElligott would be our penalty taker but he took a bit of a knock and so Gary stepped up.
"Come the big occasions, the big men step up and Gary stepped up and he finished it."
Mulligan's colleague James McGivney also referenced Mullinalaghta's fighting spirit, when also speaking to RTÉ Sport.
"Everyone believed we could do it. We will always fight to the end, we never give up," he revealed.
Mullinalaghta St. Columba's are Leinster Club Football Champions!!! pic.twitter.com/eQmci3oMCr

— The GAA (@officialgaa) December 9, 2018
"Kilmacud outplayed us for a good 20 minutes in the second half, but we kept knocking. The penalty was a turning point. It came against the run of play and we took advantage.
"I think when it mattered most Kilmacud played a dangerous game in holding onto the ball, but our guys pressed up from the back and I don't think they were expecting it.
"We caught them on the hop. We turned the ball over and they were at sixes and sevens trying to track back and we got the run on them."
Reflecting on the scenes at the final whistle and then when he accepted the cup, Mulligan spoke about the "dream becoming a reality".
He continued: "This will go down in history, it's never been done before. The scenes were incredible. People came from all over the world to see this.
"It's well documented that we are a small rural area, with a small population. GAA is everything, so many people have committed so much time, so much of their lives to GAA. And now we are standing on top of Leinster."