The GAA has shrugged off criticism in some quarters of the five experimental football rules coming into effect and insists the interventions have been borne out of analysis, trial games and feedback.
The Standing Committee on the Playing Rules (SCPR) proposals will be in place for pre-season competitions and 2019 Allianz Football League after the GAA's Central Council sanctioned new rules to the restricted use of the hand-pass, the sideline kick, the introduction of the 'sin bin' and the advanced mark.
The proposals, despite their positive intentions, have been met with criticism in some quarters.
The Club Players Association (CPA) has offered its misgivings, while the Gaelic Players Association (GPA) has described the changes as "unacceptable" on the back of survey results from inter-county players.
SCPR chair David Hassan says that such criticism was "not surprising" but believes that the evidence behind the decisions speaks for itself.
"People generally are sceptical of change," he told RTÉ Sport. "I would encourage people to approach it optimistically and positively and give these experimental rules an opportunity.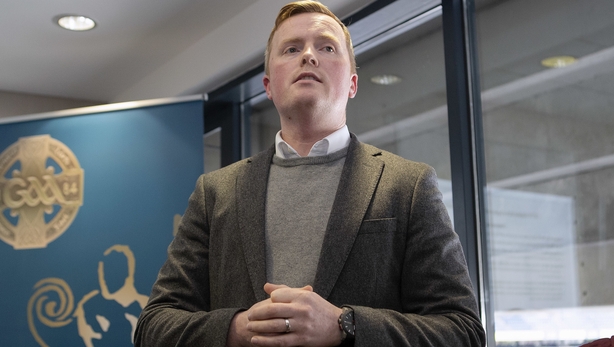 "Let's see how they work in practice. At the end of that process, we will know how they have worked in terms of the impact they will have. We will put that data again in the public domain and people can make up their own minds.
"I would point to the facts and ultimately, any objective analysis of those facts leads only to one conclusion, in particular in relation to the hand pass. If there is not some form of intervention to reduce that, the danger is it continues to dominate the game."
A process which began back in June, involved consultation with inter-county managers, players and referees in October before nine trial games and saw proposals recommended by Central Council in November, is backboned by a large body of analysis.
A great deal of it was outlined at a media briefing at Croke Park and illustrates the statistics behind the noticeable changes in the game in this decade alone. Their research revealed that in 2011 an inter-county team would ordinarily have 65 or 66 possessions, which has dropped to 42 or 43 in 2018.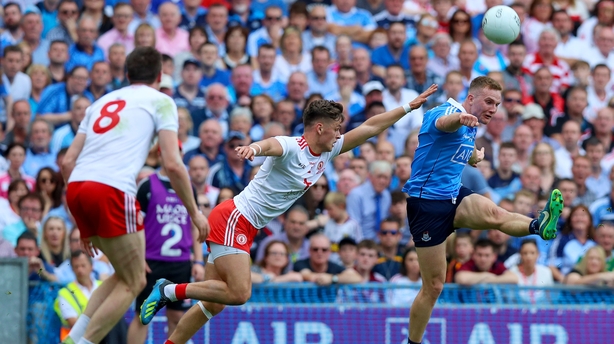 "You need about 18 or 20 scores in a game now to win a match of inter-county football," Hassan said. "You might need about 35 or 36 chances at goal to get those scores. So if you have the ball only 42 or 43 times and you need 36 of those to end in a shot, you end up with a certain type of game. A possession-based game."
As Hassan alluded to, it is the hand pass proposal that has come under the most intense scrutiny. When a team reaches three successive hand passes in the early part of next year, will they simply turn around to find a team-mate to start the sequence again?
"We are moving in the direction of 80%, maybe more, of passes in a game of inter-county football being a hand pass"
Perhaps, but at least the issue is being tackled. Since 2011, there has been an increase of more than 100 hand passes per game at inter-county level. This year's All-Ireland football final saw just 25% of all passes made by foot.
"When the committee arrived at its recommendations, we looked at what the data was telling us. That objective data is very difficult to argue against. 
"We are moving in the direction of 80%, maybe more, of passes in a game of inter-county football being a hand pass. On balance, when we looked at it, we felt there was merit in it."
Nine trial games at university level were held to run the rule over the changes. Certain quirks became apparent, and gave rise to a change in the kick-out.
Originally the rule stipulated that all kick-outs were to be taken on the 20 metre line and had to clear the 45 metre line, but the distance requirement was withdrawn.
"The original kick-out proposal didn't work on a consistent basis"
"You can have something on a sheet of paper that makes, on the face of it, a positive contribution," Hassan explained. "And then you see something on the field of play and it just doesn't work.
'Evidence-based proposals' - @jacquihurley reports from Croke Park where the GAA has shed more light on the five rule changes coming into Gaelic Football pic.twitter.com/2IUen5t42C

— RTÉ GAA (@RTEgaa) November 27, 2018
"In simple terms, the original kick-out proposal didn't work on a consistent basis. I think people conceptually understood what we were trying to move towards was a greater balance of players across the field of play and to encourage longer kicking of the ball, but when we put it into trial, it simply did not work on a regular basis.
While the GPA has called for an "urgent" meeting – GAA President John Horan has agreed to this though suggested it will make little difference – and the CPA has its own grievances arising from a defeated Central Council motion, Hassan is aware of the criticism, though argues some of it is misplaced.
"In certain quarters we have been interpreted as almost a philosophical group, seeking to 'bring the game back', I've heard that phrase used. 
"The reality is this is designed to bring the game forward. To respond to the data which was pointing very much in one direction."