Mullinalaghta manager Mickey Graham said the club's supporters were in 'dreamland' in the wake of the 'amazing' achievement of reaching the Leinster club final for the first time.
The small north Longford club became the first team from the county to reach the Leinster decider after a scorching 18-point dismissal of Carlow champs Eire Óg in Glennon Brothers Pearse Park this afternoon.
When Graham, who was recently appointed Cavan manager, arrived to manage the club three years ago, they had not won a senior county title since 1950.
This autumn, they completed the three-in-a-row in Longford, dispatching neighbours Abbeylara in the final on all three occasions, and now they've broken new ground for the county as a whole.
Speaking to RTÉ Sport after the game, Graham spoke about how the players, representing a village with a population of under 400 people, had never imagined three years ago that they might get this far.
"It's huge. First of all, to be the first Longford club ever to reach Leinster club final. When I first came here three years ago, these lads talked about winning a county championship. They never envisaged that they'd find themselves here today.
"You can see the supporters there on the final. I think every man, woman and child from Mullinalaghta is on the field to congratulate them. They're in dreamland. It's something that they'd have thought they'd never experience. And now they're in a Leinster club final.
"Mullinalaghta is a small village on the Cavan border. It's actually a half-parish of Lough Gowna which goes into Cavan. And there's 300 to 400 people that live in the parish. It's a real small area but a real tight knit community. So to do what they're after doing today is just amazing."
Mullinalaghta endured a couple of scares in low-scoring encounters earlier in the campaign, surviving in a six apiece draw in the initial county decider and then edging past the Offaly champions Rhode by two points in the quarter-final.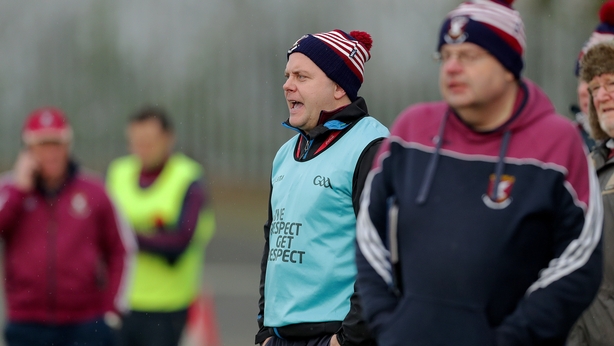 No such drama today as they cantered to victory against an Eire Óg side who finished the game with 12 men on the field.
"We studied Eire Óg and they'd been conceding an average of six or seven points a game so we thought it'd go down to the wire in the last five minutes. So we never envisaged we'd score 2-15, we thought that nine or ten points might get us over the line.
"The sendings off had a bearing on the result. They had to change their plan and we started finding space that we weren't finding in first 20 minutes or so. It was all about trying to get your noses in front and getting them to come out of their defensive shell. That was the plan."
Mullinalaghta have encountered one of the behemoths from the capital before, when they put up a spirited performance against St Vincent's in the Leinster semi-final two years ago, going down by a relatively respectable margin of seven points.
Despite this, Graham is straightforwardly talking down his team's chances against Kilmacud Crokes in the Leinster final but promises that his side will "give it a lash."
"We're under no illusions. It's a huge step up in class for us. We played Vincent's two years ago and we saw the difference in the bench they had. But we earned the right to be there. We'll hope to be competitive and that's all we'll ask. There'll be no pressure on us so we'll give it a lash. No matter the outcome, the people of Mullinalaghta will be there to cheer on their team.
Shortly after the final whistle, full-forward Rian Brady, who plundered 0-03, told RTÉ Sport that the team won't be overawed by the challenge of Kilmacud.
"We're getting a bit of attention on social media over being a small club. We don't really think about that. We're a tight knit little community. Everybody plays football. You can see nearly everybody here, there's no one left in Mullinalaghta at this stage.
"We're there and we're there to win it. It's Kilmacud in the final I'm after hearing. We'll enjoy tonight and we'll celebrate this. And early next week, we'll look down the line. We'll be there and we'll be ready to do a job."