After hearing the views of interested stakeholders,GAA Director General Tom Ryan believes there is a broad support for a second-tier football championship but added that more time will be needed in deciding on the make up of such a competition.
On a day the GAA'S Central Council agreed to the trialing experimental rule changes in relation to kick-outs, sideline kicks, handpassing, a 'sin bin' and the mark, the idea of football championship involving roughly half the teams in the country was also discussed.
Speaking to RTÉ Sport after today's gathering at Croke Park, Ryan said: "In general the sentiment of having a second-tier championship in the discussions so far has been positive.
"Today's gathering was about being more specific, about what shape that competition might take."
So what is exactly is on the table?  
"We asked people to consider two variants," he revealed.
"One, where all counties will play in their provincial championship but once you eliminated from that competition you go straight into the second tier.
"The second variant is where you are eliminated from the province, you go into the qualifiers as normal but if you lose in Rounds 1 or 2 of the qualifiers then you enter the second tier competition.
"Second-tier eligible counties would be those in Division 3 and 4 of the Allianz League."
Crucially, he added: "The answer to the thing is in there somewhere, it's between those two.
"We will now discuss possible formats at the January meeting of Central Council to allow a motion to proceed to Congress in February."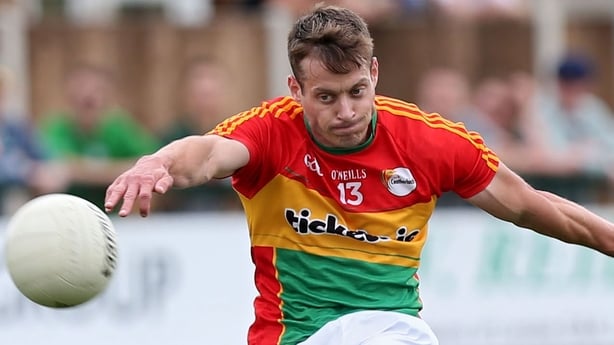 Speaking on Saturday Sport on RTÉ Radio 1, Carlow All-Star nominee Paul Broderick questioned why any new competition would just involve teams from the bottom two tiers of the league.
"Look, I wouldn't be completely against a 'B' championship, but why is it just Division 3 and Division 4 teams?
This year in the championship, we, then just out of Division 4 beat Kildare, who had been in Division 1.
I think it's unfair that it's limited to the bottom two divisions. You will only make the gap bigger between the top two and bottom two divisions.
"I would rather beat the likes of Kildare in a second-tier championship."
"You also have to look at the current provincial structures.
In the Ulster championship, you might have to beat three Division 1 teams to get to an Ulster final. In Connacht, beating a Division 4 side could see you make the final.
Longford's Mickey Quinn was somewhat more favourably disposed towards any 'B' proposal.
"Division 3 and 4 teams need more games during the summer and any structure or change that would allow that I would a agree with," he stated. 
"The Allianz League structure is something that most are happy with - you are playing teams on a level playing pitch."