Football is a great game and it's in the best health it has ever been in.
That's a statement that might shock some people, maybe even a lot of people, but it just happens to be true.
The popular narrative around Gaelic football suggests that the game is in a constant, evolving state of crisis, only ever one more bad 70 minutes away from complete meltdown.
This is mostly fed by media pundits, former players on television, on radio, in newspapers and online; a small number of voices setting an agenda that Croke Park seem happy to follow.
By contrast, hurling is viewed as a game with no problems. Any suggestion to the contrary will lead to outraged below-the-line comments.
Ask most footballers do they enjoy playing the game and they'll say yes. Why else would they play it?
Hurling is an amazing sport, no question. It's just interesting to see how the two most popular Gaelic games are treated, analysed and cherished.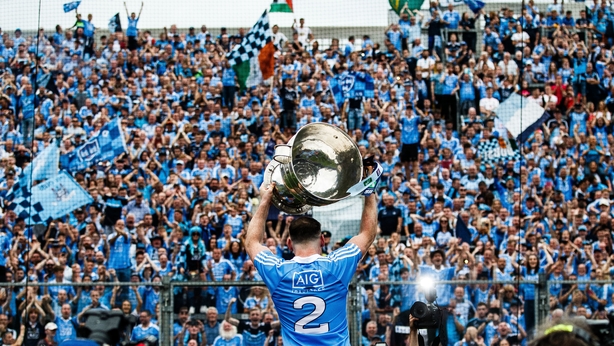 Hurling is largely left to its own devices, football is constantly being tinkered with in order to solve problems that don't always exist. On Saturday five proposals will be put to Central Council which could radically alter the game in the future.
People hark back to a supposed golden age when the big ball game was better. But watch the Kerry golden years team in action and you'll see them hand-passing the leather off it as they work the ball up the field.
There were great teams in the sixties too, Down and Galway among them, but the solos went above head height and the ball was thrown in the air before it was hand-passed, both of which would see a player cleaned out of it now and possession turned over.
Even watching a game from the first decade of this century now can be frustrating. The '02 All-Ireland semi-final between Armagh and Dublin was a classic, though it's both amazing and frustrating how often possession was simply kicked away by a clearing defender.
Sure, Fermanagh-Monaghan in this year's Ulster semi-final might not have been riveting watching. The same pairing probably wasn't back in the seventies either, there just weren't television cameras, or even many fans there to make that judgement.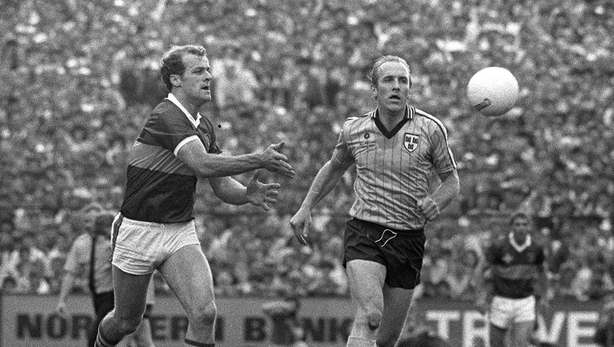 Retaining possession is not a bad thing. Hand-passing is not a bad thing. A goalkeeper going short to a corner-back in order to build an attack from deep is not a bad thing.
The problem is when teams do these things without a proper plan and this comes down to coaching.
There are plenty of under-qualified coaches at the top level that have only solved two-thirds of the equation - they want to stop the opposition scoring and they want to retain possession when they have it, yet they haven't worked out how to get enough scores to win a game.
Derry's Chrissy McKaigue proved a beacon or reason in September when his club Slaughtneil were at the centre of a controversy as Magherafelt withdrew all of their players into their own half during a county championship game and allowed an opposition player solo the ball on the spot for 30 seconds unmolested.
"Coaching in the GAA has a huge part to play in this," he said. "If you set up a very defensive team you might win a one-off game, but you won't win the big prize. This is about instant success, without taking into account the development of players or the team, and is a road to no town.
"If coaches are truly ambitious, if they want to leave a legacy, they are going to have to alter their plans."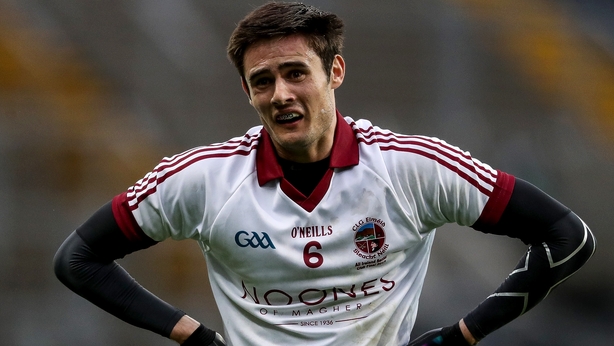 Inter-county footballers are fitter, faster, stronger and more skilful than ever before. Dublin are dominating and Kerry are their most likely challengers and it has been pretty much ever thus, the pair having shared half of all of the All-Irelands ever won between them.
There are more people playing the game at all levels than ever before all around the world and more people are watching it both at venues and on television. Ask most footballers do they enjoy playing the game and they'll say yes. Why else would they play it?
Away from the bright lights, and the the vast portion of the iceberg below the water in this case are club players, lads enjoy going to training a few nights a week and togging out on a Sunday morning. Their beef isn't with the game - it's with the uneven fixture calendar.
Among the proposals are a limit to three consecutive hand-passes, most sideline kicks having to go forward and kick-outs taken from the 20-metre line and having to pass the 45.
Recent, small-scale trials have showed that these have had mixed results at best, slowing the game down. After two hand-passes, players turned to kick the ball short in order to retain possession, at a line ball the defending team withdrew everyone behind the ball looking to force a turn-over and kick-outs were stalled as keepers tried to pick a safe, but distant target.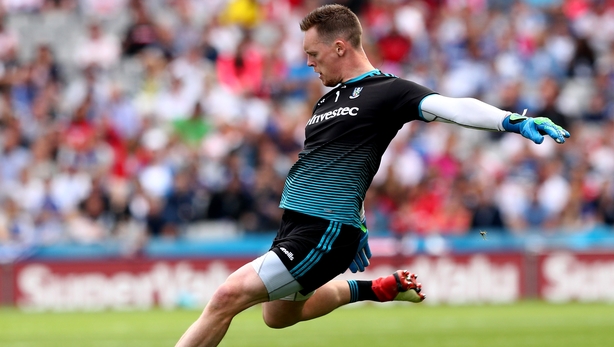 An attacking mark, another of the proposals, may well be a good thing as the midfield mark from a kick-out has added to the game.
The final proposed change, the reintroduction of the sin-bin, seems the most effective way of eliminating much of the cynicism we see in football, but it has been rejected in football twice before, largely following outcries from high-profile inter-county managers.
If, as likely, these proposals are green-lighted they'll go live in pre-season competitions which start as early as next month. They'll get a run in the Allianz League and then they'll be shelved for nearly a year.
If the appetite for change remains, they'll be voted on at the GAA's 2020 Annual Congress as the 2019 version will come too soon as it lands at the end of February.
Whatever happens, it doesn't appear as if this will be an end to the tinkering with football and its rules. Maybe, though, it's time to leave it alone and acknowledge that the game is fine as it is.
Proposed rule changes
1. A restriction of three consecutive hand-passes by a team in possession.
2. All sideline kicks to be played forward unless inside the opposition 20-metre line.
3. A clean catch inside the 45-metre line from a ball kicked in open play to be awarded with a mark.
4. Black card infractions to be penalised with ten minutes in the sin-bin.
5. Kick-outs to be taken from the 20-metre line and must pass the defending team's 45-metre line or be intercepted by an opposition player before a defending player can touch the ball.