As soon as his team-mate stood and started soloing the ball in his own half, the opposition content to allow him possession, Chrissy McKaigue knew that there would be a reaction.
And he was right, with the final few minutes of the first half of Slaughtneil's Derry Senior Football Championship first round game against Magherafelt being held up by some as an example of why football is irrevocably broken.
McKaigue doesn't believe that there's that much wrong with the game, but knew that there would be an outcry.
"After about 30 seconds of Padraig Cassidy soloing the ball and Magherafelt not pressing out, I thought to myself 'will this gain a lot of coverage?' In the last 24 hours it has," said the club and county dual player.
"It has fed a very popular opinion at the moment that football is ultra-negative.
"We had a great year of hurling this year and I'm lucky to play hurling too and maybe that has shown football in a certain light, but I can assure you that I've seen plenty of bad games of hurling too. These things are cyclical."
@JOEdotie highlight of #derrysfc Slaughtneil midfielder soloing the ball for a solid 3/4 mins.... money back please #antifootball pic.twitter.com/Wdm8VRRiFV

— Darrell Coyles (@darrellcoyles) September 9, 2018
With Derry and Ulster champions Slaughtneil leading four points to three in first-half stoppage time, Magherafelt withdrew all 15 players inside their own half of the pitch at Owenbeg.
Slaughtneil had a handful of players in their own half, the rest in attacking positions, and played the ball back and across waiting for an opening.
Except, it never came as Magherafelt sat tight, kept everyone back and refused to put pressure on the ball. The result was Cassidy, with McKaigue close by watching, soloing static inside his own half until the half-time whistle was blown.
"There was actually a big cheer from the crowd when the ref blue for half-time people were so happy it was over," said Steven Doherty, a local journalist who was working at the game.
McKaigue explains that Slaughtneil were happy to play down the clock and get into the dressing room for the break having faced into a strong wind on a filthy night for football.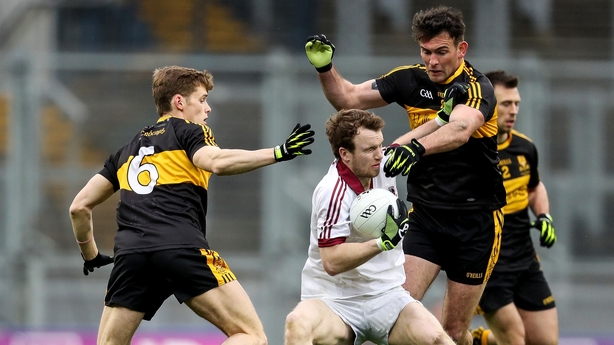 "We have many shortcomings as a team, but one of our strengths is our composure on the ball," he explained. "We are very happy in possession of the football."
A healthy crowd of 5,000 showed up for the double-header, Dungiven versus Lavey was the first game on the programme, which shows there is still an appetite for football amongst fans, even if their patience was tested at times.
Doherty takes up the story again: "The second half was very defensive too. Slaughtneil are so confident on the ball and they have such good players they'll beat most teams. If you play an open style against them they'll demolish you.
"In the second half Magherafelt kept going for goals, but they couldn't break down the defence and then Slaughtneil would hit them on the break. They won it 0-10 to 0-5 and people were going home long before the end - there were only a few hundred left at the finish."
Slaughtneil are one of the top club teams in the country, having lost two recent All-Ireland club finals, and they are going for a five in-a-row of Derry football titles, as well as a six in-a-row of hurling crowns.
Magherafelt finished second to them in the league and were actually second favourites for the championship, but a very long way behind the defending champions in the betting.
You wouldn't believe this if you hadn't seen it. Padraig Cassidy has been standing soloing the ball himself on the pitch for almost a full minute in play. Maybe 40-odd soloes. Magherafelt refusing to push up. This is actually unreal. Rule changes are absolutely required

— Cahair O'Kane (@CahairOKane1) September 9, 2018
"I hate to mention Magherafelt," said McKaigue. "This has been going on across the country for three or four years.
"This was a game we were concerned about. They are a good team defensively and they'd run up some big totals in the league - they seemed to have struck that balance very well."
McKaigue still loves Gaelic football, even though he admits games like this aren't enjoyable for players or fans, and he doesn't feel that radical rule changes will make things better.
His fear would be limiting the number of consecutive hand-passes or the number of defenders allowed in one half of the field would only be used by smart tacticians to their own ends and not improve the game.
He does argue however, the coaches have a responsibility in this area.
"Coaching in the GAA has a huge part to play in this," he said. "If you set up a very defensive team you might win a one-off game, but you won't win the big prize. This is about instant success, without taking into account the development of players or the team, and is a road to no town.
"If coaches are truly ambitious, if they want to leave a legacy, they are going to have to alter their plans."