Pre-season competitions like the Walsh Cup and the FBD League could be ditched as the GAA look to free up space in their fixture calendar.
Croke Park introduced radical changes to their programme of games this year, leaving April clear for clubs and bringing the All-Ireland finals forward into August (the football decider was on the first weekend of September due to the Pope's visit) and playing both Munster and Leinster senior hurling championships on a round-robin basis.
More changes are likely as they seek to strike the right balance between club and county and according to Fixtures Review Committee Chair Michael Martin pre-season competitions may not have a future.
The 2019 O'Byrne Cup and Walsh Cup in Leinster start in December this year as the provincial council attempted to make space in their own crowded fixture schedule.
"From a Leinster perspective, counties were consulted and managers were happy with this," said Martin, Speaking to RTÉ Sunday Sport on Radio 1.
"Teams come back training, depending on when they were knocked out, in November and December, and the preference of players is for games.
"They'd be playing games anyway; if it wasn't O'Byrne Cup or Walsh Cup, they'd be playing challenge games.
"We have discussed this and the whole value of pre-season competitions has been questioned. They're not a major priority for us."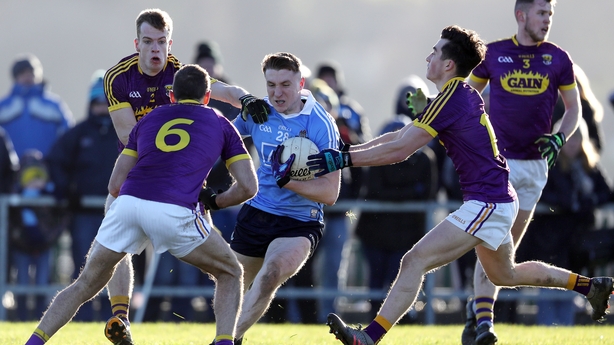 The Fixture Review Committee held a seminar in May and there will be another one in December to review the season as a whole, with feedback taken from all of the stakeholders and analysts they had monitoring fixture programmes in every county.
Martin admits that the round-robin hurling groups in May and June caused problems for counties trying to fix club games, though he says the general feeling is that the April club month was a success.
An RTÉ Sport survey showed that the majority of counties were this year behind their 2017 fixture schedules despite the changes.
However, he revealed that the All-Ireland club championships, which are completed in February and March annually, are unlikely to be brought back to December, thus eliminating the possibility of a calendar year season.
Martin explained: "The calendar year was proposed a number of years ago and based on the evidence we have collected, I would question if a calendar year is possible.
"Dual counties, where you have the same players playing hurling and football, having that finished and then through to provincial and national by the end of December would be challenging.
"I would see scope and value to bringing the club finals forward to the end of January. As a traditionalist, the St Patrick's Day slot has been good to us, but with the League being condensed there is a lot of activity in March.
"We're trying to create a balanced programme of games where we can ensure that we accommodate club players and there's a meaningful programme of game for club players. We have created more weekends for club activity.
"There is a concern in the May, June period with the hurling round-robin and it's something we are looking to address."