The 2018 PwC All-Stars in both football and hurling will be named at an awards gala at the Convention Centre in Dublin this Friday (2 November) and will be screened live on RTÉ.
We can assume that players from teams which reached the final four will dominate among the winners. So, we decided to take a glimpse at what the football All-Stars might look like if the four semi-finalists were excluded from consideration.
1. Graham Brody (Laois)
Brody sparked panic among the traditionalists with his fearless, galloping runs upfield, which he took a whole new level in championship 2018.
Others realised that a goalkeeper scampering to the halfway line with the ball in Gaelic football doesn't exactly entail a Manuel Neuer level of jeopardy. The full back - always allowed to handle the ball - can simply mind the house when he joins the fray.
Brody was a vivid presence in what was a positive year for Laois - after a couple of grim ones - and performed well against Dublin in the Leinster final.
Great save by Graham Brody!! pic.twitter.com/KPfmZT1uEq

— The GAA (@officialgaa) June 24, 2018
2. Eoghan Bán Gallagher (Donegal)
A shoo-in for this team considering he was selected for the Sunday Game Team of the Year proper. Alternatively used as a corner back and a wing back, Gallagher caught the eye through his surging raids upfield, most notably in the Ulster final where he lashed home the opening goal.
3. Ché Cullen (Fermanagh)
Man of the Match in that unlikely win over Monaghan in Omagh, which sent Fermanagh to their first provincial decider since 2008 and gave the DUP leader a day out in Clones.
Fermanagh had already surprised the often flaky Armagh in an eyesore of a game in Brewster Park but Monaghan in the semi-final were regarded as a cut above. Cullen's role in stifling Conor McManus was central to the victory.
Has a possible advantage come award season in that his striking first name isn't forgotten in a hurry. We can't confirm whether his parents harbour left-wing sympathies though his brother Fidel insists they don't (joke).
4. Gareth Dillon (Laois)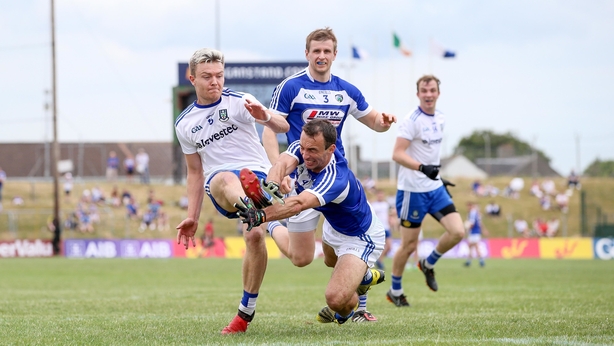 The Portlaoise player was Laois Footballer of the Year in 2017 and added to his reputation with a series of excellent performances this year.
While more renowned as an especially adhesive man-marker, he stepped forward to land the vital score which kept Laois alive in the 74th minute of their Leinster opener.
5. Ryan McHugh (Donegal)
Operated at both wing back and wing forward when required this season. Such a positional switch doesn't represent much of a culture change anymore, the two positions seeming to have essentially blended into one another.
McHugh, an All-Star in 2016 and nominated again this year, scores freely and bounds up and down the pitch no matter where he's named on the team sheet
He was positioned at wing back in the Ulster championship and managed to plunder goals against both Cavan in the first round and Fermanagh in the final.
6. Eoin Doyle (Kildare)
2018 began in contentious fashion for Doyle when he sent off in the league against Donegal on the grounds that he wasn't wearing a gum-shield. The incident was typical of Kildare's wretched, confidence-sapping league run.
By the year's end, he has an All-Star nomination after a series of fine displays at centre back during Kildare's summer-time rejuvenation.
Centrally involved in Neil Flynn's palmed goal against Fermanagh in the last 12 game, one of the sexier things that has ever happened on the Páirc Tailteann pitch.
7. Gavin White (Kerry)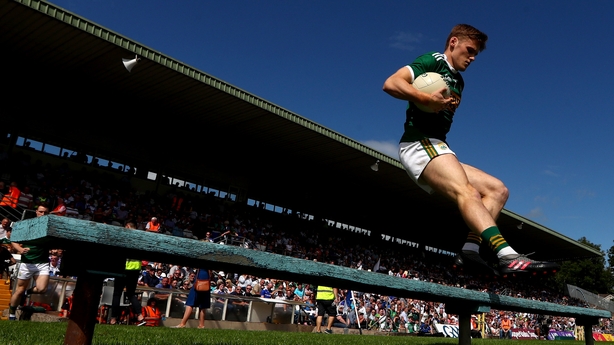 A star for both Dr. Crokes and Kerry's underage sides in recent years, White stepped up at senior level in 2018 and, such was his team's predicament this year, assumed a leadership role rather quickly.
Superb in the Munster final, White suffered like the rest of them against Galway on a dank evening in Dublin. However, he carried the fight to Monaghan in the second half when Kerry were scrapping to keep their championship hopes alive.
Tom O'Sullivan, another young Kerry player to shine in the second half, might have made made it had he played more games in this year's championship.
8. Gearoid McKiernan (Cavan)
On paper, 2018 was hardly the most miserable of years for Cavan football. They gained promotion back to Division 1 (a dubious prize we hear Kildare folk muttering) and their club championship delivered some rip-roaring fare in the autumn months.
However, Cavan's usually fanatical supporters seemed overcome with feelings of ennui and apathy as another championship season petered away in late summer.
McKiernan, occasionally operating at centre forward, but always good for a bit of towering high fielding, was one of the big bright spots.
He rustled up 1-02 when his team were in real trouble against Down and then delivered a phenomenal performance in a losing cause against Tyrone, scoring 0-03 from play and driving his team forward constantly.
An inspirational score for @CavanCoBoardGaa from Gearoid McKiernan pic.twitter.com/IYm65AxR2U

— The GAA (@officialgaa) June 30, 2018
9. Eoin Donnelly (Fermanagh)
Fermanagh's inspirational, long-time captain has endured setbacks in the past, notably a broken leg back in 2013.
But he's a constant presence under a stream of managers since and had a super year in 2018 as Fermanagh gained promotion back to the second tier and reached an Ulster final for the first time in a decade.
His most memorable moment of the year came with his match-winning last minute punched goal against Monaghan.
While a ball-winning presence in midfield this year, the mooted rule changes suggest he may have a future on the edge of the square.
Fermanagh captain Eoin Donnelly delivers the knockout punch to Monaghan's Ulster SFC hopes. Watch the highlights @RTE2 at 9.30pm tonight https://t.co/537GOm6fbu #RTEGAA pic.twitter.com/e4IbbIDD4a

— The Sunday Game (@TheSundayGame) June 3, 2018
10. Michael Murphy (Donegal)
His positioning in the Donegal team remains controversial to the purists and it's hard to pin him down anywhere in a team of the year.
He was often deployed in midfield but delivered his most stylishly exuberant performance when placed closer to goal against Roscommon, rustling up a nine-point haul and demolishing the Connacht finalists.
Scored freely, along with the rest of his team, in the Ulster championship, and stood up well in the respectable defeat to Dublin in Croke Park.
His excellence is now taken for granted and can sometimes be overlooked. A positive year for the Glenswilly player who ends with a fourth Ulster SFC medal.
11. Paul Cribbin (Kildare)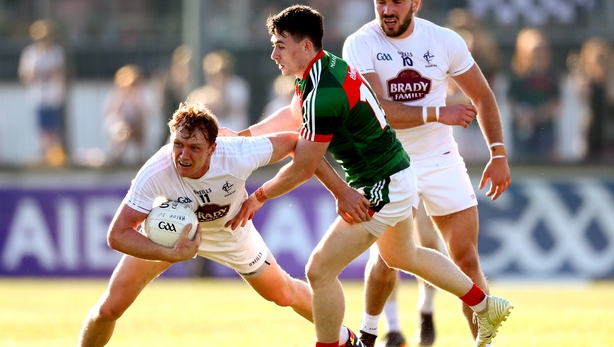 No one was more infused with the spirit of 'Newbridge or nowhere' than Cribbin who delivered his finest performance in one of the most memorable qualifier matches of this or any season.
He lobbed over four points in a Man of the Match display as Mayo's season was ended before June was out.
Aside from a frustrating afternoon against Monaghan, his Super 8s form was strong; he posted 0-03 and 1-05 from play against Galway and Kerry respectively.
12. Rory Grugan (Armagh)
Mr. Consistency in a team for whom that quality is in short supply. The Ballymacnab player will rue the penalty miss at a critical juncture in the last 12 clash with the Rossies but he was otherwise Armagh's most impressive and reliable forward, posting healthy scoring numbers in the wins over Clare and Sligo.
13. Paul Broderick (Carlow)
Carlow's first All-Star nominee since Colm Hayden back in 1994 (a nod to the county's All-Ireland B title that year), Broderick posted the highest average scoring rate from the 2018 championship, racking up 1-29 in just four matches (that's 0-08 per game).
He spoke to RTÉ Sport's Jim McMahon about his nomination last month.
14. Daniel Flynn (Kildare)
"A sick dog waiting to be put down," was Daniel Flynn's description of the prevailing view on Kildare following their humiliating loss to Carlow.
As we know, they finished the year in somewhat more buoyant mood, having reminded the public of the talent (latent until then) that existed within their ranks.
There's none more talented that Flynn, one of the most elegant full-forwards in the game. Was impressive in pretty much all the games at the business end of the season, including the game against Galway when his dismissal cost his team.
Was especially impressive in Kildare's rock and roll display against Fermanagh in the last 12.
15. David Clifford (Kerry)
The Arctic Monkeys implored us to "not believe the hype" many years ago and the Kerry management appeared to be doing its utmost to tamp it down at the beginning of the year.
It's become a bit harder after 2018. Not since Joe Canning's wonderkind display against Cork in 2008 has a precocious talent justified said hype so quickly. Stats collected by @DontFoul reveal that in his three Super 8s games, Clifford had an "extraordinary" shooting accuracy average of 78%.
David Clifford is extraordinary. Super 8s

0-02 from 2 on frees (yellow)
4-00 from 4 on goal attempts (red)
0-12 from 17 (71%) on point attempts (white = left, black = right)

That's 78% (4–14 from 23) in total scoring ~11 points more than an avg intercounty player would #Yeesh pic.twitter.com/mTuVycDcZP

— dontfoul (@dontfoul) August 8, 2018
His last gasp goal against Monaghan was one of the few true operatic moments in a humdrum year for Gaelic football.
Was David Clifford's goal against Monaghan your favourite memory of 2018 summer? @Kerry_Official Vote: https://t.co/PMGwcB8gpp #RTEGAA pic.twitter.com/UXLFnozN0O

— RTÉ GAA (@RTEgaa) October 27, 2018
Follow the PwC All-Star Awards 2018 this Friday via our live blog on RTÉ.ie/sport or the News now app, or watch live coverage on RTÉ One from 7pm.