The phone rang at 7.20am. Paul Broderick wondered why his father was calling him at such an early hour.
Was something up? You start to worry. The phone is answered and a happy voice is on the end of the line, telling the recipient that they have been nominated for an All-Star.
"Will you go away out of that and stop the messing," was Broderick's reaction to his father.
This was no wind-up, however. For the first time since Colm Hayden in 1994, Carlow have a football All-Star nominee.
Broderick will now be in attendance along with the other 44 nominees for the big bash in Dublin's Convention Centre on Friday, 2 November.
A proud day for our club as @Tinryland_GFC 's @Paul__Broderick is nominated for an All Star. Congratulations Paul. pic.twitter.com/0QfjqK699z

— Tinryland GFC (@Tinryland_GFC) September 12, 2018
After making notable progress under Turlough O'Brien in 2017, Carlow's stock continued to rise during this year's league and championship, evidenced by their promotion from Division 4 and reaching the Leinster semi-final.
Broderick was central to that rise as he notched up a combined 3-75 in the competive games he played this year.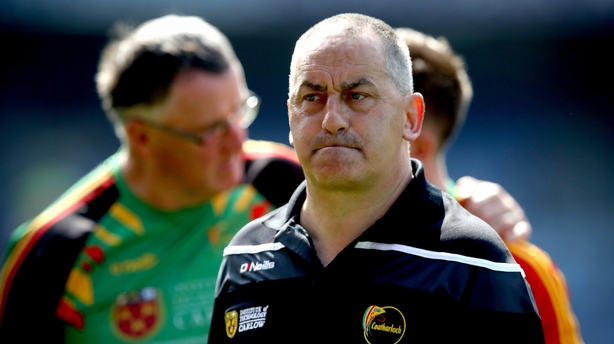 He is, however, keen to deflect any attention from himself and feels the management structures currently in place are allowing Carlow to finally move up the pecking order.
He told RTÉ Sport: "I'm honoured to have gotten the nomination but I'm just one part of a squad coached by a progressive management team, headed up by Turlough O'Brien, that has made a huge difference.
"Things were different before, and that's not any disrespect to those who were in charge before.
"Okay, we knew we weren't going to beat Dublin but Louth first up was surely a game we could win"
"But things have finally clicked for us now. We haven't had the player turnover that we would have had before.
"At the start of this year, we knew that, barring injury, everybody was going to be around for League and Championship. It was easy to grow and develop within that system - a far cry from the beatings we took three or four years ago.
In assessing 2018, the Tinryland clubman said that the squad treated the year as two separate seasons.  
"Our main goal was achieved when we got promotion and then you had to come down off that high and prepare for an altogether different challenge," he added.
"Then we said to ourselves that we are capable of taking a scalp or two in the championship. Okay, we knew we weren't going to beat Dublin but Louth first up was surely a game we could win.
"They had given us a trimming a few years ago but their confidence was now low after losing all their league games. We won with a bit to spare.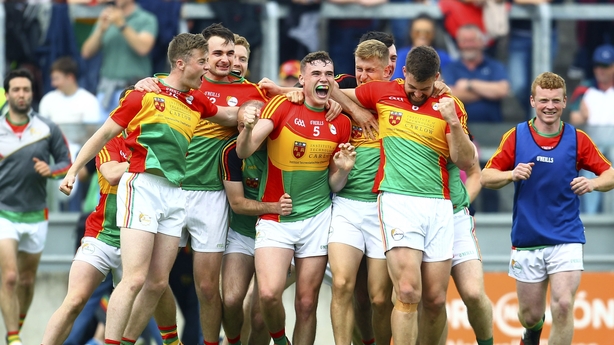 "And then Kildare. The pleasing thing about beating Kildare was that it was no smash and grab. We were doing a lot of things right. We were in control of things."
That control, however, was not there according to Broderick against Laois in the Leinster semi-final.
"Laois had our number all this year. I don't think we went ahead in any of the three games we played against them. In the Leinster semi, we were coached to do different things and players didn't do them, things that could have got us over the line and into a provincial final.
"And then we played a side (Tyrone) who would eventually reach the All-Ireland final. It was great to have the big teams on your home patch. We want to experience more of that."
Broderick is quite bullish when looking ahead to 2019.
"We don't want to go back down to Division 4," was his clear message.
"If we win our first couple of games, we will realign our goals. Another promotion would be brilliant. Above all we want to be in with a fighting chance coming into March."
Before all that, Broderick will line out for his club Tinryland this weekend against Mount Leinster Rangers. A place in the Carlow SFC semi-final is at stake.
"It's three months since the inter-county season finished and it's great to still be involved in those all-or-nothing games, great to be expressing yourself and enjoying your football."