The 'five in a row' has an almost mystical place in GAA lore. The fact that it has never been accomplished in senior inter-county hurling or football makes it a landmark achievement.
This Sunday, Ballygunner will aim to join the elite band who have when they line out in the Waterford senior hurling final against Abbeyside.
It would be a first for the city club but not the county - both Mount Sion (1953-61) and Erin's Own (1927-1935) once reigned supreme for nine years.
Standing in the Gunners' way at Fraher Field will be a side that is increasingly rare in modern GAA terms - a true dual team, competing at senior level in both codes since 2003.
As the river Colligan enters the sea it separates the town of Dungarvan, on the west bank, from Abbeyside, aka 'The Village' on the east. Further east around the coast lies Ballinacourty, famed for its potatoes and 19th-century lighthouse.
Abbeyside-Ballinacourty GAA club was formed from the merger of two clubs in 1967, the Abbeyside hurlers and Ballinacourty footballers.
They are now unified in every sense but maintain the tradition of using separate names and jerseys depending on the size of the ball they are competing for - blue and gold hoops in hurling, white and green in football.
As Ballinacourty, they have won the Waterford senior football crown six times, but the top title has always eluded Abbeyside.
They have lost five finals - in 1955, '57, '64 and '69 and 2008 - and even though clubmen Austin Flynn and Donal 'Duck' Whelan were members of the last Waterford team to claim All-Ireland glory in 1959, the county prize escaped them.
Manager Peter Queally was a wing-back on the Deise team that bridged a 39-year gap to win Munster in 2002.
A Garda in Youghal, he lined out in goal for home club Newtown-Ballydurn at the tender age of 47 last month, joking that he has "tried a couple of times to retire" but was called on once again when suspensions struck ahead of a junior final.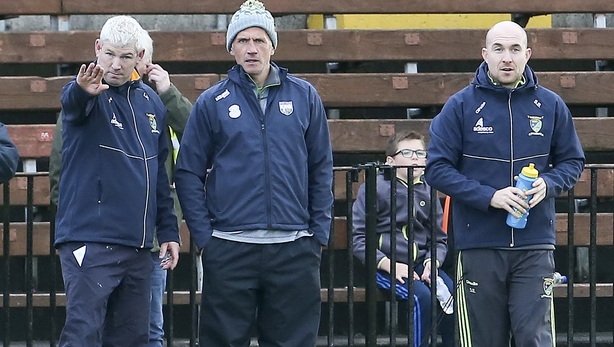 Queally heads the identical Abbeyside and Ballinacourty management teams, which comprise himself, Shane Briggs, a former Waterford and Munster player and sibling of former Ireland rugby captain Niamh, and Laurence Hurney, a player and selector with Waterford and older brother of Gary and Patrick.
Almost all of the squad play both hurling and football - they have a semi-final in the big ball to look forward to against The Nire later this month - which helps to ease potential tensions over training.
"It's probably an unusual role to be doing both," offers Queally, who has made great strides in his first year in charge. "It's something that is quite challenging but, at the same time, has worked quite well.
"With lots of senior dual clubs, there's plenty of rowing over who gets their pound of flesh this week and that week, so it has worked in that regard.
"We're probably more natural footballers so we probably did put a bit more emphasis on our hurling, and get that level up. But at the same time, there are a lot of proud football people in this club and you can't just turn a blind eye to that either.
"So far we've managed to get the balance right, what we need now is a bit of silverware to show for it.
"I wouldn't have set out goals or anything at the start. You're just trying to get as much improvement as you can into a team and make as much progress as you can.
"The progress has been excellent. I've been delighted with the response and I've really enjoyed it, which is a huge bonus. If we can back that up with another couple of results it would really make it a brilliant year."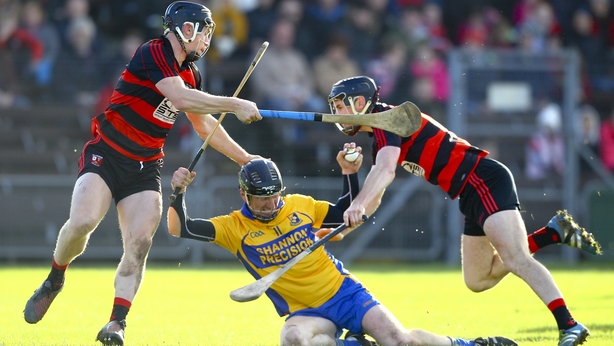 Getting their hands on that silverware will be no easy task. Ballygunner have county stars of the calibre of netminder Stephen O'Keeffe, the recently retired Barry Coughlan, Philip Mahony and his younger brother Pauric, who scored 1-11 in the 25-point semi-final victory over Passage.
"There's no-one underestimating the task that's ahead of us," admits Queally. "They're an outstanding team. They've gone through all four of the previous Championships unbeaten, even in league stages.
"They were ultra-impressive in their semi-final win over Passage, who had been good up to that point.
"The task is daunting but, at the same time, after waiting so long to get back into a final, it's one the Abbeyside lads are relishing and looking forward to."
Though his side are overwhelming underdogs, Queally insists they wouldn't take any solace from a dignified defeat.
"The reality is, it doesn't matter who you're facing in a final, be it a team going for five, six, seven in a row or two teams trying to get their first county final.
"Finals are all about winning, it's not going to be any consolation to us if we put it up to Ballygunner but we don't win.
"You could go down the road of 'there's no real pressure on us' but we're not in this just to make up the numbers, we're in it to win it."

There are six survivors from the team that lost the 08 decider to De La Salle: top scorer Mark Ferncombe - who once hit a hat-trick for Waterford in an Allianz Football League game - Richie Foley, Tiernan Murray, Sean O'Hare, and brothers Patrick and John Hurney. To rub salt in the wound, they were beaten in the football final that year too.
Talented wing-back Conor Prunty was on both the Waterford senior and U21 hurling panels in 2018 while Neil Montgomery was a half-forward on the U21s. Brian Looby and goalkeeper Stephen Enright played for the county footballers last summer.
Abbeyside have been impressive themselves since losing their opening Championship game to Sunday's opponents, back in April.
They scored nine goals in three subsequent games before scraping past last year's finalists De La Salle by 0-14 to 0-13 in the semis.
"The weather was awful and it made the conditions very hard for hurling," reflects Queally on the opening-day defeat to Ballygunner. "It was a good tough, competitive display and it set us up nicely for the remainder of the Championship.
"We went in as underdogs against a very good De La Salle team. We were a point down maybe with 10 minutes to go and they showed great character to hold De La Salle scoreless and get the two points. It was brilliant to get over that hurdle.
"I'm hoping that that gritty performance will stand to us. Hurling-wise it wasn't our best performance this year so we're hoping that we can hurl a bit better, with that character, and that should stand to us.
"We need to convert our chances. All year we've worked on creating goal chances but our conversion rate in a lot of matches hasn't been great. We know that if we get two or three goal chances, we have to take them and hopefully get enough points to outscore Ballygunner."