The Mayo Ladies Gaelic Football Association has backed manager Peter Leahy and claim that the walk-out by a number of players was designed to force him to resign.
Just hours before an appeal against Carnacon's re-admission into the Mayo championship is to be heard by the Connacht LGFA, the Mayo LGFA has released a statement endorsing the management team for 2019.
Last night the former members of the panel, who left ahead of a championship game against Cavan in July, said that they withdrew because they felt the environment was "toxic".
And in a further statement this morning also refused to withdraw an allegation by Cora Staunton, one of eight Carnacon players to leave, that it was not "safe".
In response the Mayo LGFA said: "We are of the opinion that the walkout was an orchestrated move designed to make the management of Peter Leahy untenable due to sheer weight of numbers leaving the panel.
"We feel it was a move designed to wrestle control of the senior team from the management and but for the steadfastness of Peter Leahy, the existing Mayo panel and the County Board it would have succeeded."
Members of the Mayo LGFA executive say they met with the departing players after the walk-out and concluded that "their issues related to management style, decisions and selections that are normal and commonplace in any team environment."
In response to a statement released via the Women's Gaelic Players Association where the departing players cited "player welfare issues of a personal and sensitive nature" as their reason, the Mayo LGFA said: "We are of the opinion that this was an orchestrated and calculated statement designed to create maximum impact, and garner maximum headlines."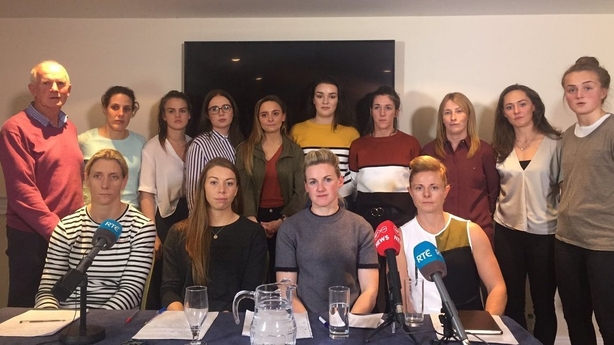 The Connacht LGFA are to meet tonight to hear an appeal against the overturning of Mayo LGFA's decision to remove Carnacon from the county championship for bringing the game into disrepute in relation to the player walk-out.
"The [Mayo] club delegates felt that members of the Carnacon club were complicit in the whole event and had brought Mayo LGFA into disrepute by causing a very public storm through their actions and the harmful statement which followed," the Mayo LGFA added.
@jacquihurley reports from Mayo where the 12 players and two members of the backroom team have broken their silence on the player welfare issues that they say lead to their departure from Mayo women's panel #rtegaa pic.twitter.com/dRkU6bjBlo

— RTÉ GAA (@RTEgaa) September 18, 2018
The players who left the panel also said: "Ultimately our issues related to a lack of communication, being undermined, intimidated, feeling isolated and eventually helpless in the entire situation."
The Mayo LGFA also commended the remaining players saying they were put "under immense emotional pressures and in some cases, intimidation."