Until July of this year, Donegal goalkeeper Shaun Patton had never faced Dublin. After three years of a professional career in the League of Ireland, the Letterkenny man put the soccer on hold to answer Declan Bonner's call ahead of the 2018 season.
After stints with Finn Harps and Derry City, he helped Sligo Rovers maintain their top-flight status last season when he conceded just one goal in their final four games. An injury setback came at a bad time with his contract running out and unwilling to simply remain on the bench at a League of Ireland club, he linked up with Donegal, three-and-a-half years after his last game of Gaelic football.
Bonner's men were relegated to the second tier of the League, but the new number one impressed as he found his feet at the top level. A season that was continuing on an upward trajectory however hit a speed bump in Croke Park against the Dubs.
It was the county's first Super 8s fixture, but it was Patton's first time facing the Boys in Blue - Peter Boyle was between the sticks in the League encounter - and is honest enough to admit he found the going tough at times during the five-point defeat.
"It was a massive experience and learning curve," he admits. "I was expecting them to be at a different level, but the level they were at caught me off guard.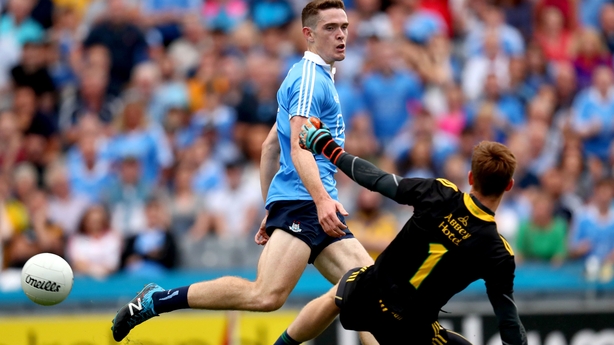 "I didn't understand how good a team they were until I was put out in front of them. They closed me off and got good joy out of our kick-outs. I struggled, it's not a secret."
Not the first, and unlikely to be the last.
What is it that sets Dublin apart from their rivals at restarts? Where are there opportunities for opposition? How does Mickey Harte's Tyrone set-up from both their own and opposition kick-outs? How will both teams likely to set up on Sunday?
Patton, Monaghan's Rory Beggan and Ruairi Lavelle of Galway have all faced both teams this year and offer their insights from those encounters.
DUBLIN RESTARTS
Even the most casual footballer is aware that Stephen Cluxton and Dublin are the standard bearers from restarts, but what is it that sets them apart?
According to Rory Beggan, there is nothing pre-programmed, they simply play what is in front of them after much work on the training ground.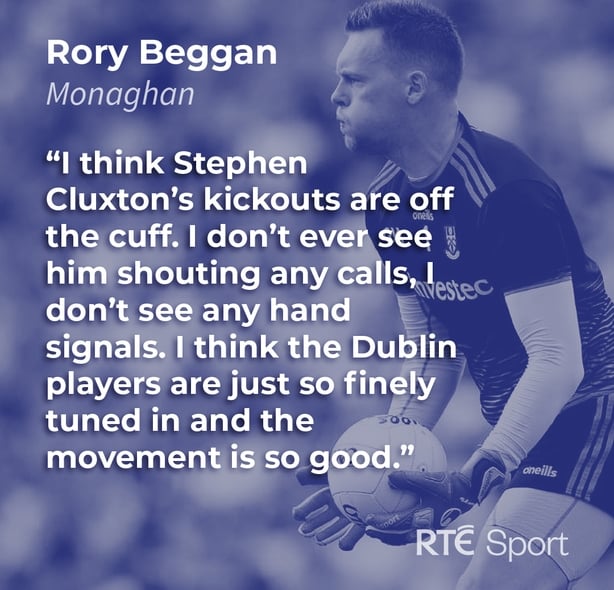 "I don't ever see him shouting any calls and I don't see any hand signals, it's just the team are so tuned in."
Patton says that not everything is off-the-cuff and a team as finely tuned as Dublin caters for all eventualities, such as serious opposition pressure in the form of a high press.
"When things are closed down, they go to their default kick-outs," he says.
"They have ones where they suck opposition players out the field, and ones where they suck them infield and over the top. With the range of kicking Cluxton has, it's easy for outfield players to move when they have such trust in their number one."
To press, or not to press? That is the pertinent question when facing the Dubs.
Earlier this week former Kerry manager Eamonn Fitzmaurice told Newstalk that Cluxton's accuracy forced them into a tactical alteration in 2016. A zonal policy, where six forwards took responsibility for an area rather than a player, had to be shelved because of the Parnell's clubman.
"Cluxton became so accurate and the Dublin backs became so good at getting two yards of space that we had to go a bit more extreme," he admitted.
Do you allow Dublin get quick possession and retreat into a defensive pattern, or press higher and gamble on putting them under pressure?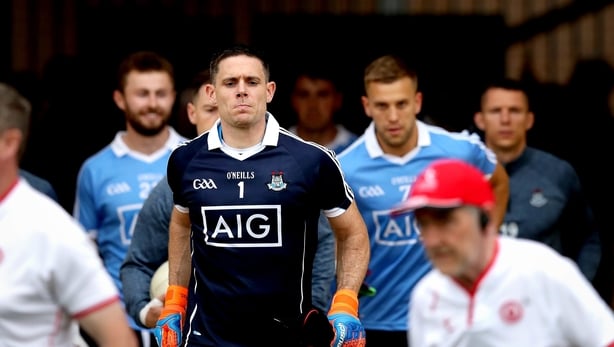 During their Super 8s defeat in Omagh, Tyrone won four successive Dublin kick-outs when they pressed after the break in an effort to claw back the deficit. Mayo and Kerry on occasions have rattled Cluxton by exerting pressure from the off, but it is not without risk.
"If you press, they can go long and you are immediately on the backfoot," Beggan says. "There were times in the League game where we wanted to press, but it can be so demanding."
The demands are just as taxing mentally as they are on the body.
"The big thing is concentration," says Galway's Ruairi Lavelle, who faced the Dubs twice this year. "If you have a lapse in the forward line and you lose your man for a split second, he's gone and will be catching the ball cleanly as Cluxton is accurate for such a wide range of distances."
The Galway man adds that flexibility is also required when tackling the Gavin's all-conquering side.
"You may find yourself marking man-on-man and maybe there might be stages during the game where you have to go zonally and you have to be ready for that."
DUBLIN ON OPPOSITION RESTARTS
Patton concedes that the Super 8s defeat was a somewhat chastening experience, but adds there is no "crazy tactics" employed by a team looking to join Kerry and Wexford as four-in-a-row champions.
"It's probably their intensity. In Ulster, teams tend to drop off, but Dublin absolutely squeezed the life out of us. They pressed immediately and shut every man down. There was nothing there."
The facts back up his point. Donegal won just 60pc of their own kickouts, while the Dubs won 23 out of their 25 efforts on the day.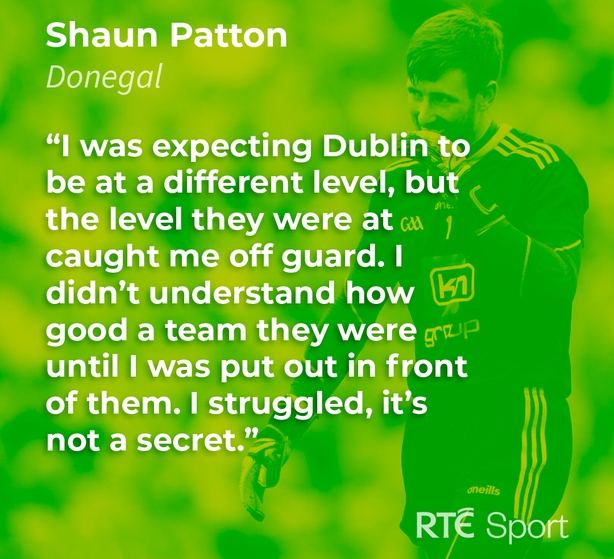 Only Monaghan have lowered Dublin colours this year in what was essentially a dead rubber fixture at Croke Park. A one-point victory was savoured by the Farney men if not the majority of the 22,000 patrons that went through the turnstiles, but Beggan recalls a challenging day, even with a number of Jim Gavin's frontliners out of the equation.
"Dublin seem to get into the exact same press from each kick-out. Whenever I looked up I would see blue everywhere. As soon as they got a shot away, they immediately got into shape to make it really hard for me. You are wondering how they can maintain it throughout the full match."
Lavelle contends there are opportunities if a team is good enough to exploit them.
"There is space there as I found Dublin tend to mark zonally rather than their men"
In his senior inter-county career to date, Mayo are the team that have put him under the most pressure - "they have the hands up, are moving left and right and are so drilled", and has found Dublin's approach a little different.
In the tempestous draw in Salthill earlier in the year, and the semi-final loss earlier this month, the Salthill Knocknacarra clubman was comfortable in picking out maroon jerseys.
"Dublin's six forwards are responsible for six different zones. There is space there as I found they tend to mark zonally rather than their men. I have played them twice and wasn't that taken aback by them on my kick-outs."
TYRONE RESTARTS
What Harte decides to do here will be the focus of a lot of attention. Dublin are consistent in this area, but Tyrone have a few different options they can call upon.
"Dublin don't change, they will go with their usual way about it and high press Tyrone," says Patton, whose Donegal team-mates employed the same tactic in the Ulster final.
"You are coming up against a fantastic keeper like Niall Morgan and such a fine striker of the ball."
"If Tyrone can't get it away short, they have big Colm Cavanagh to aim at and he is unbelievable in the air"
Monaghan got a little joy from Morgan in the All-Ireland semi-final - Tyrone lost six of their kick-outs compared to Monaghan's two - but Beggan is of the belief that Tyrone's mental resolve will serve them well.
"You'd imagine Dublin will try to unsettle Tyrone in the first few kick-outs, but I don't think that will bother them. If they can't get it away short, they have big Colm Cavanagh to aim at and he is unbelievable in the air.
"We won some kick-outs against Tyrone, but we didn't make hay from it. If Dublin do likewise, they will probably be more clinical than we were in the semi-final."
TYRONE ON OPPOSITION RESTARTS
The ideal scenario for a goalkeeper is to get a few handy kicks away and settle into the game quickly. While Dublin ensure opposition shot-stoppers must always been on high alert, Tyrone often adopt a different approach.
Against Donegal in the Ulster final, the Red Hand were happy to leave one, sometimes two, in the full-forward line which allowed Patton to easily pick out close range targets.
Of his 28 restarts, 16 were within the 45m line. Tyrone's four turnovers from Patton's kicks were all claimed in and around the halfway line.
"It takes more pressure off. You still have to get the ball away to hand, but if the team is not fully committed to a high press it is much easier to get it off."
It was a similar scenario that Beggan found himself in for the All-Ireland semi-final as Harte focused on funneling players downfield and into defensive positions.
"I found it very easy to get my kick-outs away against Tyrone. It's weird, because it wasn't like they sat off us, they did press at times, so a lot of it was down to our movement.
"I was very surprised that it wasn't as intense a press as I would have expected."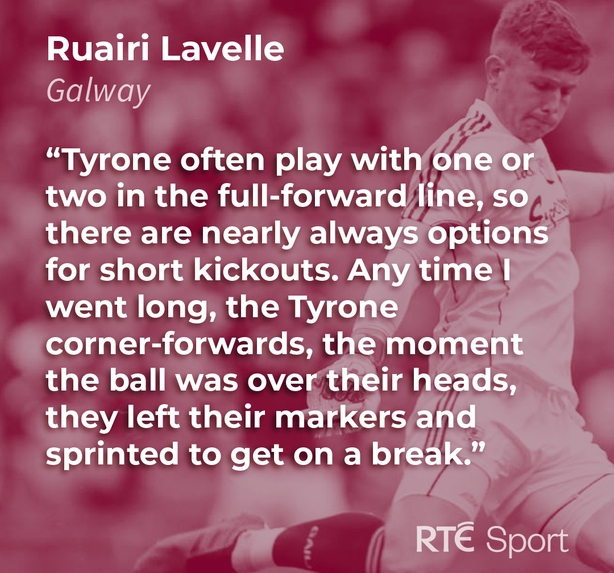 The work-rate of the Tyrone inside line is crucial. Mark Bradley, Richie Donnelly and Conor McAliskey have been named on the starting team and if that is indeed the trio that takes to the field, Clonoe's McAliskey is the forward likely to spend the most time in and around the dangerzone.
In their opening league fixture back in January, Lavelle saw up close just how Tyrone operate when the attackers drop off.
"Any time I went long, the Tyrone corner-forwards, the moment the ball was over their heads, they are left their markers and sprinted to get on a break. Their hunger really caught my eye that day.
"They immediately look to pick up on breaking ball."
DUBLIN V TYRONE
So will both teams stick to what has served them well for the majority of the run to the final?
"It's hard to know what Tyrone will do, but I I could see them dropping behind the ball, setting up, and letting Dublin get it away to the full-back line and defend from there," says Patton.
It's a policy that Beggan believes would make their task of a huge upset even more of an uphill challenge.
"The more possession that Dublin get, the more of a threat they are. We all know how ruthless and clinical they are with the ball. You must starve them as much possession as you can.
"Even forcing them to kick long every second or third to contest a 50/50."
Follow the All-Ireland senior football final via our live blog on RTÉ.ie and the News Now App, watch television coverage on The Sunday Game Live from 2.30pm on RTÉ 2 and RTÉ Player. Listen to exclusive national radio commentary on Sunday Sport, RTÉ Radio 1. Highlights on The Sunday Game at 9.30pm on RTÉ 2.