Tipperary Under-21 hurling manager Liam Cahill is open to taking on the senior role if the backroom team is right. He was speaking after leading his side to All-Ireland success yesterday.
Tipp, underdogs going into the final, scored a late goal to deny Cork, as Cahill added to a previous win with the minor hurling team.
Cahill praised coach Mikey Beevans and his "small, modest backroom team of around ten people, including four selectors" after this victory. 
He told RTÉ Sport: "I will talk to the relevant people involved if they so wish to talk to me. I haven't heard anything from anybody and in respect to the county board and the people appointed to make this new management appointment, they have left me alone until after Sunday.
"Definitely I would sit down with them if the call comes. We'll see. There is so much to this senior job that you just can't come in straight away and say yes.
"The appointment of the manager is one thing, but who is going to be on his ticket is going to be the big deal breaker as far as I'd be concerned."
The Premier County were beaten by 13 points in the Munster final against the Rebels but in a topsy turvy encounter, they were in the game throughout, with Conor Stakelum's goal settling the game in the closing seconds.
Cahill said of the win: "We're absolutely thrilled. It was a brilliant performance from the players. It was pure heart on the sleeve stuff and real honesty and commitment. It was pure dedication to that Tipperary jersey to die in their boots for the cause today. I'm thrilled for them in particular.
"We competed and we gave ourselves a chance. Cork were deserving winners in the Munster final and the margin probably even flattered us a bit.
"We felt on the night Cork were far superior but our performance, energy levels, honesty and ability to fight wasn't there. We were everything that is not about a Tipperary team in Cork.
"We had to look hard at ourselves as a management team and players. We're getting to an age now where responsibility is bigger. Minor level you'll say they are 16, 17, fair enough, but these lads are maturing into being senior hurlers for Tipperary. They took a lot of constructive criticism.
"There was a marvellous job done by our coach Mikey Beevans in the background. People don't understand the knowledge this man has and his ability to teach these players."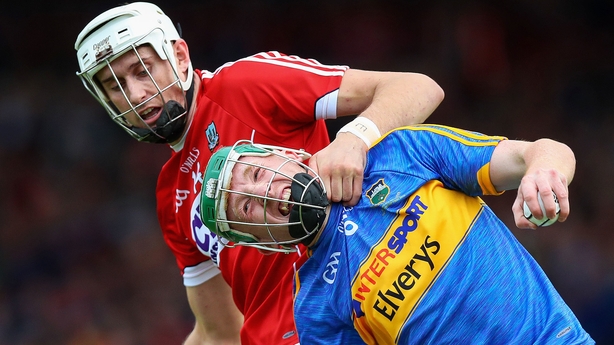 That dramatic Stakelum goal has lifted some of the gloom over the county after a difficult year and Cahill admitted he has no reason to look under the tree for anything extra on Christmas morning this year.
"If you're to win an All-Ireland, that's the way to win it," he said.
"That's what you'd be writing to Santa Claus for Christmas for.
"We're thrilled. In fairness if the game was played again in the morning, Cork could do what they did to us in the Munster final. We're just happy to be at the right end of it today."