Cork haven't won an All-Ireland Under-21 hurling title since 1998 and the team of Donal Óg Cusack, Diarmuid O'Sullivan and Sean Óg Ó hAilpín.
That's 20 years – a hell of a long time for a county that considers itself an aristocrat of the stick and ball game.
Cusack, O'Sullivan, Ó hAilpín, along with the likes of Joe Deane and Timmy McCarthy went on to win the Liam MacCarthy with the Rebels, though their senior victory in 2005 is also Cork's last.
The Rebels have been on the rise in recent seasons however, and they only lost out to eventual All-Ireland champions Limerick after extra-time in an epic semi-final.
They have a chance to break their Under-21 drought at the weekend when they take on Tipperary in the final at the Gaelic Grounds.
"It is an All-Ireland final, after all, we haven't been picking these titles like flowers the last few years – they're hard come by and we're going to be fully focused," said manager Denis Ring, speaking to RTÉ Sport.
"We talk all the time about controlling the controlables and all that we can control is preparing for a match and delivering a performance.
"These guys are fairly mature players, they have experience. Three years ago we beat Limerick by 13 points and were then beaten in the return fixture in a (minor) Munster semi-final in the Gaelic Grounds, so from our point of view it won't take much for the lads to be focused on the situation."
Cork hammered Tipperary in the Munster final earlier this season. Under the competition's new structures Tipp weren't eliminated and beat Galway in their semi-final so now they have a shot at revenge.
Ring insists that the provincial decider will have no bearing on Sunday's clash in Limerick.
"This is a totally different game, it will stand on its own merits and a lot has happened since that game," he said.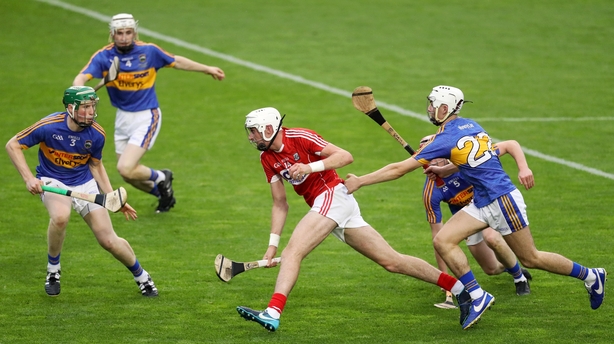 "Tipperary brought in five different personnel for their All-Ireland semi-final, they beat a Galway team that beat them in the corresponding minor championship three years ago.
"Very few teams can bring in five players like that and that can have such an impact, but we must remember that they played in the 2015 and '16 All-Ireland minor finals, winning 2016. They have a pool of players to draw from."
Cork are backboned by senior players like Shane Kingston, Darragh Fitzgibbon and Mark Coleman.
Ring says they put their All-Ireland senior semi-final defeat behind them quickly and are fully ready for the weekend.
"We were back training the Tuesday night afterwards and we had an optional rehab session on Monday for the lads coming back from Croke Park and to a man they all showed up with their game face on," he noted.
"These guys came from playing very well in an All-Ireland semi-final, their performances were incredibly positive, so they had a good experience from it.
"The outcome was disappointing and they were upset to lose, but they were able to take a lot of confidence from the fact that they were able to deliver at the highest level."