Limerick star Aaron Gillane says the reception given to the All-Ireland winners when they arrived home really drove home the enormity of what they had just achieved.
The Treaty County ended a 45-year wait for the Liam MacCarthy Cup with a thrilling 3-16 to 2-18 win over Galway at Croke Park on Sunday.
This sparked wild scenes of celebration in the stadium and beyond, but it wasn't until reaching Colbert station in Limerick that this bunch of players really got to grips with what it meant to a county and its people.
"I think we realised what we had done pretty quickly, but it really hit home at the train station in Limerick with the crowds out around it going ballistic," said Gillane, speaking to RTÉ Sport at a media conference to announce the GAA PwC Player of the Month award winners for August.
"To see what it means to the people of Limerick is just amazing."
Gardaí reckon that anywhere between 80,000 and 90,000 people lined the streets of the city and attended the reception at the Gaelic Grounds making it one of the biggest and best supported All-Ireland homecomings in history.
Gillane, who got 0-03, including two from play, against Galway, says this is a testament to Limerick's long-suffering, die-hard supporters.
He explained: "It shows what it means. And it says a lot about the Limerick supporters, who are up with the best of them. They're at all the matches, winning or losing, so they deserved a day like that."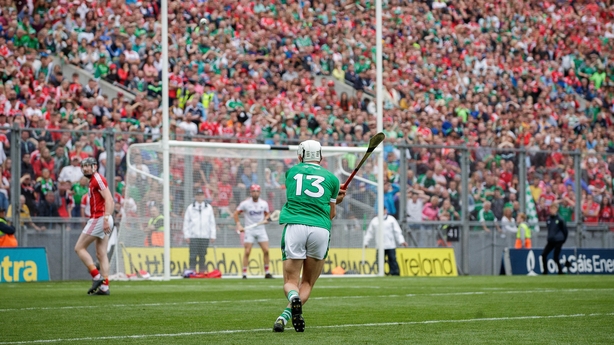 The Limerick players have been on the go almost since the final whistle on Sunday. There was the banquet in Dublin on Sunday night, the homecoming on Monday and the traditional night at the captain's club, Declan Hannon's Adare, on Tuesday.
They have been so busy that they haven't even had a chance to watch the match back yet and Gillane doesn't know what lies in store for the next few days.
"I'm not too sure. I just get on the bus and do what I'm told!" he laughed. "We have to go around to a few of the clubs and we were in Adare last night with Declan because he's the captain - the whole place turned out.
"I don't think you can actually imagine something like this. It's just weird - we can't believe it and it means so much to all of us. The celebrations have been good craic and we'll keep enjoying it for the rest of the week."