If Tyrone had been caught at the death by Monaghan you might have forgiven them.
Since 9 June they have played eight games in 10 weeks, and the All-Ireland final against Dublin 2 September will be their 10th game in total, when you add in their Ulster SFC quarter-final defeat to Monaghan back in May.
Ironically, making history as the first county to qualify for an All-Ireland final having lost two Championship games, Tyrone's last matches in the 2018 All-Ireland Series will be against the two teams who beat them previously - having dispatched with the Farney Men today they will face Dublin in the decider.
Tyrone's summer got off to the worst possible start with that defeat to Monaghan in Ulster and, having wound their way through the qualifiers and into the Super 8s, Tyrone lost to Dublin in Omagh in their second round robin outing.
That was the last of five games in five weeks as Mickey Harte's men took a circuitous route to the final - a nine-game saga on a par with Mayo's journey last summer.
The length of the journey is because of the new three-game quarter-final structure now universally known as the Super 8s, which will see Tyrone become the first two-time Championship loser to contest an All-Ireland final.
Here is a brief run through their trip to Croke Park on the first Sunday in September - at least they have a few weeks off now.
20 May: MONAGHAN 1-18 TYRONE 1-16
What a point! Watch this class score from Conor McManus! pic.twitter.com/UopRcS9Y9e

— The GAA (@officialgaa) May 20, 2018
A late goal from Michael McKernan took the rough look off the scoreline as a Conor McManus-inspired Monaghan scored victory in Omagh.
9 June: TYRONE 2-14 MEATH 0-19
Extra-time was required on a dramatic evening in Navan. A Cathal McShane point in the sixth minute of injury-time was required to secure the draw before a Harry Loughran goal finally did for a dogged Royals.
23 June: TYRONE 3-14 CARLOW 1-10
The Red Hand made the long trek south to put an end to the Carlow Rising. Peter Harte, Niall Sludden and Richard Donnelly provided the goals that ended the Leinster side's summer.
30 June: TYRONE 0-18 CAVAN 1-12
In what is becoming a trend, Tyrone left it late to win another tense match. Martin Reilly's second half goal looked to give the home side a great chance, but Ronan O'Neill and Niall Sludden helped guide Tyrone home.
7 July: TYRONE 3-20 CORK 0-13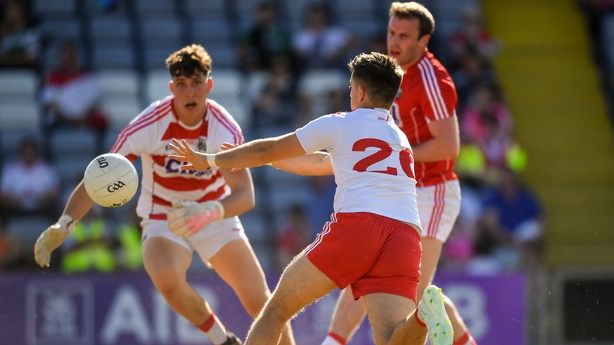 In their third match in as many weeks, Tyrone combine a strong start with a strong finish and blow Cork out of the water in Portlaoise to reach the inaugural Super 8s. Ronan O'Neill (above) was among the goals.
15 July: TYRONE 4-24 ROSCOMMON 2-12
Thirteen different players made their way onto the scoreboard at Croke Park as the Ulster side laid down a marker in their first ever Super 8s outing.
21 July: DUBLIN 1-14 TYRONE 0-14
The dress rehearsal that Tyrone hopes will not be repeated on 2 September on the biggest stage of all. Tyrone narrowed the pitch in Omagh but it was not enough to curtail Dublin.
5 August: TYRONE 2-17 DONEGAL 1-13
They may have been beaten twice in Omagh this year but, on the road, Tyrone are a force to be reckoned with. Here they added Fortress Ballybofey to the enemy camps ransacked - once more relying on a poweful second half.
12 August: TYRONE 1-13 MONAGHAN 0-15
Revenge for May and, with their ninth game of the season, Tyrone give themselves an opportunity to avenge their other defeat.