Monaghan have one of the most dangerous attacking weapons in Gaelic football standing between the posts.
It's difficult to overstate the importance of goalkeeper Rory Beggan to his team's gameplan and his performance will be a key feature of Sunday's All-Ireland semi-final with Tyrone at Croke Park.
Monaghan hate to hear how they're a two-man team, reliant on Beggan and Footballer of the Year contender Conor McManus, and they made as much clear in post-match interviews following their win over Galway last weekend.
They make a fair point. There's a good argument for Malachy O'Rourke's side being the second best team in the country at the moment behind Dublin and they're certainly more than the sum of their parts.
But their two stand-out players are 26-year-old Beggan and McManus, with their goalkeeper a one-of-a-kind.
Shot-stopping is no longer a keeper's number one job. In fact, it probably comes third after kick-outs and, second, dealing with high balls in.
Beggan's kicking off the tee has been unmatched this season and his ability to mix long and short shows the game intelligence that makes him such a dangerous player.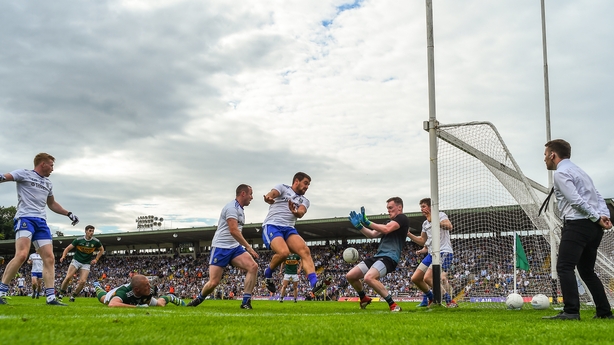 He's not bad at shot-stopping either. Monaghan have only conceded six goals in 15 games so far this year, including one in seven in Division 1 of the Allianz League.
In his RTÉ Sport column in the wake of Farney County's draw with Kerry, Aidan O'Rourke detailed just how the big man from Scotstown dictated the early exchanges.
He said: "Smart movement enabled Beggan to place restarts to runners hitting gaps mostly inside his 45.
"The Kerry front three in particular didn't have the work rate or alertness to interfere with any of this and so their middle third got closer and more aggressive with runners to cut off these simple possessions.
"It was when Kerry had taken this bait that the Monaghan keeper was able to delay for runners to hit at and beyond midfield.
"This put his team immediately on the front foot and it took Kerry some time to hold Peter Crowley at centre back to close off the longer avenue.
"Of course Monaghan reverted to the shorter placements now that Kerry were trying to close them down now with a man less."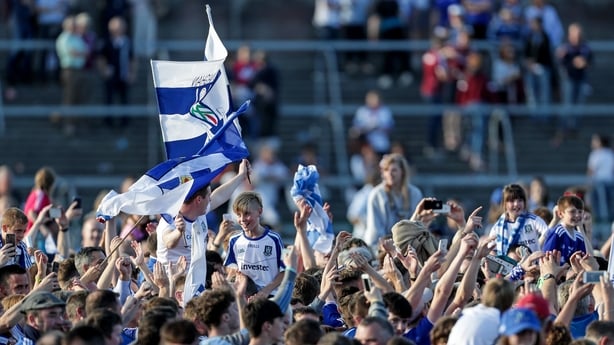 Beggan, who jokes that his greatest achievement is getting out of bed early to go to the gym, is equally accurate short or long and his ability to find men or the space at a range of 60-metres-plus is invaluable to his team, particularly if they are being squeezed in their own half.
This means that opponents are left with a dilemma on his kick-outs - drop short and you allow Monaghan their preferred slow build-up, or go tight and risk having him cut out half of your team by going over the top.
Monaghan defender Colin Walshe has played with and against Beggan and he prefers being on the same side.
"I know from playing against him at club level how much of a torture he can be. If you imagine what he's like at county football, you should see him on a club pitch. Where he can put the ball, it's crazy," said Walshe.
And all of this before we've started to talk about his free-taking ability. Anything from inside 60-metres is likely to go over the bar and he'll have a fair stab at it from further out too.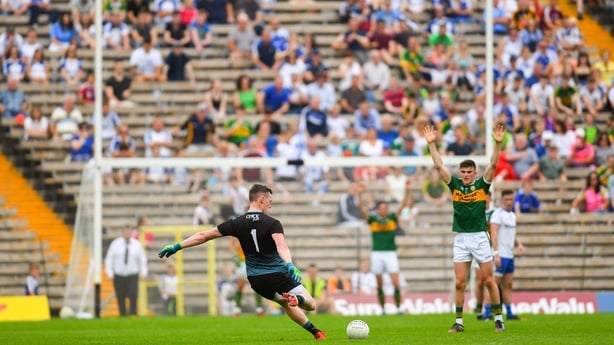 This means that tactical fouling against Monaghan has to be more tactical than in other games. If you're thinking of slowing down the game, be sure to give away the free well inside the opposition half, otherwise you could be punished.
He works with goalkeeping coach Steve Williams, who spoke about Beggan's kicking in a recent interview in the Irish Times. Williams said: "It's just technique. The run-up makes no difference. Running faster into a kick makes no difference. It's just down to getting the right connection. 
"If a long run-up meant more distance, then it would be very simple. But that's not the case. It's down to making sure that your body is solidified at the point of contact. Two steps and kick is all you need. That's what he has had since the start in 2011."
These are good days for Monaghan football, with Seamus McEnaney's minors also in an All-Ireland semi-final against Kerry on Sunday.
Beggan has played his part in that success too as one of the county's three full-time coaches.
Big thanks to all schools who attended our 3/4 class football & hurling combined skills competition and Go Games blitz. We ran it over 5 venues across Monaghan with plenty of kids playing and enjoying football & hurling. #enjoyment #fun #participation #development pic.twitter.com/CvvzzgacAi

— Rory Beggan (@RoryBeggan1) June 7, 2018
As a youngster he admits being obsessed with Dublin captain Stephen Cluxton and now he has grown to be a leader of men and his reaction to being hit with a sucker punch by Kerry, a seemingly impossible goal from David Clifford, tells its own story.
That brilliant goal drew the game and could have cost Monaghan a place in the last four for the first time in 30 years.
Midfielder Darren Hughes takes up the story. "Rory Beggan hit me a slap on the back of the head and told me to get up the field, the game is not over yet," he said, before joking that he went on to miss the last-gasp chance that they managed to create.
They bounced back from that with a double-score win over Galway last weekend to ensure top spot in Super 8s Group 1 and a semi-final against Tyrone. This was no surprise to Beggan.
"Listen, we played Kerry off the park for 74 minutes and we got hit with a sucker-punch at the end for the second time this season," he said, speaking to RTÉ Sport.
"There's amazing character in this group that we're able to bounce back and get this result against Galway playing very well again. We'll keep the momentum going and we're going in for the win - we're not just happy to be going into a semi-final."
Follow Dublin v Galway (Saturday, 5pm) and Monaghan v Tyrone (Sunday, 3.30pm) via our live blogs on RTÉ.ie and the News Now app, watch live on RTÉ2 or listen to exclusive national radio commentary on RTÉ Radio 1.