The rate at which Gaelic football has evolved has gathered pace exponentially in the last five years if you measure the changes against the preceding century.
Often in our history as a sport it has been Kerry who have been the greatest innovators and recent underage success indicated a renewed assault on the national stage
Eamonn Fitzmaurice and his coaching team are spoiled with an abundance of attacking riches but also a defensive unit that on face value lacks experience and quality.
The coaching challenge is an exciting one – create a methodology that protects the glaring weaknesses while retaining the ability to harvest from the individual ability at the other end of the field.
Much of the early summer talk from Kerry people focused only on the latter and their impending revitalisation as the saviours of Gaelic football. There was promise of a new Kerry.
A Kingdom boasting emerging stars and an irresistible attacking force that would wash away these teams that dare to defend. Resistance would be futile.
What we have discovered about Kerry in the only two championship games they have played of any consequence is that in trying to innovate they have been caught in their own web of naivety and wishful thinking.
Monaghan beat Kerry up in every way possible on Sunday, except where it matters: on the scoreboard.
That Ulster's great warriors of recent years lacked the ruthlessness in their home fortress to open the Kingdom's jugular could haunt them in the final reckoning but the worries for Kerry are much more fundamental.
Kerry obviously want to play the kind of front foot shootout football. Understandably they back themselves in that scenario against all comers but the reality is that none of the other top six teams are about to sleep walk into that accommodation.
There can be no mistaking the individual quality in the middle and front sectors of the team – it managed to show just enough in Clones to keep their championship alive – but Kerry fall well below the standards of organisation and considered approach of Dublin, Tyrone, Galway, Monaghan and Donegal in gameplan terms.
Whilst the pure desire to go at opponents and empower their potent attacking talent is admirable, Kerry's attacking approach is inhibiting and counterproductive.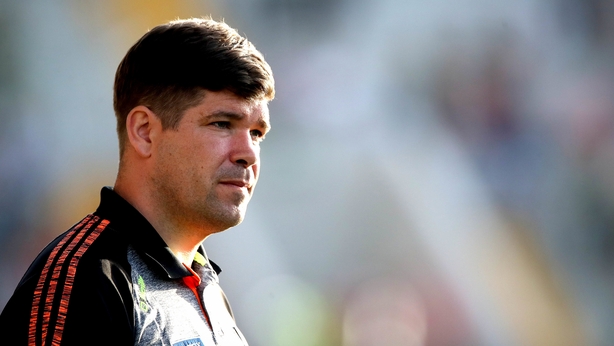 Method Without Madness
There were no surprises with how Monaghan would approach the game on Sunday nor how they would go about what they wanted to do in and out of possession.
Their gameplan defines this Monaghan team and their overall team performance is dictated by the composite execution of their individual roles.
Broken down into overly simple tasks, Kerry had three areas to challenge Monaghan's strengths if they were to achieve a foothold in the game:
Eliminate early ball into McManus
Maximise return on both kickouts
Supply their own high return forwards with usable ball in space
As with any team, you would expect Kerry to go after these tasks in a manner that best fits their own strengths and personnel but as basic as it seems, working towards these three objectives were the ball game.
Nullify McManus
In looking at how Kerry attempted to cut off supply to Conor McManus we have first to examine how they collectively approached defending and protecting the supply lines.
There were two basic premises to how they wanted to achieve this:
Approach dominance on restarts at both ends
Trust their middle third to exert enough pressure on their opposite numbers to create turnovers, slow supply and interfere with the quality of passing.
Both of these basic elements of how Kerry expected to defend depended on their players' capacity to go head to head with direct opponents and prevail.
Both assumptions were destroyed in the first half in particular and Kerry should have paid a much higher price on the scoreboard.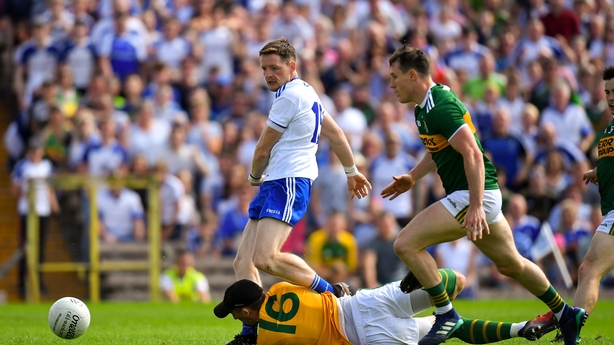 Defending without any cover at all is virtually a redundant concept for any team at all serious about competing at this level but that is effectively what Kerry attempted to do.
In the first half there were some late attempts from Peter Crowley to drift into a cover position if Monaghan's attacks were slowed but almost without exception he never achieved that.
In the second period Crowley abandoned all notions of covering as the Kingdom rolled the dice to try to recover lost ground.
There was a distinct difference to how Kerry's middle third defended this week as opposed to against Galway.
Last week Crowley sat stubbornly in front of Galway's front two of Comer and Burke and the middle third dropped off towards their 45 to press.
Neither of these approaches were afforded for Monaghan – which presumably was a calculated decision on the expected balance of possession and danger.
Pressing Monaghan in the middle was a disaster for Kerry. They couldn't match the Farney men's running power and each time Monaghan broke quickly and switched the point of attack they found themselves carrying ball into a vast space behind midfield with either a one on one or two on two ahead to feed.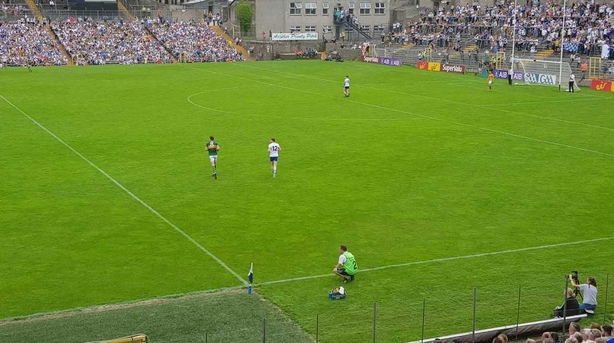 It is a very long time since Conor McManus has been afforded the luxury of only having to beat his direct marker to shoot having been supplied with cushioned passes.
To emphasise how simple and direct Monaghan's offence was, consider that they have a very well drilled second phase of attack that kicks in when they are initially repelled and the space in front is closed off.
In almost eighty minutes of football, Monaghan never had to set up their second phase once. In short, every attack found space and a direct route to where they wanted to go.
Kickouts
Rory Beggan gave a masterclass in how to use variety in the short term to eventually open up space further out with his kickouts.
In the early exchanges, smart movement enabled Beggan to place restarts to runners hitting gaps mostly inside his 45.
The Kerry front three in particular didn't have the work rate or alertness to interfere with any of this and so their middle third got closer and more aggressive with runners to cut off these simple possessions.
It was when Kerry had taken this bait that the Monaghan keeper was able to delay for runners to hit at and beyond midfield.
This put his team immediately on the front foot and it took Kerry some time to hold Crowley at centre back to close off the longer avenue.
Of course Monaghan reverted to the shorter placements now that Kerry were trying to close them down now with a man less.
Kerry opened with their now familiar starting formation of all defenders clustered centrally for their own kick outs before breaking towards the sideline to look for a chipped get away. Failing that, Kelly looked for one of his big men in the middle.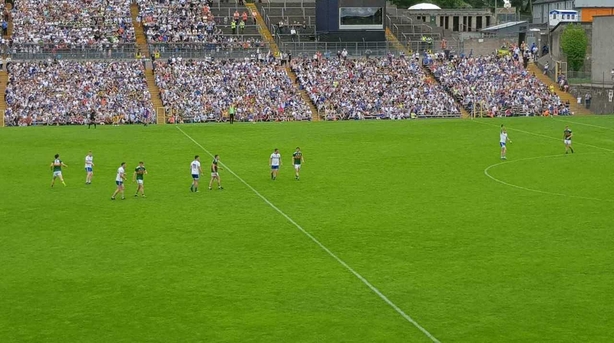 Monaghan simply created an enclosing arc by marking on the outside of the clustered defenders, giving them the outside advantage to take away chipped kick outs and prime position for attacking break ball when Kelly went long.
Hughes and Kearns broke Kerry's kick outs relentlessly in the first half and the home team dominated break ball.
This was reinforced by the Kerry half forwards contributing very little to this battle against a dominant Monaghan half-back line.
Kerry simplified their approach in the second half and finally got a platform in the game by hitting their midfielders with hanging ball they could attack and mark. Relatively simple but playing to an obvious advantage they held over Monaghan.
Attacking Intent
Although Kerry finally found a kicking game of sorts in the dying minutes to rescue their championship, Monaghan otherwise removed that option from their armory.
We saw in the Munster championship that Kerry's preference is to pop accurate 25/30 yard kick passes in front of endlessly moving and cutting forwards before supporting off the shoulder.
First, Monaghan stationed Darren Hughes to sweep in front of the Kerry inside line and more fundamentally the Monaghan middle third compressed towards their own 45 before exerting pressure.
Kerry could have the ball at midfield – and often did – but there was no space to kick into.
As an offensive formation, Kerry's is fairly unique given the lack of space afforded in today's game. They tried to maintain a front four diamond with Star on the square and Sean O'Shea at centre forward.
David Clifford and Paul Geaney operated in the flanks right and left respectively, keeping both high with the intention of creating a headache for the sweeper in terms of who to focus on.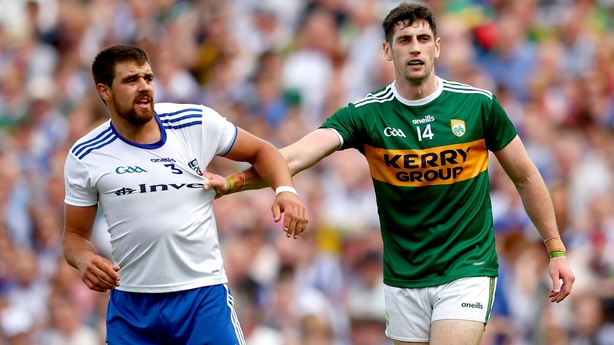 As it happens, with the weight of Monaghan's press on Kerry's possession within passing range, whatever pockets of space that may have materialised wide were not found.
Sweeping, Hughes focused on deterring the direct ball to Donaghy initially then stepped out to meet Kerry's inevitable running game.
In summary, Kerry effectively devoured their own offensive space by maintaining four out and out attackers plus their markers high up the field.
Were it not for the obvious aerial threat of Donaghy that required the sweeper's attention, Hughes might very well have pushed out to meet Kerry's running game earlier.
Reality Bites
Looking closely at the final eight contenders for the 2018 championship over the weekend, it is the teams that have most carefully tailored their game plan to the qualities of their players that are most effective.
Monaghan and Galway have both tinkered with their defensive structure in different ways this season to ensure that they retain enough firepower to hurt teams that don't bring the same organisation to the dance.
Kerry have gotten their balance badly wrong. Much as anyone would like to carry four out and out scoring forwards like O'Shea, Clifford, Geaney and Donaghy (or O'Donoghue), it just is not feasible if you also want create space for them to profit from.
The philosophy appears to be that all comers can be overwhelmed with an array of attacking football but this assumes that opponents will wilt at the prospect.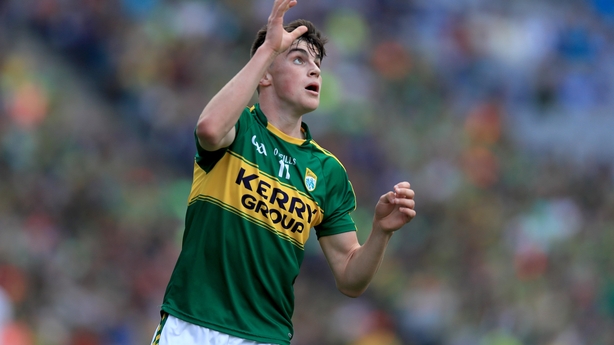 Galway did not, nor did Monaghan. The undoubted football ability in the Kerry team camouflages an obvious lack of individual defensive star quality and the absence of a collective plan to protect that Achilles leaves them badly exposed.
It is notable also that previous middle third Sherpas such as Donnacha Walsh have been sacrificed for ability on the ball.
Although Monaghan afforded them a stay of execution with their wastefulness in the final third, the Super 8s have exposed Kerry as seriously flawed in their method.
In many ways this Kerry team, their iconic status in the public consciousness and an expectancy of flair represent a mythical bygone era.
Over the last two weekends they have run into the reality of the modern game cloaked first in maroon and then in white.