Kildare GAA took a gamble to earn the right to host their All-Ireland SFC qualifier against Mayo.
It might not seem that way in retrospect but in the initial moments after they elected to take a stance on the matter, the future was uncertain for them.
The GAA deemed St Conleth's Park to be an unfit venue for the fixture and wanted to relocate it to Croke Park. The superiors had spoken. That was their decision and they were going to enforce it.
As we know, a groundswell of public support quickly followed and Kildare virtually had the backing of 31 other counties in their quest for justice. Manager Cian O'Neill gave an impressive and articulate interview on RTÉ News at the time, in which he empahsised Kildare's immovable position on the matter.
"We'll be in St Conleth's Park on Saturday night," he said. "We're gonna be togged out and ready to go. That's our home venue, we earned it and that's not gonna be taken away from us."
It was a stirring address to the nation, and at the time of publication, the interview had been retweeted over 1,000 times.
Kildare manager Cian O'Neill tells RTÉ his players will be in Newbridge on Saturday evening, not Croke Park pic.twitter.com/2qxU3cqBKf

— RTÉ GAA (@RTEgaa) June 25, 2018
Securing home advantage was naturally important for Kildare to improve their chances of winning, but it was also significant for the people of Newbridge.
Sports events bring in big revenue for the local businesses and preparations for the day begin well in advance. Catherine Johnson of Johnson's Bar was listening to Morning Ireland on the day of the draw and she began putting plans in place shortly after hearing that Kildare had been dawn first.
"They're [sports days] huge," she tells RTÉ Sport, "because you're showcasing the town and you've got so many thousand people coming into the town.
"We're quite big on Facebook so when we get a home match we would send a message to Mayo to say to pop in and taste the Brady Ham sandwiches before the match. And there was a guy who announced us on Mid West Radio so we look forward to them coming to the town. And if it was the other way and we had to travel to Mayo we would have loved that as well. 
"We were ready for it and we had music that night. 
"And then we got a message from someone saying they were taking the match to Croke Park. It's like a form of bullying, you can't keep expecting us to give, give, give and get nothing back in return. 
"Staff were on stand by. I texted them on Monday to say we had home venue and not to make any plans and then I had to text them on Tuesday to say we were losing the match. It's a horrible feeling. 
"I genuinely thought that Newbridge was going to line up with the Kildare team in St Conleth's Park and Mayo in Dublin. That's not what it's about. The hours those lads put into the training. I was sad about that." 
Johnson was invited to speak on Joe Duffy's Liveline and the Ray D'Aarcy Show during the controversy to outline the damaging effect that taking away home advantage would do to Newbridge folk. 
She was invited to speak on radio once again after the GAA conceded defeat and allowed Kildare to host the game in St Conleth's Park.
The outcome was widely celebrated, but it did come with a downside as the match would have to be an all-ticket affair due to Conleth's maximum capacity of 8,200.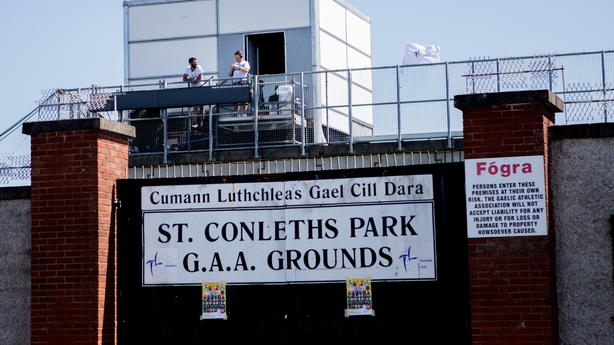 It was a concession that Kildare people were happy to accept if it meant it would help their team's chances, and provisions were made to have additional stewards and Gardaí drafted in for the match. 
Kildare and Mayo County Committees were both allocated 1,500 tickets each for club distribution, and with that limited ticket availability in mind, one of Newbridge's local GAA clubs Sarsfields devised a plan.
Vice-chairperson Niall Farrell explains: "Tickets for that Mayo game were at a premium and they were few and far between but we organised in our own club to have the game on a big screen in the car park and we had 300 or 400 people watching the match there. 
"I suppose it was the secretary really that mooted and asked what we thought about it. So, we looked at the cost and decided to take a chance and go for it. We were pretty much guaranteed the weather, it was a beautiful summer's evening and the atmosphere was fantastic.
"We had some chefs doing burgers and chips at half-time so you couldn't ask for better. We wanted to give people the opportunity to watch it rather than be at home or have to go to the pub on a summer's evening. 
"The main pitch was open and the kids were kicking a ball around." 
Sarsfields had never attempted an initiative like this before and there was no financial gain in it for them. In fact, they just about covered the costs to stage the outdoor screening of the match.
Not too dissimilar to Kildare's stand-off with the GAA, Sarsfields took a gamble with their resources to bring their members as close to the action as possible. 
"I stayed in the club and watched the game there and the full executive did as well," Farrell, who is originally from Longford, continues. 
"None of us took any of the tickets that were allocated.
"It was brilliant to see the people coming up watching the game. There was no pressure on anyone and you could bring a deck chair if you want. We took chairs out of the hall and everybody watched it in the car park. Everybody could see it.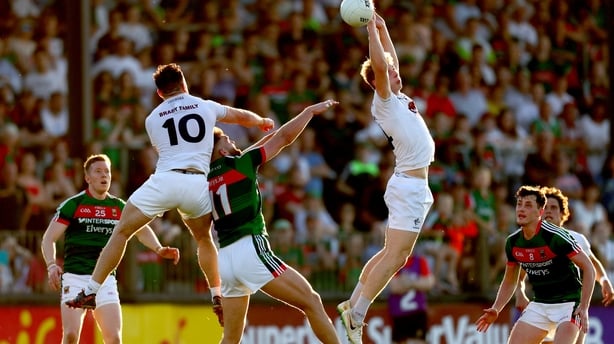 "They were coming in from around an hour beforehand and stayed for around two or three hours after. We have our own clubhouse and people wandered in there after. It was probably like a family atmosphere as well as anything else. 
"I'm delighted with the way the whole thing has gone especially after taking such a stance on the Newbridge or Nowhere and to back it up. We don't just talk the talk we can walk the walk as well." 
Spectators were filing into Newbridge from as early as 12.30 that day according to Johnson. Some were heading to the Whitewater Shopping Centre to pass a few hours before throw-in while others sampled the famous Brady Ham sandwiches.
There was a huge Newbridge or Nowhere mural on display on the gable end of a house as a festival atmosphere enveloped the streets. 
"All the pubs were full and it reminded me of Italia 90," says Johnson.
"There's a huge massive buzz in the town when you get a home venue. Johnson's was full to the rafters and every pub was overflowing out onto the street. The B&B's were full and they were back in the bar for the music.
"We're used to crowds. There's a lot to be said about going to a match – walking down the town and chanting for your team. Maybe going for something to eat or a drink but that's what it's all about, it's all about community. 
"You always need something like sport to lift you because in March we had the snow and people lost business. It's important to get as many good days as you can to keep you going for the rest of the year."
In a fitting end to the saga, Kildare triumphed against the 2016 and 2017 All-Ireland finalists, winning by the slim margin of two points.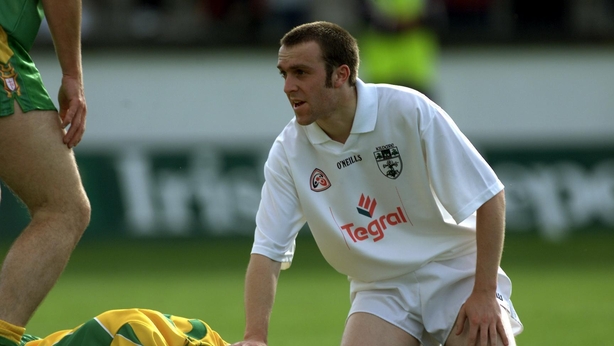 The atmosphere was reminiscent of Kildare's 2001 All-Ireland qualifier against Donegal at the same venue, a game in which former star forward Tadhg Fennin lined out for the Lilywhites.
Kildare had just relinquished their Leinster crown in the semi-final the previous week, and were forced to rally from eight points down to clinch the win, with corner-back Ken Doyle emerging as the unlikely hero to kick the winning score at the death.
"It was a different environment because I heard there was up to 19,000 at it," Fennin remembers.
"2001 was the first year of the qualifiers so most counties were getting used to going through the back door. That was really a once-off and there was never anything seen like it again. 
"The crowd were packed into Newbridge that day and it was just a day that nobody would forget for anyone that was there. I was lucky enough to get to play on the day and it was a totally different atmosphere than normal. The amount of fans that were there that day getting behind the team. 
"That's the comparison you can draw against Mayo and when it went down to the wire, we managed to sneak a win like we did against Donegal." 
Kildare are gearing up for their second Super 8s game later on Sunday, as they return to the fortress of Conleth's Park to welcome Galway. They lost out to Monaghan in their opener last weekend having previously inflicted a hammering on Fermanagh to book their place in this inaugural competition. 
"It's all to play for," says Fennin. "I don't think anyone would be surprised to see Kildare in an All-Ireland semi-final. They have some momentum and the draw has been kind to them as regards they won't fear Galway in Newbridge after how the Mayo thing went and then travel down to Killarney [to play Kerry in their final game]."
He adds: "There's lessons for everybody. From the GAA's point of view, the little anomaly in the rule that the CCCC has final say on the venues from Round 4 on, they'll probably change that to include all rounds.
"From Kildare's point of view, there's plans in place to re-energise and restructure St Conleth's and make it a stadium that can host these games so that's in the pipeline. That's beginning to start as we speak on a smaller scale." 
The Newbridge or Nowhere battle was indeed a gamble for Kildare GAA, but it was a bet worth placing for them and their people.
Regardless of whether or not they progress to the semi-finals this year, they'll have earned the respect of their members for standing their ground.
Follow Kildare v Galway on Sunday via The Sunday Game Live on RTÉ2 from 1.30pm, with highlights of the game, along with all the weekend's action, on The Sunday Game, RTÉ2, from 9.30pm.
You can also watch it on GAA GO.