This is, of course, the first year of the Super 8s.
The round-robin system, which replaces the traditional All-Ireland SFC quarter-finals, was voted in at last year's Congress.
The motion passed with 74% of the vote and will stay in place for three years on a trial basis.
This phase is made up of two group of four teams, the four provincial winners and four qualifiers.
Each team that has qualified for the 'All-Ireland quarter-finals' will play the three other teams in their group.
That consists of one home game, one away game and one game in Croke Park. The details of phase one were released this afternoon.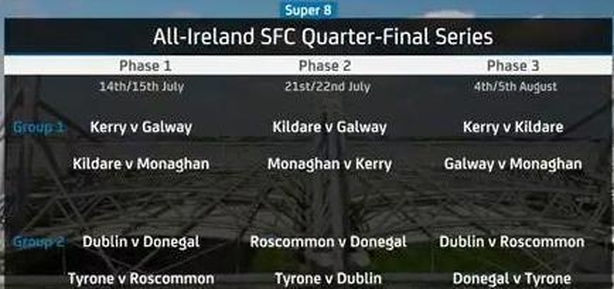 Group 1 contains Munster winners Kerry, Connacht champions Galway, and Kildare and Monaghan, who both came through the back door.
Group 2 consists of the Leinster and Ulster champions, Dublin and Donegal, plus Tyrone and Roscommon, the only team in the Super 8s who didn't start the year in Allianz League Division 1, from the qualifiers.
The two teams that finish top of each group qualify for the All-Ireland semi-finals with the remaining four all out of the Championship.
In the event of two or more teams finishing level on points the next criteria for qualification will be the head-to-head result between the sides.
If that game(s) ended in a draw then scoring difference decides the table position. Should that criteria not be enough to separate the teams, goals scored comes into play and finally, a play-off.
The winners of Group 1 will play the runners-up from Group 2 and the opposite applies for the winners of Group 2.
The semi-finals will be played on 11/12 August at Croke Park.
AIDAN O'ROURKE COLUMN: Nature Vs Nurture: Super 8s to reveal best evolved teams
Last week Donegal met with the GAA to seek clarification about the situation where Dublin play two games at Croke Park, their de facto home ground, while all other teams play just one game at home.
The GAA said: "If Central Council collectively felt that non-structural changes to aspects of the Championship were required, that these could be put to Annual Congress in 2019 for consideration."
This effectively means that this arrangement may be changed for next season.