Kildare gave Croke Park a bloody nose during the week and then stepped into the ring to knock Mayo out of the Championship.
Now famously, the Lilywhites dug their heels in and refused to play their round three All-Ireland qualifier anywhere but St Conleth's Park.
The catchphrase 'Newbridge or Nowhere' was born, making it onto t-shirts, flags and even murals in the town.
It became a focal point for the disaffected in the GAA who believe that the boys with soft hands above in Dublin had gotten above their station, forgotten what their Association is all about and had become fixated on the bottom line and the euro sign.
Manager Cian O'Neill insists his stance, which eventually saw Croke Park perform an unexpected U-turn following 48 hours of intense controversy, was about nothing more than wanting fair play.
He can do little about it now, but he's the Patron Saint of the Small Man to GAA people and he's only a few steps down from God almighty to Kildare fans.
Following what must have been the most deeply satisfying win of his time involved with teams as a player, coach or manager, O'Neill sat behind a small desk in the county board office, half hoarse and still glowing with pride and possible sunstroke following a blistering evening on the sideline and quietly fielded questions from the huddled media.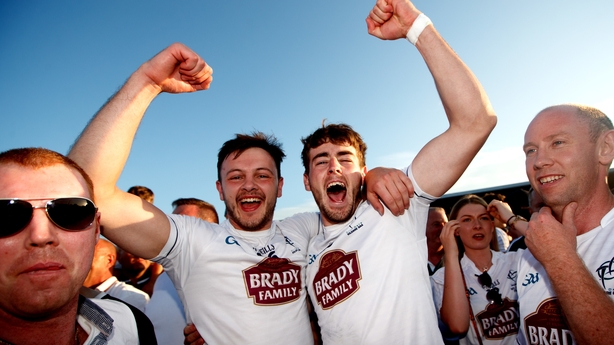 He said: "It was nothing got to do with the GAA or anyone making decisions.
"It was about the rules which clearly state that if you're drawn out first - look, I don't want to go on about this again because it should be about the match. It was about nothing more than that.
"We weren't making a statement to anyone, that's not what it was about even though it might have turned out to look like that.
"We needed to focus on the match and what was said was said on Monday. There wasn't another word out of us, bar a bit on local radio, which is only fair.
"We got back to work and whatever was going on around was just noise to us."
Inter-county Gaelic footballers, no matter what level they're playing at, are ordinary people, living extraordinary lives in their local community.
There was no getting away from this story anywhere in the country, least of all Kildare, so O'Neill's men just embraced it and let it happen.
"Winning any Championship game is special, but having beaten Mayo, arguably the second best team the past few years makes it extra special," explained wing-forward Keith Cribben after fighting his way through the buzzing Lilywhite crowd on the pitch to the comparative calm of the dressing room enclosure at the town end of St Conleth's Park
"The whole week we had, we couldn't block it out so we had to gain extra energy from it.
"It was an enjoyable week because the whole GAA community got behind us, Croke Park changed their decision and then we had to go and perform on the day.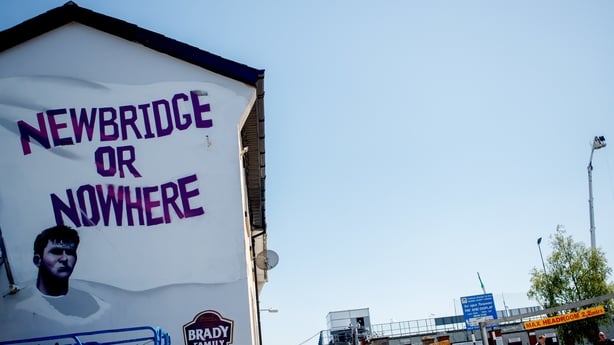 "We did that. To perform as we did, to perform consistency throughout the 70 minutes, was very, very pleasing."
Unsurprisingly, Kildare players spent a while lapping up the praise of their people on the pitch. When they got away from the crowd there were smiles and embraces as they stood and surveyed the tide of joy they'd unleashed.
Cribben says every one of those players produced their absolute maximum, their best performance ever for those fans.
Speaking about the 'Newbridge or Nowhere' movement, he explained: "It brought that extra pressure. The pressure was on Mayo as favourites, but there was pressure on us after getting it here in Newbridge it was special.
"It's brilliant. These are the days you want to play for Kildare. To be able to experience this now is really special. For young people aspiring to be Kildare footballers, there couldn't be a better marketing tool for it."
Thanks to Kildare' stance, the imbalance of fixtures in the Super 8s, the new and expanded All-Ireland qualifier stage, has been shone under a stark light. Every county gets one home, one away and one game at a neutral venue.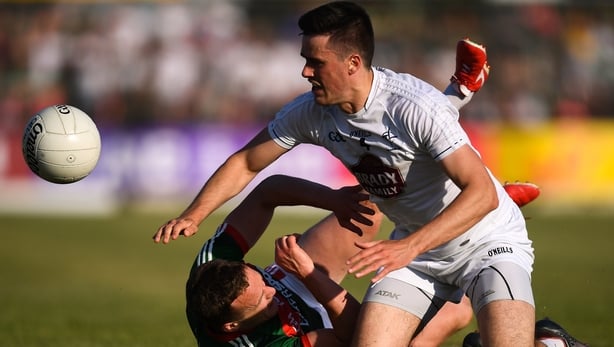 Every one of the eight counties involved except Dublin, that is, who will play one away and two at Croke Park.
This is an issue that the GAA will have to deal with and they could have a further headache if the Lilies win their qualifier next weekend and gatecrash the Super 8s party.
It's be Newbridge or Nowhere all over again.
"I'd love it - love it! Newbridge or nowhere!" laughed Cribben.
"We're going to the next round, we'll listen to the qualifier draw on Monday morning and we'll take it from there.
"This is just another stepping stone for us."