Cian O'Neill hailed his Kildare players' resolve after they put the pain of an early Leinster exit behind them with a stunning qualifier elimination of Mayo.
The Lilywhites were handed a seven-point beating by Carlow in the provincial quarter-final and looked at a low ebb following a pointless Division 1 league campaign.
But they got back on track with qualifier wins away to Derry and Longford and knocked out one of the All-Ireland contenders with a thrilling 0-21 to 0-19 win at St Conleth's Park.
"I'm thrilled for the players," O'Neill told RTÉ Sport.
"These guys have been through a lot this year. Everyone of them, everyone of us.
"But we never stopped working hard. Even when we got the big blow in Tullamore a few weeks back, it knocked us but the lads just got back to work very soon after.
"To do what they did in Derry and then Longford and then come here today against a brilliant Mayo team and management team.
"It was an unbelievable battle. We stuck to our guns and stuck to our game plan and I'm just delighted that the lads held out in the end.
"This was always about the players. It was never about anything else and by Jesus they deserve it."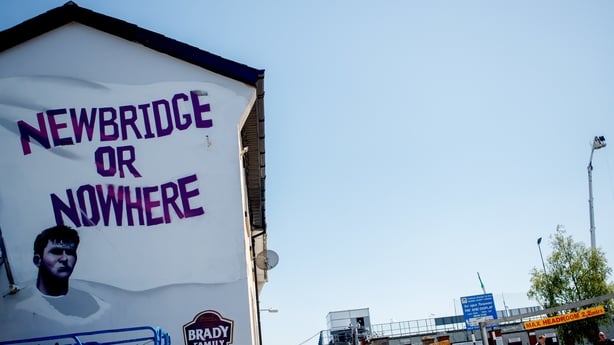 O'Neill had been the spokesman for Kildare's refusal to cede the home advantage the draw provided them, telling RTÉ Sport during the week that his players would be in Newbridge regardless of a CCCC decision to fix a double-header for Croke Park.
The GAA backed down in the face of the 'Newbridge or Nowhere' campaign and playing at St Conleth's Park proved pivotal for Kildare in the end.
O'Neill insisted the row hadn't distracted his team and also praised the role of GAA director general Tom Ryan in helping to find a resolution.
"We trained on Tuesday and Thursday night and it was never about anything else," he said.
"What had to be said was said and we left it at that.
"I'd like to credit the role of Tom Ryan in all of this. I'm sure the impasse wouldn't have been overcome if it wasn't for the role that he played.
"It didn't need to be out there in front of everyone but I know the work he did behind the scenes and he deserves a lot of credit for that."
I'll be presenting the draw for Round 4 of the All-Ireland football qualifiers on Monday at 8.35am on @morningireland My studio guests will be GAA President John Horan and Dublin goalkeeper Ciara Trant @RTEgaa

— Pauric Lodge (@pauriclodge) June 30, 2018