The GAA has stressed the decision to initially choose Croke Park as the venue for Kildare v Mayo was not about financial gain or to suit broadcasters.
Director of communications Alan Milton has told RTÉ Sport of the timeline of events from their point of view, saying public pressure had little to do with their choice to move it to Newbridge today.
"On Monday, the CCCC came together to fix these games as they do every week. They have to do so with a degree of haste given the pressure on them. They weren't satisfied with the health and safety measures around St Conleth's Park in Newbridge," Milton told RTÉ Sport's Marty Morrissey.
"Thankfully discussions taking place since then has seen some of the issues addressed. It's worth saying that the only driver in this whole thing has been health and safety of patrons. That has been addressed and thankfully we've come to a situation where St Conleth's Park can hold the game and a large crowd from both counties, and we're now back talking about Gaelic football."
Asked whether there was a motivation to garner extra ticket revenue, or to suit a double-header for a broadcaster, Milton strongly denied that suggestion.
"Categorically no. Some of the most experienced and distinguished administrators in the GAA, including our provincial secretaries, serve on the CCCC.
"They've organised hundreds of games down through the years. They have vast experience and the only driver here was health and safety of our patrons that attend games.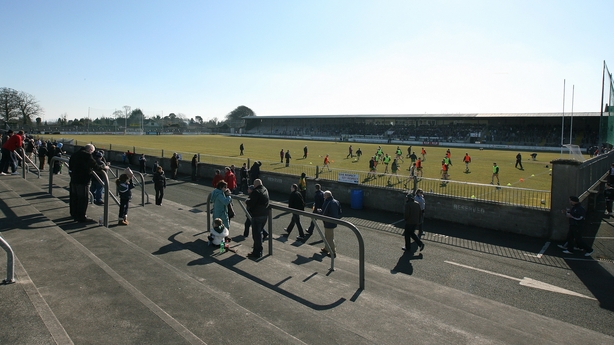 "I'm not sure if people place enough store on health and safety until something goes wrong. It was the only motivation behind the fixing of the game for Croke Park.
"It may lead to a wider discussion in the off season about whether or not our stadia are fit for purpose or whether they need to be certified or delegated.
"But I think that's for another day. I think the focus for Kildare and Mayo will return to the field of play. Both teams will want to be in the bowl for next Monday's round 4 qualifier draw."
Milton also added that he does not see it as simply a victory for Kildare in their 'Newbridge or Nowhere' stance that was forcefully driven in the media in recent days.
"There have been conversations had in recent days that weren't possible to have before the game was originally fixed. I think it would be remiss and negligent of the GAA to fix a game at a venue that they weren't entirely satisfied with.
"The extra time allowed for different plans to be put in place, whether it be for traffic or for general management for the flow of people.
"That has put people's minds at ease. We're confident the ground will have a plan that will allow for people to enter and leave the ground safely.
The media and how people communicate has changed profoundly in the last decade and we're all aware of that
"I can understand why any county would want to keep a game on their home ground. It offers an advantage, their familiar with the place. Mayo wouldn't be as familiar. When Cian O'Neill spoke as he did, it probably broke ground as inter-county managers do not ordinarily take that course of action.
"The media and how people communicate has changed profoundly in the last decade and we're all aware of that. It probably led to a groundswell. But that was going on in the background.
"It doesn't affect how conversations are had and how people come to decisions when they have more information and change the information in front of them. That is precisely what happened.
"Categorically no" - The GAA director of communications Alan Milton states money or TV did not motivate their initial decision to choose Croke Park to host Kildare's game. pic.twitter.com/rpcFzNx4q4

— RTÉ GAA (@RTEgaa) June 27, 2018
"Conversations took place with the Kildare County committee and An Garda Siochana and a different type of plan was put together to facilitate it. When you look at the figures attending Mayo games in recent weeks, and indeed years, the level of support they have, most people realise this fixture would put certain demands on Newbridge.
"We weren't comfortable that Newbridge could cope with it. Those conversations have led to a different match day strategy being put in place."
Milton concluded by saying it is now important, given the fixture has a much bigger profile now, that ticketless fans do not travel to Kildare
"We urge people that don't have tickets, and there will be a shortage, not to come to Newbridge. It has the potential to cause unnecessary hassle for people that do have tickets."