Seadna Morey anticipates Cusack Park will be "crazy" and "like a sauna" for Clare's Munster Hurling Championship round-robin match on Sunday that is the equivalent of a semi-final.
The winner (live on RTÉ Two, throw-in 2pm) will advance to the Munster final, with the Clare venue selling out on Sunday in the aftermath of the Banner's impressive comeback win over Tipperary.
Morey told RTÉ Sport: "It's going to be crazy. It's going to be like a sauna in there! It's what you want the crowd on top of you and the roaring and shouting. It's what we play for.
"Championship games in the Park don't come around too often and against Limerick. They are the team to beat at the moment given the form they are in.
"We weren't happy with last year's performance in the Munster final. We want to rectify that and get back there to show what we can do.
"Form goes out of the window and it's who wants it most. It's through desire. It could be a hard-fought like the last one. We have to keep our composure, focus, hit them with everything we have and see what the result is."
Clare were trailing Tipp throughout the game in Semple Stadium on Sunday but produced a stunning finish to knock out their adversary in the dying moments of the game.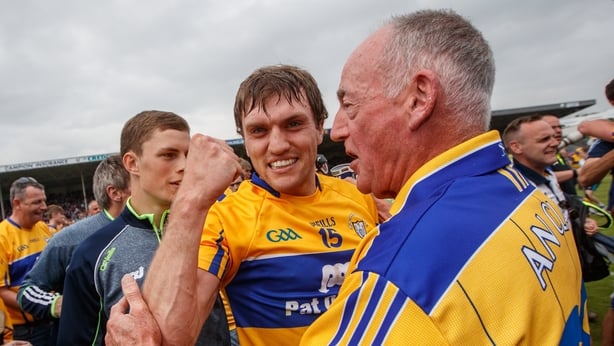 Reflecting on playing in the game, Morey said the eleation was a great feeling, but he wants to keep it in context: "It was unbelievable, especially in a game like that against Tipperary, your local rivals in Semple Stadium. It was massive for us. It's something every player wants to do, to represent your county in a game like that.
"It has given us a buzz and a confidence. There was loads of talk out that that he hadn't beaten Tipp. We took the shackles off and in the last few minutes showed what we can do with our desire and work-rate.
"There is a good buzz around the place, but it was only a group stage game at the end of the day. There is more to come.
"We want to be in Croke Park at the end of August. That's what this group is playing for"
"We don't want to remember this year by beating Tipp in Semple Stadium. We want more than that. We'll look at what was good and bad in the game and focus on Limerick."
A win could set Clare on the road to even bigger days and Morey is adamant where he wants the side to end up, concluding.
"We want to be in Croke Park at the end of August. That's what this group is playing for.
"We know how good we are and we want to go prove it. We want to show everyone that."
Follow Clare v Limerick on Sunday (throw-in 2pm) via the live blog on RTÉ.ie/Sport and the News Now App, live on RTÉ2's The Sunday Game or listen to live updates on RTÉRadio 1's Sunday Sport.