Wicklow senior football manager John Evans has ruled out any kind of blanket defensive system when his side take on Dublin this weekend.
Evans' team face the Dubs in O'Moore Park in a Leinster SFC quarter-final on Sunday, with few observers giving the Garden County much chance of causing an upset.
Given Wicklow's status as massive underdogs against the seven-in-a-row provincial champions, there had been suggestions that they may change their style in order to frustrate the Dubs.
However, Evans has ruled such an approach out, not least because he hasn't had the time to put that kind of system in place.
"People are talking about (playing the Dubs like) teams like Monaghan and Carlow. I have this team five months, you don't just set up a defensive system," he told RTÉ Sport. "You just don't click your fingers and it happens.
"So we're going to play what would be termed ordinary football against a super team.
"It's difficult to prepare against a team like that but I suppose I would have had a lot of experience when Tipperary played against Kerry on three occasions and twice when they were All Ireland Champions.
"You know, we played football and once you play football, you'll give a good account of yourself."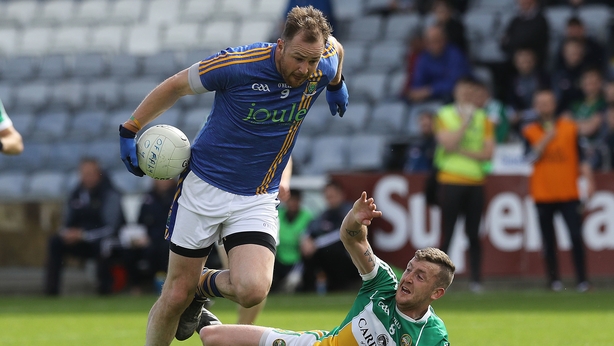 Wicklow didn't win a game in Division 4 of the Allianz Football League but were surprise victors over Offaly in the first round of Leinster.
That means their summer campaign is already a success, with at least one more game to come regardless of that happens against the Sky Blues.
"We're very happy to be in the position we're in and we're embracing it more than anything else," said Evans.
"We prepared very hard to get our first win of the season against Offaly. It took extra time and it showed we had a lot of diligence, commitment and mental toughness.
"When the team is improving, you're happy."
Evans insists he's not bothered by the final score as long as his players can learn from playing the country's best.
"We're going out to play ball as best we can. I'm certainly not going to be looking at the scoreline. If people want to judge us on the scoreline I think it would be pretty sad.
"What we want is to play fast football, be as intelligent as we can on the field and learn from the experience of playing a top team.
"These players would only have seen Dublin on TV. If you're going to develop football in a county, it isn't decided on just one game. We are improving and the enthusiasm shown by the lads is fantastic."
Follow Wicklow v Dublin and all the weekend GAA action via our live blogs on RTÉ.ie and the News Now app, or listen to live and exclusive radio commentary on RTÉ Radio 1.