Sean Cavanagh believes the half-time substitution of his brother Colm deprived Tyrone of the nous and leadership the Red Hand so desperately needed when their Ulster SFC clash with Monaghan was there to be won.
Manager Mickey Harte started Cavanagh, who had recovered from a quad injury suffered in March, at Healy Park but the 30-year-old made way for Declan McClure at the break.
At that point Tyrone trailed by 1-07 to 0-08 and in a nip-and-tuck second half it was the Farney who had more in the tank down the home straight, opening up a five-point lead that was trimmed to two by a Michael McKernan goal right at the end.
Reflecting on a defeat which sends his native county into the qualifiers, Sean Cavanagh said Mickey Harte stripped his side of a man who thrives in those pressure-cooker situations.
"Colm (going off) was a huge blow to the team," he told Game On on RTÉ 2fm.
"Obviously Mickey thought a change was what was needed and maybe Declan McClure was going to bring a more attacking threat to the game,"
"I've seen Colm play more than anyone and I know he's capable of playing a very attacking game. 
"I felt in a game in which leaders were going to decide it, and ultimately it was Monaghan's leaders who stood up in that second half.
"I felt Colm's presence was badly missed in that team, not only for his ball-winning capabilities, but also the character and personality he has. He certainly would keep boys on their toes when he's there.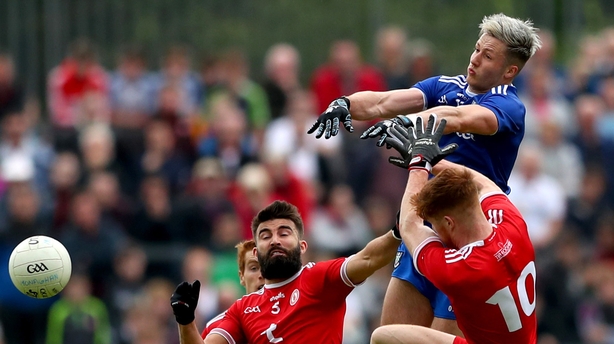 "He's a big voice in that team. I felt in a game of that stature, the longer he'd have been on, the better chance Tyrone would have had. 
"When Connor McAliskey hit that 45 over and the clock ticks on to 64, 65 minutes, in those stages of the game you want guys who are going to be clever to make that right decision.
"Monaghan had that, they had guys who were clever enough to take the ball into tackles, invite frees which Conor McManus expertly kicked over.
"Colm does that in relation to Tyrone. In a few of those closing plays between the 65th and 71st minute Tyrone did have a number of turnovers. That sometimes comes with experience.
"When we needed cool heads Tyrone were maybe found a little bit lacking compared to what Monaghan had in their artillery."
Cavanagh has been critical of Tyrone's style under Harte in recent years and has suggested the development of some of the county's most talented forwards have suffered because of it.
In his column for RTÉ Sport Online, Philip Jordan said his former team-mate's comments were unfair and put unnecessary pressure on Harte.
However Cavanagh stood by his assessment. 
"I certainly wouldn't think my comments would change anyone's thoughts. I believe we have some of the best talent in Ireland within that squad. I just want to see the best of it.
"I want to see those players do what I know what they'e capable of doing on the biggest stage. To do that we may need a slight change in game plan.
"Tyrone tend to resort to the running game and the style which has been worked on for the last five or six years, which is grand but when you're an inside forward and you thrive on getting your hands on the ball and looking for early ball to find the spaces, it just wasn't happening. It's a trend of the game. 
"It's not something that Mickey or the management team has tried to deliberately take players of that style out, but the reality is the running game has been more prevalent. A Peter Canavan would probably have struggled in the last four or five years playing with two or three sweepers in front of him.
"It's not just Tyrone. It was probably the Jim McGuinness tactics that revolutionised Gaelic football around that time and we followed suit."