Davy Fitzgerald was left pulling his hair out as Wexford almost conspired to let Dublin plunder victory in their Leinster SHC round-robin collision, but he praised the resolve of his Model men who pulled it out of the fire at the death.
Paul Ryan's 61st-minute goal sparkled a Dublin surge that had them a point ahead heading for injury-time.
Two Rory O'Connor scores swung it again though, with Harry Kehoe tagging on another point right at the end, and Fitzgerald afterwards aired his relief.
"We shouldn't have been in that position," he said.
"We should have had the game out of sight with ten minutes to go.
"We caused the problems ourselves and we nearly paid the price but fair play to the guys, they dug it out at the end. That was good.
"Under pressure, we got the result."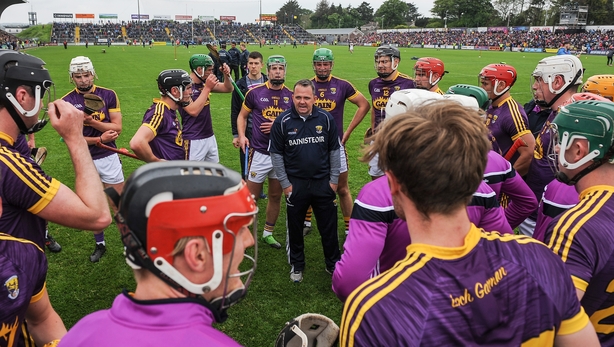 Pat Gilroy's Sky Blues will be kicking themselves after coming so close to taking a big scalp for the second week in a row.
Seven days ago, Kilkenny reeled them in in the closing stages. This time, Wexford found the extra gear when the game was there to be won. For Fitzgerald, that steel bodes well.
"We gave away two soft goals," he added. "Dublin fought hard right to the end and when a team gets momentum at the very end, it's hard to stop them.
"They hung in with us all the time and they just got a break near the end of the game. I'd say we led for most of the game.
"The thing I'm delighted about is the character they showed. Fair play to them.
"Rory (O'Connor) is a special talent but I'll tell you one thing, he knows as well that there were 14 other guys who blocked and tackled. I thought our tackling today was immense.
"I'm extremely proud of the way we worked hard to day. I think that was phenomenal."
Up next is a trip to Offaly, who've been beaten by Galway and Kilkenny in their first two games.
Fitzgerald expects an almighty scrap though, as a hectic period now goes into overdrive.
"We know what it's going to be in Tullamore. It's going to be some battle. Any time Wexford and Offaly meet, it'll be down to the wire.
"We just have to go up there and give it everything we have.
"It's going to be an interesting 21 days. I like the concept (of the round-robin format)... but to play four in a row is going to be a big ask for us. If they're all like today, I don't know if it'll be good for the health.
"I'll sleep tonight anyway, that's for sure."