Former Offaly manager Stephen Wallace has expressed his bemusement at being sacked despite a statement of support from the players.
The county board announced on Wednesday night that the Kerry native had been removed his position following rumours of unrest in the camp after Offaly's Leinster SFC championship exit at the hands of Wicklow last weekend.
Wallace, who is under an eight-week suspension from all GAA activity following an incident in a Kerry club game, said that the players had trained well on Wednesday and committed to continuing under his management but the county board had made the decision to remove him regardless.
"The players trained in the Faithful Field, and got on with their business," he told RTÉ Sport's Marty Morrissey.
"All players that were available to train were there, bar a couple who had been excused for work commitments etc.
"They had a good session. Obviously I wasn't able to take part myself, but I haven't been able to take part for a couple of weeks anyway.
"They had a meeting beforehand, as we would always do, a post-match analysis. There have been well-documented issues in the media for the last couple of days, in the fallout of the Wicklow defeat.
"The players issued a statement, which they handed to the County Board chairman Tommy Byrne, (saying) 'We look forward to the challenge and improving our performance. We're very committed to playing for Offaly under the current management. We would also like to confirm that no player has engaged with local or national reporters since last Sunday's game.
"Full backing from the players (but) I received a phone call from the chairman saying I had been relieved of my duties.
"Obviously, I'm totally disillusioned with this phone call I've received.
"The big concern for me, and any manager would attest to this, the backing of the players is paramount.
"The statement that was handed to the chairman has confirmed that the players were 100% behind me as manager and my backroom team, yet the county board have decided to remove me from my position.
Listen to the full interview with Stephen Wallace below
Chairman Byrne suggested the decision was made due to Wallace being unable to take charge of the team in person and said it was taken without player input.
"We made a decision and the decision was to terminate the contract at this time," he told RTÉ Sport.
"It's a difficult position with Stephen being suspended at the moment. We thought it was a very difficult situation to manage a team and not be able to make contact with them or be involved on match days.
"It's not a position we ever wanted to be in but unfortunately it's happened. That's life.
"The players want to play football and don't want to be involved in anything else," he added. "We're not involving them in this.
"It was our (the county executive's) decision and we will stand behind it."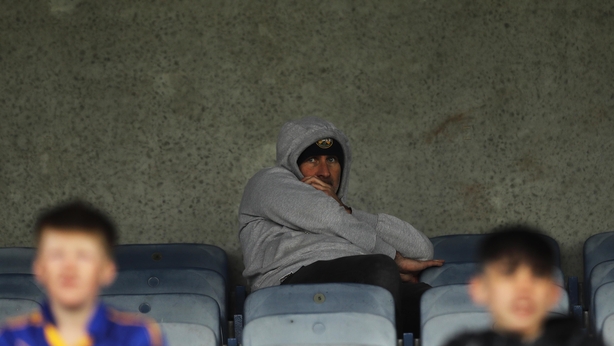 Wallace, however, said he was given no explanation for his dismissal and doesn't believe the rationale outlined by Byrne.
"It makes no logical sense to me," he said. "Is it because we lost a football game to Wicklow? If it is, we're turning into the Premiership. You lose a game as a soccer manager and you're looking over your shoulder. Is that what we've become?
"I've only been suspended for two weeks because there was a long ongoing process with the Kerry County Board. Up until very recently I was able to prepare this team as per normal.
"I'm not the first GAA official to be suspended and I certainly won't be the last. Is it an ideal scenario? Of course it's not but if every player or manager who has a misdemeanour is going to be cast aside, we'll have no-one left playing.
"I can only assume it's all this media nonsense that has gone on all week. Most of it has been proven unfounded and untrue.
"The incident that happened in the dressing-room with Nigel Dunne was over, I would imagine, within 17 to 20 seconds. It was blown out of all proportions.
"He said a few words. He wasn't happy with being substituted. He went for a walk, a member of management went after him, chatted it out, and Nigel probably realised he over-reacted and came back into the dressing room.
"He was sitting outside with the subs when the referee threw the ball up and he came back into the game in the second half."
For the Record: pic.twitter.com/qGZXNuayQ7

— Nigel Dunne (@NigelDunne21) May 15, 2018
"It's untrue that I'd lost the dressing room. I think the statement that the players put out to the county board confirmed I did not. I had the full backing of the players. They wanted to knuckle down and right the wrongs of last Sunday.
"This is a county board that has put roadblocks in our way every second of every day.
"It's the players I feel sorry for. They're a great bunch of lads and very committed.
"It's just total nonsense for these guys to be at the mercy of this type of an executive."