For the first time in five years Wicklow footballers are celebrating a win in the Leinster championship and for manager John Evans, the success was as much down to his troops playing without fear.
The Kerry native was in buoyant mood after the Garden County's extra-time win over Offaly in Sunday's preliminary round clash at O'Moore Park.
"I'm delighted for the players as they have worked really, really hard and there is no two ways about it," Evans summed up when he spoke to RTÉ Sport.
"The game was slow to start, first half was a bit of a slow burner, but as the tempo rose so did we, so did our attitude and so did the standard of play. We came into the game more and more.
"We brought in a couple of young guys like Cathal Magee and Daragh Fitzgerald and they added huge momentum to our play. The elder statesmen of the team also did their bit."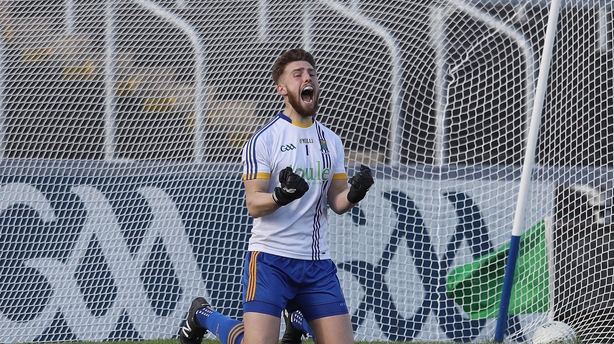 Crucially, Evans also revealed: "It was time for Wicklow to throw off the shackles, time for the lads to express themselves, throw away the fear and start playing football. In the build-up to a number of our scores, we were flowing and we were pacy.
Next up for the Division 4 side is a date with Dublin in the quarter-final, with Evans hoping that his charges enjoy home comforts for that clash in two weeks time.
"If Dublin want to beat us, they can beat us by ten, 20 or 30 points, maybe more. I think Dublin should come to Aughrim. There is nothing to fear in Aughrim and you're our next door neighbours. Why not help out the next door neighbours in the Leinster championship?
"It's a championship that is sagging at the moment."