Jack Canning has parked notions of pursuing a career in professional rugby or Aussie Rules and is focusing his attention in following in the footsteps of his uncle Joe into the Galway senior team.
Jack Canning announced his arrival on the national stage last September when he scored two goals as Galway ousted a fancied Cork side to win the All-Ireland minor title.
It turned out to be the greatest day in Galway hurling history as they completed the double for the first time when his uncle Joe led the Tribesmen to their first Liam MacCarthy Cup success since 1988.
That win over Waterford meant that there was finally a senior all-Ireland medal going back to the Canning household, an honour which had eluded another uncle Ollie during an illustrious career.
"It was a good day, one of the best days of my life, a memorable day for the family, for myself and for Joe. We got a nice few pictures together," said Jack Canning, who has been appointed one of the ambassadors for the Bord Gáis Energy U-21 All-Ireland hurling championship.
There was speculation after the All-Ireland minor success that Jack Canning might consider a career in professional rugby or in Aussie Rules, but he has set them aside.
His rugby prowess became apparent with his displays for Cistercian College, Roscrea, after he moved there to study as a boarder but Canning, who will be 19 next Saturday, has ditched any notion of a rugby career.
"That's put to bed, I'm sticking with the hurling. I was in Roscrea for three years to play hurling, I got a hurling scholarship. I was living in the school so I played a bit of rugby.
"We won a Leinster Senior Cup in 2015 and got to the final in 2016 but Belvedere beat us. I was on the panel the year we won it and the following year I was playing No.7.
"Last year after the All-Ireland final I got invited to play in an AFL Combine. I gave it a go, why not? I went in to see how I'd get on but that's all parked now. It's all hurling now."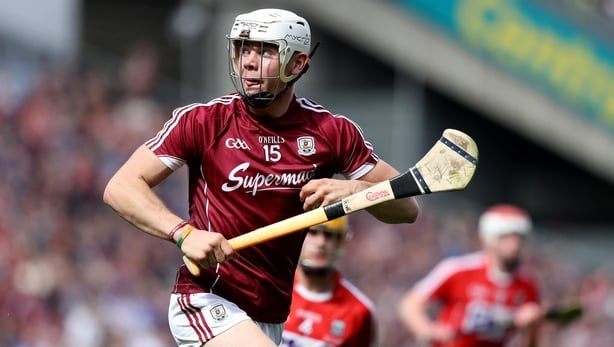 His father Davy — joined by other uncles Ivan and Frankie in addition to Ollie and Joe — was part of the Portumna team which made the breakthrough, winning their first Galway SHC in 2003 and then going on to become a national force, winning four All-Ireland club titles in a decade where they won half a dozen county titles.
His uncle Ivan heads up the family hurley manufacturing business and Jack has learned the craft as well, making his own sticks.
"We all make our own, we all like our own little touch. Ivan runs it so I said I'd see how it goes. I haven't lost a finger yet!"
He is studying Agri and Environmental Management at the Galway-Mayo Institute of Technology, focusing on agricultural science. They have a farm at home in Portumna, while Canning is also considering doing a H.Dip and perhaps going on to teach or work for Teagasc.
Hurling, though, dominates. He made his senior debut for Portumna last year, lining out alongside uncles Joe and Ollie.
"Ollie played, he was 41 and he's still playing. He's still one of the fittest on the team, hopefully he will be there for another year or two.
"It depends," he said when asked if he looks for advice from Joe and Ollie. "It's not like I wouldn't go to them but after a game you could talk to them on the phone, what you did well, what you didn't. It's basically do the simple things right, not to be always trying fancy things. They won't come off, one in ten might, but to get your first touch in, ball to hand, that's the sort of things they would tell you."
His performances for Portumna and the Galway minors last year suggest he will be the latest inter-county hurler to come from the Gortanumara family — former All Star Damien Hayes and former Connacht rugby captain John Muldoon are from the same townland — and he knows it would be special to make the team while Joe is still on it.
"Hopefully I'll get in there (Galway seniors) while Joe is still there. But obviously, I have to play the best I can, it's a challenge but I like a challenge, I'm looking forward to it."
None of the minors have been drafted into the senior set-up yet but eight of them are in the U-21 squad and Canning is looking forward to the competition, when the Tribesmen will feature in Leinster for the first time.
"It's something new for everyone, even management. They've never been in a Leinster championship before. It's going to be a challenge to get lads ready, but we're really looking forward to it," he added.
Galway will open their Bord Gáis Energy Leinster U-21 campaign when they take on Offaly on 13 June.