Gearóid McInerney has dismissed the notion that Galway held something back during the league in advance of more games to be played in their defence of the All-Ireland title.
The westerners failed to clinch top spot in Division 1B and so must spend another season in the second tier. It's something they would have liked to have a achieved, says McInerney when he spoke to RTÉ Sport at the launch of this year's Leinster Hurling championship.
"We would have preferred a better league campaign and our focus starting out was to do our best and get promotion," he said.
"Things really didn't go our way so we just had to get over it - the championship was just around the corner. That said, it was good to blood in new players.
"I suppose especially this year with the new format, you'll need new players and you never know when you'll need fresh legs. Panels are going to be massive this year."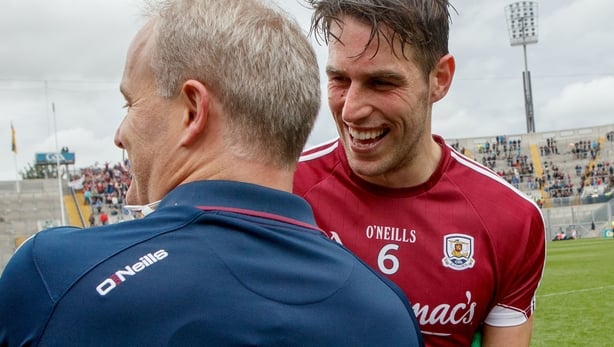 Galway, who are the defending Leinster champions, begin their quest for back-to-back titles away to Offaly on Saturday next. The new round-robin format, however, sees the Tribesmen enjoy home comforts in the provincial series for the first time with games to come in Salthill against Kilkenny and Dublin.
Not surprisingly McInerney is relishing the opportunity of playing on his home patch, but insists the main focus is on the Faithful challenge this weekend.
"I suppose it's great for families and kids to get these home games and there will be a bit of a buzz around Galway," he added.
"But we're concentrating on the Offaly game for now. That's the first thing that's coming up and it's going to be a big task."
The 27-year-old centre back, who made his Galway debut in 2014, is still looking to improve his game even more as he strives for that second All-Ireland medal.
"Every day you go out and play a match you can easily take one or two things you did bad and one or two things you did good, and you just have to keep working on them.
"Even things you think you're brilliant at could always do with a bit of tweaking. The upcoming games are coming thick and fast and so the need to get that consistency in performance will be greater than ever."
Live blog on Offaly v Galway on RTÉ.ie and the News Now App from 6.30pm on Saturday, 12 May.