Cork forward Paul Kerrigan is in a race against time to be fit for his side's Munster Championship opener against Tipperary or Waterford in three weeks time.
The Nemo sharp shooter underwent surgery on his finger after he sustained a tendon injury in the All-Ireland club semi-final against Slaughtneil.
After six weeks of rehab he is back training with the football but is unsure if he will be fully recovered for the first game of the 2018 campaign.
"The semi-final game will be touch and go, erring on the side of caution I probably shouldn't be playing," Kerrigan told RTÉ Sport.
"I want to give myself the best possible chance to get back for Championship, I ruptured it in the semi and then got it operated on after the final.
"I'll just have to wait and see how it feels. I'm doing plenty of rehab and it feels good to be fair. They were able to repair it in surgery so that's good."
The injury itself was extremely innocuous, it occurred when he awkwardly came together with another player. When it happened the centre forward didn't think it was a big deal even though his ring finger on his left hand was lifeless.
"It wasn't that sore when it happened, a friend of mine is a physio and at the time he said 'you could be out for a while with that,' and I just laughed at him.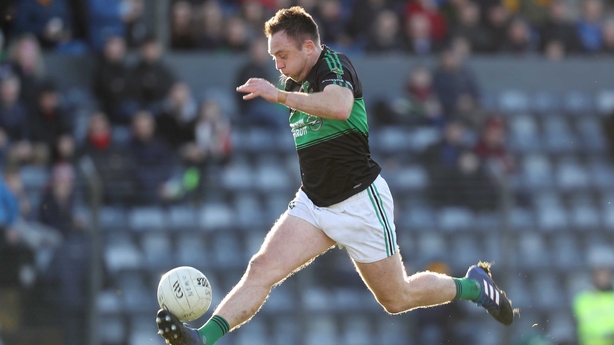 "It was just floppy, even when I was driving if I wanted to flick down the indicator I wasn't able to do that."
On the pitch he is doing running and handling the ball but he's not in full contact yet. The rehab and recovery for his finger has been a tedious but necessary process.
"I've just been curling the finger, straightening it, massaging it every day. I've been to physical therapy and occupational therapy in the hospital once a week. I am on week six now and I've been exercising it every hour."
If Kerrigan doesn't recover on time for the Munster semi-final he will be hoping his side earn victory and secure a spot in the final on the June 23. The 2018 season offers a different dimension with the new structure and the 31-year-old is looking forward to the challenges it will bring.
"We've a young fast squad squad who are full of energy," said Kerrigan.
"Everyone is training very hard and there is loads of competition. There was a lot of lads used in the League so it's hard to know what kind of a team will be picked. Everyone thinks they will be playing and that's a good way to be."
Cork have a new manager this season in Ronan McCarthy, they won three out of their seven games in the League and maintained their Division 2 status. McCarthy is a former Cork footballer and Kerrigan is enjoying his approach to management.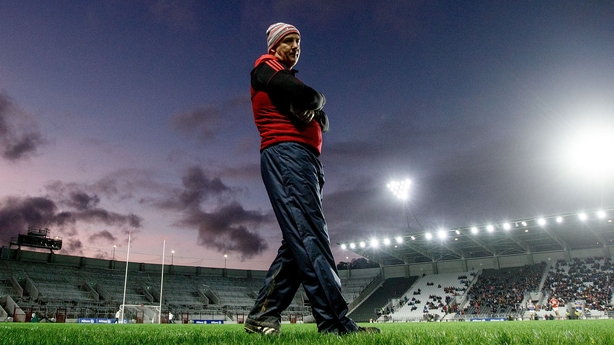 "He encourages the lads to make their own decisions and play what's in front of them. There is nothing very structured, he wants the lads to play what they see and be competent footballers. They are a young side and he wants them to express themselves."
Cork won the All-Ireland in 2010 but have since fallen down the football pecking order both and rarely feature when pundits make their predictions for Sam Maguire.
"The reality is we are a Division 2 team so we are probably considered outsiders for the Munster Championship along with Tipperary.
"Cork are probably only considered a top 12 team at the moment but there are lots of teams in Division 1 and 2 who would think they could beat any team on their day."
Cork were due to play Dublin in a challenge game on Friday but the game was pulled at short notice as it broke Rule 6.41 (b) which specifies that challenge matches played after the conclusion of the National League must only played on a Monday, Tuesday or Wednesday.
"They were really looking forward to it and then it was pulled. It was a disaster from that point of view. This time of year is like a mini pre-season with lads coming in after the League and looking ahead to prepare for championship. Fellas were dying for the game to sharpen up and that would have been a nice one to get.
"You have to play challenge games on a Monday, Tuesday or Wednesday, lads would have to leave work early to play games up the country, it's not great our boys will have to go up the country now over the next couple of weeks."