When the late Jim Stynes first arrived at the Melbourne Football club in 1984, his teammates were dumbfounded by his accent.
Both parties spoke the English language fluently, but his Irish vernacular meant that certain words and phrases were misunderstood in translation. Stynes described in his autobiography how his accent was 'the subject of great mirth' in the team, while his teammate, former Melbourne captain and long-time friend Garry Lyon recalls in the documentary Every Heart Beats True:The Jim Stynes Story: "At training, we couldn't understand a word he said."
Mayo star Cora Staunton experienced something similar at the Great Western Sydney (GWS) Giants club earlier this year after signing a contract with the Aussie Rules side last October.
Similar to Stynes, Tadhg Kennelly and the many other Irish imports in the Australian game, the four-time All-Ireland winner was coming into an entirely different sport. And while she would go on to enjoy an impressive debut season, she had some minor linguistic barriers to overcome along the way.
Phrases that would be part of every-day conversation in Ireland were greeted with looks of confusion in the Giants dressing room, while Staunton was equally bemused by some of the Australian lingo.
"At times it is quite hard to understand [the Irish accent]," Staunton's GWS Giants teammate Courtney Gum tells RTÉ Sport.
"And there was a running joke through the club for interviews and things like that, that Cora would have to slow down her talking so that everyone could understand what she was saying.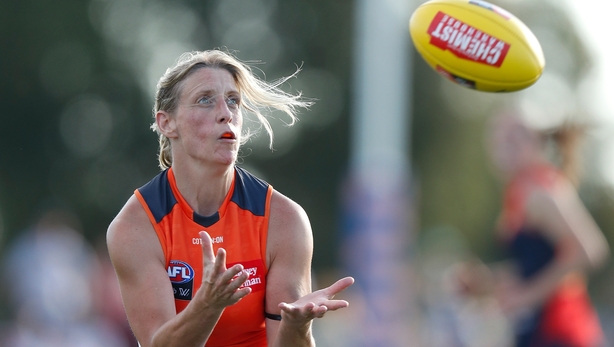 "Every time she had an interview for an Australian paper or media, Cora would come back and say, 'yes they understood me and I had to slow down my talking a little bit.'"
36-year-old Gum comes from a footy background in South Australia, although this is her first year to play in the Women's Aussie Rules competition (AFLW), after failing to get picked from the draft for the inaugural season last year.
This time around, Gum was picked number 25 in the draft, while Staunton was the 45th pick out of 46.
Aussie Rules and Gaelic football are sports that share some similarities, but the transition is not entirely seamless and the Mayo forward began working on the skills soon after she arrived in Sydney.
Along with that obvious requirement, Staunton had other adjustments to work through, including getting used to coming off the pitch without the colossal tallies she often clocks up for Mayo and Carnacon. She also had to embrace the idea of celebrating goals with her teammates during games, a concept which she rarely would have experienced at home.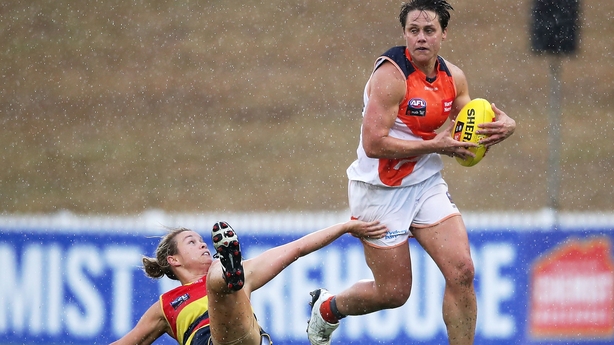 She was helped along by various people in the club, including Gum and the team coach Alan McConnell.
"She was training every day," says Gum. "She was coming into the club before training and getting help from mainly Al [McConnell], myself and a few others on her kicking. She adjusted to it remarkably quickly and I know she has chosen largely to kick across her body in the Gaelic style, however she can kick a really great drop punt.
"In our training drills for example, you can't kick like Cora does for goal so she would train and would kick drop punts. It's just that in games when she's going for goals she kicks across her body.
"She's done phenomenally well and applied herself so well and consistently. I think that's another example of why she's a phenomenal athlete."
She adds: "It was so funny because Cora told us that she doesn't celebrate for goals and in our first trial match, she didn't. I think she kicked one or two goals and she didn't celebrate. And then someone found some footage of her playing Gaelic and doing this massive goal celebration so that was quite humorous.
"And then she just got into the groove of celebrating and I think she's embraced the goal celebration."
The footage of Staunton in action that filtered back to Ireland shows her imposing herself on the games and scoring some impressive goals.
Cora Staunton shows off her Gaelic skills with a nice set shot snap. ?? #AFLW #AFLGiantsCrows pic.twitter.com/07CZqRcyV7

— AFL Women's (@aflwomens) February 25, 2018
One of the most prominent features of her performances was the kicking style she employed when shooting for goals, with the Mayo forward relying on her Gaelic Football skills to strike the oval ball through the posts.
But for Aussie Rules fans who are more accustomed to players punting the ball through the lace of the boot, this kind of snap kick around the body was seen as quite unusual.
And according to Gum, it's a tricky manoeuvre to master too.
"I think it's just unorthodox more than anything. I actually think it's a very appropriate way to kick for goal if you understand how the ball's going to travel, and certainly if you don't practise it it is a hard kick. The drop punt when you're going for goals is a hard kick because accuracy is always an issue.
"It is a difficult kick but it's just an unorthodox style in Aussie Rules."
GWS Giants finished the season with three wins, three defeats and one draw, leaving them just one game away from reaching the Grand Final of the competition. This was a marked improvement on their showing from the previous year where they finished at the bottom of the ladder.
Their first win was against Collingwood at the end of February, where an elbow to the face resulted in Staunton sustaining a broken nose. Unsurprisingly, she played on after receiving some treatment and returned to the pitch with a lot of bandaging to keep her nose intact.
Cora Staunton came off the ground after this incident involving Sophie Casey. #AFLW #AFLWPiesGiants pic.twitter.com/mq3HrobLXn

— AFL.com.au (@AFLcomau) February 18, 2018
Gum admits that she would probably have requested to go to the hospital if she was in that situation, but was not surprised by the resilience Staunton showed to get through the game.
Similar to how opposition teams in Gaelic football try to negate Staunton's influence on games, women's teams in the AFL quickly identified Staunton as a scoring threat, and tried to implement tactics to limit her impact
"We call her a machine," said Gum.
"She just loves it and gets so much out of it. She did score goals, which was great, and then her attack in the forward line is really hard to teach someone. The thing in footy is that they would always have to man Cora up with a good defensive player because otherwise she's so dangerous.
"Sometimes you don't have to worry about a forward player quite as much but because she's so dangerous, any opportunity that comes her way is potentially a score for us."
After two seasons in the AFLW, the GWS Giants have already built up quite a healthy fan base according to Gum, and Staunton has endeared herself to the spectators with her displays.
Even some of the younger members in Gum's family developed a fondness for Staunton after meeting her at a training session.
"She's a crowd favourite absolutely. She's so dynamic, she plays with such flair in attack. When Cora got the ball, the crowd would just go crazy for her. Someone set-up a Cora Staunton fan page on Instagram, it was actually one of our teammates and it has a good few followers which is pretty cool.
"Her story is so incredible, [for] such a decorated Gaelic player to come across and try something totally new. It's just such an incredible story so obviously the crowd and the fans know that and they really invest in those stories so she's high on the fan list.
"After every game we would go and sign autographs on the boundary line and sometimes after a win the fans are able to come into the changing room and ask for signatures. We have fan days, which is really cool. She was really good about it, particularly with the young kids.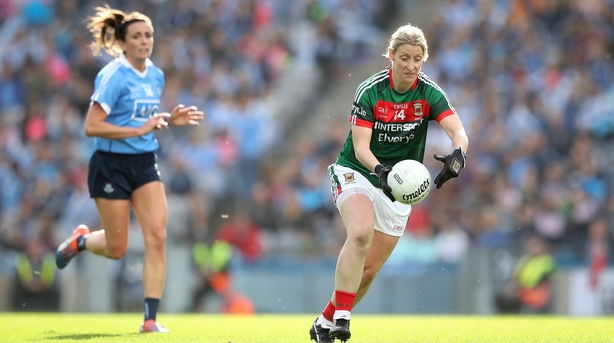 "I had to take my two nieces to training and Cora started kicking the footy with them. They ended up talking about Cora the whole time at home. I think in terms of fan days and signing autographs, I think Cora understands that she's a role model, she can influence people into being active and healthy and something they enjoy so that's a really positive thing."
Gum played Aussie Rules from a young age at school, but decided to step away from the sport in her teenage years when she started to notice that people were commenting on the fact that she was the only girl on the pitch.
It wasn't that the remarks were negative, and the focus of the commentary was about her impressive ability to play. But she didn't feel comfortable with the attention she was getting and felt she needed to park the sport.
Netball became her main sport over the subsequent years before she got word of a women's national Aussie Rules competition from as early as 2013. Gum lives in Adelaide with her partner Krissie and son Buz, and when the league finally arrived in 2017, she was hoping to get picked up by the Adelaide Crows in the draft.
It didn't happen for her, but at 36, she was given the opportunity by GWS Giants. Staunton is of a similar age to Gum, which helped them form a bond, and they asisted each other in their preparations, even at times when the club officials felt they should be resting.
"It was really great to have someone my age in the team, it was really fantastic. It kind of took the pressure off a little bit to have Cora flying around at some of the highest speeds.
"We're at a similar stage in life, we hit it off straight away, had really nice chats which was party to do with our age. I guess we just got along as well.
"Cora and I would be relatively similar in that way in the way we go about things. I think also we're a little bit older and a little bit headstrong so I would often laugh because the physio might say that Cora can only kick for 20 minutes or something like that but we'd always stretch it out, always trying to wangle a few extra kicks or a few extra runs or sessions in the gym.
"Within reason obviously, you can't put yourself at risk of an injury but I guess being a bit older we probably think we know a bit more than we do and push the boundaries a bit."
WOW. The Giants are EXPLOSIVE ??#7AFL pic.twitter.com/04JCiAizC6

— 7AFL (@7AFL) March 10, 2018
Gum went on to enjoy an incredible season from an individual point of view, earning the Players' MVP award and was also selected on the All-Australian team. Staunton shone as well for the Giants, scoring five goals in all, including one against the Western Bulldogs which earned her the club's goal of the year award.
Shortly after the conclusion of the AFLW, Gum linked up with the South Adelaide team who play in a different league called the South Australian National Football League (SANFL). She also played for them last year and the team is now preparing for a Grand Final. She's unsure if she will return to the Giants next year, having spent five months apart from her family during this season.
Meanwhile, Staunton is expected to return to Ireland, but it is not yet known if she will rejoin the Mayo squad or if indeed she will be back in a Giants jersey again next year.
Regardless of what her next move is, she has left her mark on the Sydney club, even if her teammates couldn't quite catch what she was saying all of the time.
"She's so nice and so professional," says Gum, "she's funny and everyone had a great laugh with Cora. She takes it so well and doesn't get offended by it so she was fantastic for the playing group."