On the evidence of their weekend Allianz Football League clash, Galway and Mayo's Connacht Championship meeting this summer promises to be a spiky affair.
Referee Anthony Nolan flashed three red cards, two-one to Mayo, and 15 yellows at Salthill on Sunday as the Tribesmen made it three competitive wins on the bounce of their nearest and dearest rivals.
You can add to that the three red cards that Galway picked up in the FBD League win over Mayo in January. This normally friendly, relatively speaking, rivalry has taken on a much harder edge in recent years.
The seeds of this new friction probably date back to 2013 when Mayo stuck 17 points on Galway in Salthill, never letting their opponents up for air.
Mayo have lost to their neighbours in each of the last two Connacht Championships, bringing to an end five years undefeated in the province.
Even though they haven't been able to get a handle on Galway in either Pearse Stadium or MacHale Park, they've managed to resurrect their season and make it to the All-Ireland final, losing to Dublin on both occasions.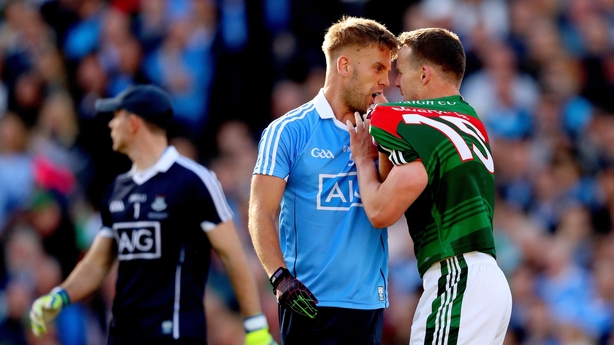 Mayo are unquestionably one of the top teams in the country and the only county to have seriously troubled Dublin on their way to three Sam Maguires in-a-row since 2015.
Along the way they have made plenty of friends off the field and amongst neutrals they would be hugely popular All-Ireland winners, having failed to make it to the Promised Land since 1951 despite so many near misses.
On the field they aren't quite as popular and since their re-emergence as contenders with their 2011 Connacht title win, they have kindled some intense rivalries.
There's Galway, of course, and Dublin - the side they have measured themselves against most often in that time, but also Kerry and Tyrone, aggrieved with the manner their captain Sean Cavanagh was sent off in the 2016 All-Ireland quarter-final, too.
Mayo had for a long time the image of a team of nice guys, one built during three heavy All-Ireland final defeats to Kerry in 1997, 2004 and '06. When James Horan took over from John O'Mahony in the wake of their shock qualifier defeat to Longford in 2010 he set about changing this perception.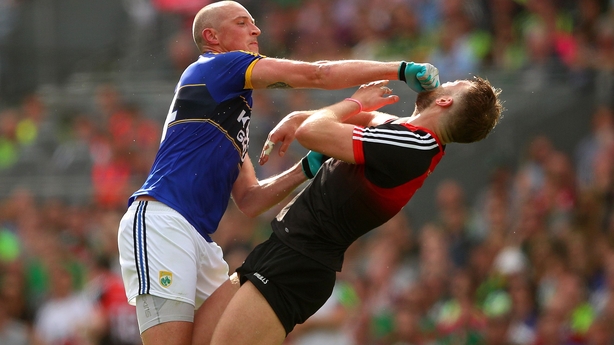 And Mayo certainly are no more Mr Nice Guys. They're as hard as any team around needs to be to compete at the top and they're willing to do whatever it takes to win.
That hammering of Galway in 2013 typified that when they didn't take the foot off the pedal until the final whistle. At their best they play with an eye-popping level of intensity and, as is typical in modern football, they live on the edge.
Their recent rivalry with Kerry really took off in 2014 when the Kingdom beat them following an epic All-Ireland semi-final replay in Limerick, after extra-time, and it moved to new heights last summer when Mayo won convincingly after a semi-final replay.
Kieran Donaghy was sent off late in that game when he lashed out Aidan O'Shea. Kerry don't like losing to anyone and they certainly don't like losing such a high-stakes game in such a comprehensive fashion. It may have been a League game, but when they visited Castlebar at the start of February the Kingdom played as if their lives depended on it to win with just 13 men on the field.
Including draws, Mayo and Dublin have played in two All-Ireland semi-finals and three All-Ireland finals in the past three seasons. Teams can't have shared that many minutes of maximum intensity football on the Croke Park pitch without building up some amount of enmity.
Mayo aren't bullied by anyone anymore. This hasn't made them many friends on the pitch and there are a number of teams lining up to knock them this year, but they don't care - winning an All-Ireland is all that matters to this team now.