First published on 22 January
For the first time in four years, Leinster has more than one representative in Division 1 of the National Football League.
The bookies suspect it might be a flying visit, with Kildare the longest odds of all eight teams to win Division 1, and it's hard to detect any sense that revolution is lurking around the corner in the eastern province.
By the time June rolls up this year, everyone still anticipates that Dublin will ride into Croke Park, casually fire a few more rounds into the corpse that is the Leinster football championship, then slip away quietly with the Delaney Cup in tow, having barely bothered to raise a whoop of joy in the process.
It is now invariably enlisted as Exhibit A by those who argue the provincial championships are a dead duck ("But the Ulster championship, though!" comes the counter-argument in a Northern accent.)
The unleashing of the blue wave (blue tsunami) is usually held responsible for its death as a competitive entity.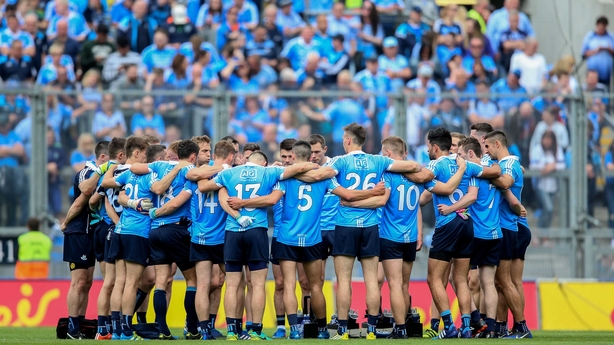 In exploiting their natural advantages to a greater extent than ever before, so the argument goes, the Dubs have finally evolved into an unstoppable behemoth against whom their strapped and oppressed neighbours can no longer hope to compete.
Dublin supporters, or at least a good many of them, no longer pretend to get any great kick out of these Leinster shellackings.
Made uncomfortable by arguments about their otherworldly prowess, Dublin fans prefer to stress the general uselessness of the rest of the province.
After all, Mayo and Kerry, each powered by their own particular brand of fanaticism, have managed to keep pace enough to at least make the games interesting. But the Leinster counties haven't been able to raise a gallop at all.
Whenever pundits claim that the 'rest of Leinster' is suffering through an unusually poor era, they are really just talking about Meath and - to a lesser extent - Kildare.
Offaly could also be cited but they haven't been a contender for years and their last era of provincial supremacy in the early 1980s is a faraway memory to most. (They won another Leinster title in 1997 but that was a bolt from the blue).
The remainder of the province have been able to compete with and beat the Dubs only intermittently throughout history.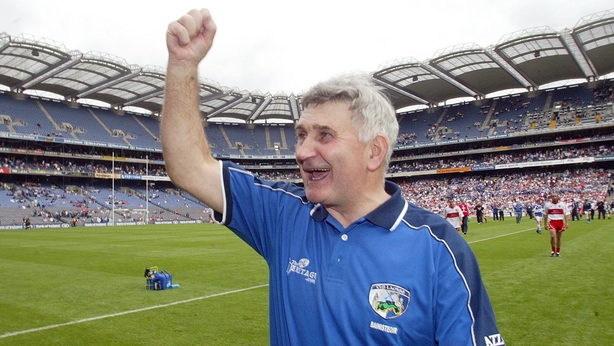 Laois flirted with the big-time in the early noughties, but their golden generation of youngsters delivered only one Leinster title at senior level. Westmeath, likewise, rustled up a provincial title (their first ever, in fact) back when the Dubs were in a state of total disarray.
A couple of days before Dublin played Westmeath in the 2004 Leinster first round, the Irish Independent carried an article in which they reported that provincial officials were panicked by the possibility that Dublin might lose the game, fearing dire financial consequences.
This was still the era when even rural dwellers were inclined to hope Dublin embarked on run in the Championship for the sake of the 'ould glamour'. They probably now regret that such a thought ever entered their heads.
Since then, Dublin have won 38 out of 39 Leinster Championship matches and last year beat Westmeath in a provincial semi-final by 31 points.
These days, Meath's best performances are to be found on Reeling in the Years
Close study of the history of the Leinster Championship in the 21st century casts doubt on the notion that the rest of the province is suffering from malaise brought about by Dublin's golden era.
Meath and Kildare, the two counties counted upon to provide a regular and serious challenge, embarked on their decline in the early noughties, well before Dublin ascended to greatness.
Meath's glory years ended abruptly after Galway drove a coach and horses through their defence in the second half of the 2001 All-Ireland final (in a sense, we could call that the last final of the 1990s) and they turned up the following year a much diminished outfit.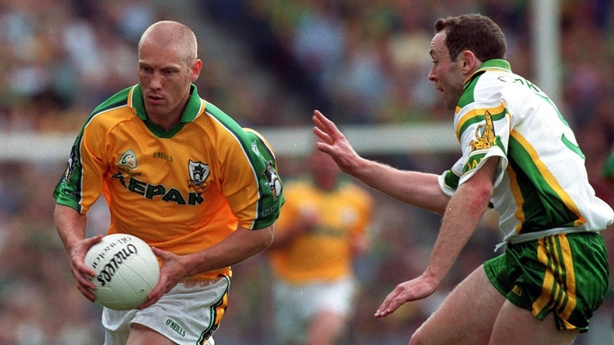 These days, Meath's best performances are to be found on Reeling in the Years.
Both teams experienced a revival of sorts in the late noughties. Meath reached two All-Ireland semi-finals, in 2007 and 2009, and then won a Leinster title in 2010 in circumstances that don't need to be revisited. They were soundly beaten in both last-four games and there was never a sense that they were on the cusp of anything big.
Kildare, by contrast, were a whisker away from an All-Ireland final in 2010, losing to a square-ball goal in the first half. The county expended quite a lot in those years (both in terms of money and energy) without garnering any silverware. There followed a few years of recession, both on the pitch and off.
If you want to know about toppling one of the greatest teams of all time when they're on a roll, there's only one man to talk to.
"Kildare have been failing for 80 years, apart from the Mick O'Dwyer era"
Eugene McGee is fairly scathing about Meath and Kildare's failings in the 21st century. Or rather, Meath's failings in the 21st century. Kildare, he says, have been failing for most of their history.
"They have a lot to questions to answer. Because they both have a population of over 150,000, which is well ahead of any other county (in the rest of Leinster). So, these are the two outstanding failures in modern times.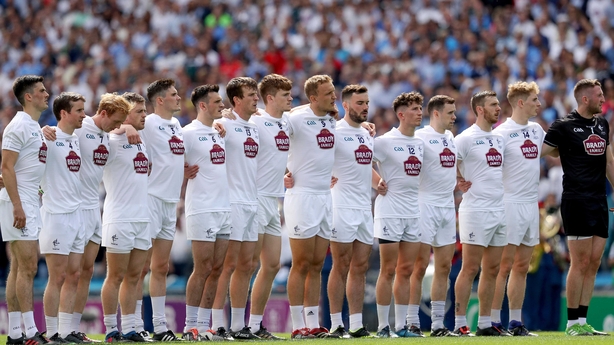 "Now, Kildare have been failing for 80 years, apart from the Mick O'Dwyer era. Aside from that, they've done absolutely nothing. Their last Leinster title (before O'Dywer) was in 1956. That's a mystery.
"Their image is that when the chips are down, they rarely win the big ones. And the statistics show that. That's a fact.
"I believe that most of the top counties in the GAA had a trademark of their own. Dublin always played stylish, modern football. Kerry played a traditional sort of game, albeit that's heavily modified now.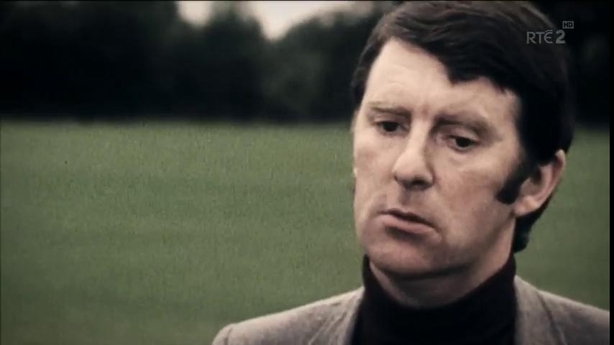 "But Meath and Offaly were always regarded as very tough, hard teams, but with classy footballers as well. They had a brand name of their own. Nobody looked forward to playing Meath in Leinster. But that image has disappeared absolutely and completely. Nobody worries about Meath anymore."
He stops short of calling for a full embargo on Laochra Gael or Reeling in the Years episodes being screened in Meath but he believes that the county needs to forget about the Boylan years and get to work.
"A team like Dublin creep up behind you and grab you by the throat and won't let you go"
"Meath people are living on their reputations of the last 25 years. They rely too much on their great winning streak of the previous era. That sort of thing lingers in people's psyche for a long time. They assume that any downturn is temporary.
"Meath are a good example of that syndrome. Living in the past. It doesn't serve you well because a team like Dublin creep up behind you and grab you by the throat and won't let you go."
Where do these potential giants stand as of 2018?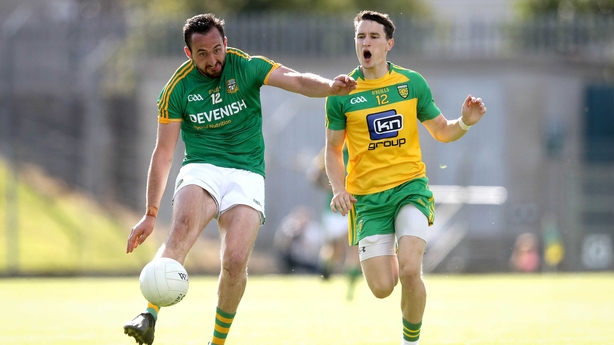 Meath, under much vaunted new management, showed a burst of good form at the end of last year's League but that fizzled out badly by championship time. Their narrow loss to Donegal was thrown into cruel perspective by the Ulster's side hammering at the hands of Galway in the subsequent round.
They face occasional giantkiller Longford in the opening round of this year's championship. Their last summer loss to Longford was in 1982, the year before Sean Boylan took the Meath job. And they are vulnerable.
Prospects look healthier in Kildare. In last year's Leinster final, they became the first team in the province to stay within ten points of Dublin since Meath in the 2013 provincial decider, which seems a modest enough achievement, all told.
Still, they showed a style and athleticism and ambition that had been totally absent among Dublin's challengers in Leinster in the Jim Gavin era. Unlike Westmeath the year before, the summit of their ambition was not to keep the score down.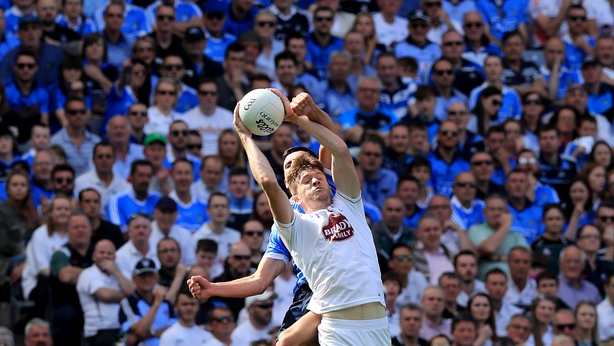 Kevin Feely, back from a life in professional soccer in England, was a soaring presence in midfield, while the languid Daniel Flynn was a lurking presence up front.
Still the demons re-emerged. They ended up selling themselves short at the end of last year's championship, losing an entertaining match to Kieran McGeeney's hardly world-beating Armagh side.
It didn't fill anyone with hope that this era of Kildare resurgence (if it is to be so) wouldn't be like previous eras. One of great promise, encouraging performances and a mystifying inability to close out games.
Follow the weekend's Allianz Football and Hurling League action from 4.30pm on Saturday and 1.30pm on Sunday - live on RTÉ Radio 1 with live blogs on RTÉ Sport Online and the RTÉ News Now App.
Watch live games on GAAGO (overseas only) and see highlights on Allianz League Sunday - RTÉ2 9.30pm.